Dentist Reputation Management: Why It Is Needed & How to Implement It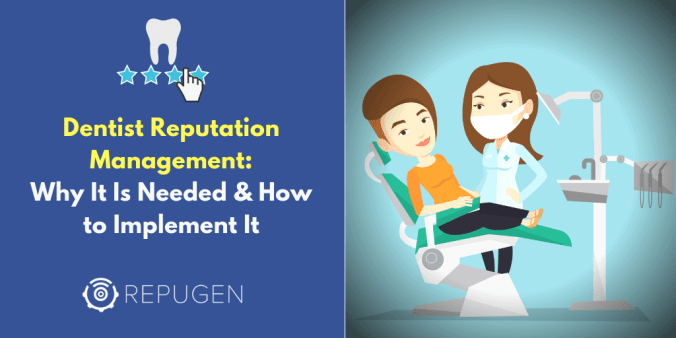 Do you know that the healthcare industry ranks third amongst the list of industries for which reviews are most read? Also, 82% of patients consult one or more review sites with some frequency to view or post comments and ratings of healthcare staff. Paired with the effect that online reviews have on the search engine rankings of local business' websites (you will learn about this as you go through this blog) and you'll understand why reputation management is crucial for your dental care practice. In this blog, we'll tell you about the crucial role of dentist reputation management in growing your practice and also give you a complete checklist of how you should implement it.
Why Dentists Require Reputation Management
Online reviews are the primary component in reputation management. In fact, all reputation management efforts are focused on improving the overall picture of reviews that appear online. Patients make their decision almost wholly based on reviews (for most people, online reviews are as much trustworthy as personal recommendations). Reviews and star ratings also affect click-through-rates** for your website, which is an important factor in your website's Google search ranking. ** Click-Through-Rate (CTR) refers to how many people click the link to your website after seeing it in the search results. A BrighLocal study suggests that going from a 3-star rating to a 5-star rating gets a business 25% more clicks from Google Local Pack, the most coveted section of Google's search results that shows local businesses (like your dental practice) to the user query.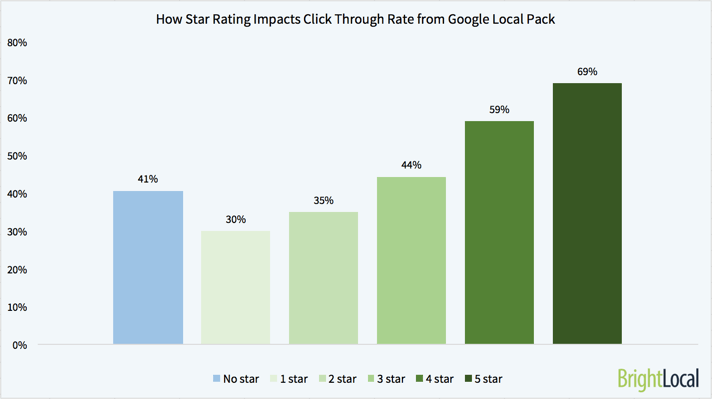 Image Credit: Bright Local
As more patients visit your website, it increases the chances that more appointments will be booked. Higher CTR = More No. of Potential Patients Visiting Your Website => Increased Rate of Appointments from Your Website Is online reputation management really effective for dentists? Can it really improve those overall star ratings and help acquire more new patients for your dental care practice? GMR Web Team, a premier dental marketing agency, conducted an extensive study to look into this. It studied review-writing and star-rating behavior of patients of its dental care clients to understand the effectiveness of reputation management efforts for its clients. The team involved in the study compiled patient review data for two different periods: Sep 2014 to Aug 2016, when these dental care clients were not using reputation management services; and Sep 2016 to March 2018, when they were using reputation management services. Data was gathered from Yelp and Google, as these are the most prominent and widely used online review platforms.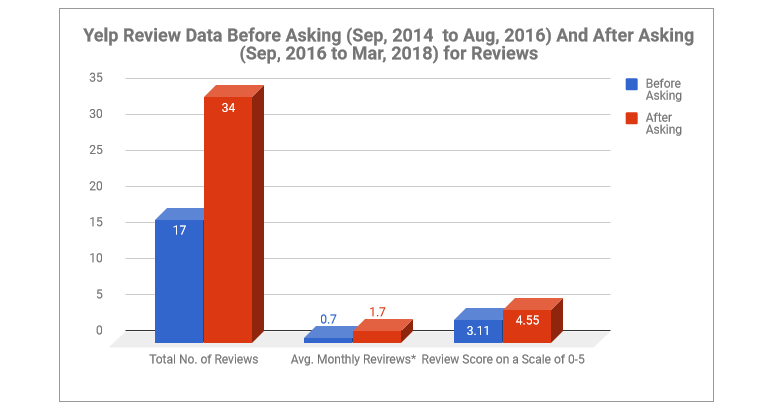 Image Credit: GMR Web Team
The total number of patient reviews posted on Yelp saw a double-fold increase during this period. Its impact was also seen in the overall star ratings (see the review score in the bar graph) which increased substantially, from 3.11 to 4.55. Similar results were found for patient reviews and star ratings on Google.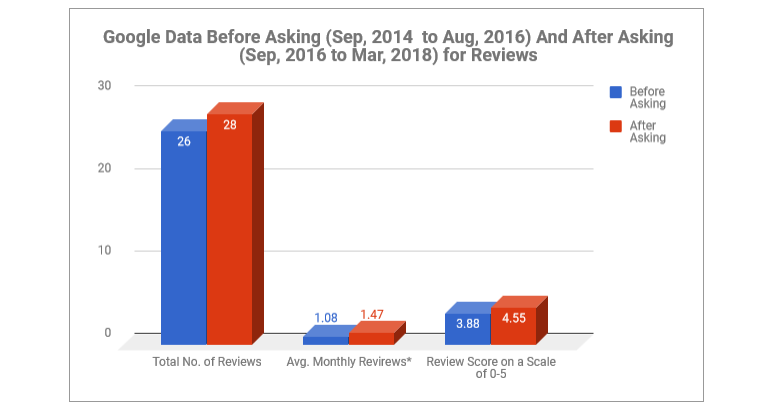 Image Credit: GMR Web Team[/caption] Read the complete study on why dental care practices need to manage their online reputation.
How Dentists Should Proceed with Online Reputation Management
Dentist reputation management involves activities that include:
Claiming or creating your business account on important review sites and other local online directories
The first step is to create your dental practice's business account on different online review sites and other local online directories. Unless you're a newly established practice, you may likely find an already existing account in your practice's name on some of these websites. In that case, you'll need to claim your accounts by filling in or completing the relevant business information. This whole process is called local business listing. Local business listing is necessary as your potential patients from your vicinity may use one, or a combination of respective platforms to gather specific information about your practice; such as, address, phone number, map location of your practice, etc. Generally, such inquiries are made by patients who are in their final phase of selecting a dentist. The most prominent healthcare-specific local online review sites where your dental practice must be listed are Vitals, RateMDs, HealthGrades, etc. Other general but highly-influencing avenues are Google My Business, Yelp, Facebook, and YellowPages. Although listing on all these platforms is a must, there are some particular reasons to separately mention Google My Business (GMB). Here is why GMB listing and optimization is crucial to the success of your dental practice:
Helps Google provide the most accurate answers to user queries
Increases your website's local search ranking on Google
Helps your practice gain the prominence of appearing into Google Local Pack.
Learn More: Why listing your dental practice on GMB is crucial and how you can optimize your website's listing there.
Maintaining NAP consistency across the different review and other listing sites
While listing your practice's business information on various review sites and other local online directories, you must ensure that the information is consistent on all platforms, especially, the name of your business, its address, and the phone number. This is called maintaining NAP consistency. As believed by many SEO (search engine optimization) experts, Google cross-validates the legitimacy of businesses by cross-referencing a business' NAPs as they appear on multiple websites. Failure in maintaining the NAP consistency might result in losing the confidence of search engines in your dental practice resulting in lower ranking in local searches. Also, a potential patient might use a specific review platform to access your contact number. Learn More: Inconsistent online listings; their symptoms, causes, and treatment.
Facilitating review generation from patients
Most likely, you won't find reviews flowing in on their own to the newly created or claimed review accounts for your practice. You'll need to facilitate the review writing process so patients can easily leave a review. RepuGen offers an easy way to consistently gather genuine patient reviews that portray the patient satisfaction picture for your dental practice most accurately. RepuGen's review requesting process is entirely compliant with the guidelines of all major healthcare and non-healthcare specific review websites, including those of Google. RepuGen is also HIPAA-compliant as we do not use or disclose patients' personal health information unless permitted or required by HIPAA addendum, or as required by law. Also Read: 12 Simple Ways to Encourage Patients to Leave Great Reviews for Your Practice
Responding to patient reviews online
According to a study, 65% of patients feel it's important for doctors to respond to a negative review. Show customers that you are willing to go the extra mile by directly addressing their concerns publicly and extending a hand to solve the problem. The study also lays in some Dos and Don'ts for doctors and healthcare providers while responding to negative patient reviews. Find them in the below-given attachment.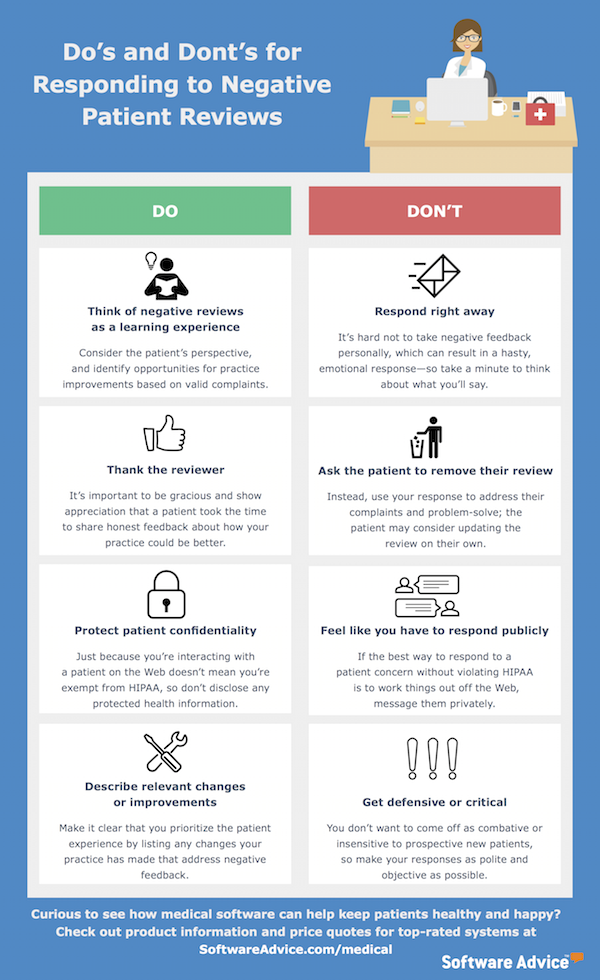 Responding to positive patient reviews is also essential. Thank your satisfied patients for taking time to write a review; however, keep it ambiguous. Refrain from using phrases that sound declaring or affirming, such as "it was great to see you," or "thank you for visiting the office" to keep your responses HIPAA compliant. Learn More: How to Handle Negative & Positive Patient Reviews… the HIPAA Compliant Way
Turning negative reviews into patient acquisition & retention opportunities
A few negative reviews are not always a problem. Quite the contrary, they provide opportunities to turn unhappy patients into loyal ones. A few negative reviews on your profile increase engagement as they inspire patients to explore more, which buys time for you to convince your patients to convert. A Neuromarketing blog states that consumers interacting with few bad reviews spent 5x as much time on a website as those who didn't and that they converted at an 85% higher rate. Also, by implementing RepuGen's reputation management process, you can immediately get notified about negative reviews posted online. It can help you initiate the service recovery process in time, allowing you to address the issues remotely in an efficient and organized manner. That way, you get an opportunity to retain most of your patients.
Analyzing patient feedback data to learn about the areas of improvements
The purpose of implementing online reputation management isn't limited to only review acquisition. It should also focus on analyzing the collected patient feedback data to identify areas of improvements and make proper changes to improve patient care. RepuGen lets you measure patient satisfaction and view trends by dental care provider and location (in case you are a multi-location practice) to gain insights into where you may need to improve patient care. The role of online reputation management isn't limited to just improving the review ratings of your practice online, but in the process, it also helps you identify opportunities that allow your dental care practice to grow consistently. RepuGen offers a complete reputation management solution for your dental care practice. Schedule a live demo or call us at 866-246-7891 to learn more about our solution.