Marketing your medical practice is the key element in maintaining your presence among other competitors while prospective patients are seeking medical help.
This era of digital regime has given healthcare marketing new dimensions for brand building and enhancing their medical practice to the next level.
There are various possible ways on various digital platforms to market your medical practice and the most effective way to enhance your online presence is to list your healthcare service on local online directories.
In this blog, we will be covering everything that you need to know about healthcare local listings. We'll be discussing what local listing is and why is it so important. Moreover, we'll be projecting improper local listing as a disease – "Local Listing Disorder". Where, we'll identify the symptoms; how to find out if your local listings are out of order. Next, we'll point out the causes behind these symptoms: the possible reasons that are responsible for not being able to reap the benefits of local listings.
And finally, we'll be giving out the cure for the disease i.e. the solution to each of these causes.
What Is Local Online Listing?
Local online business listing is an online entry of your business name, address and phone number (NAP) along with some other important details. Its primary importance is that it helps online searchers to track your exact location if they are seeking any sort of medical support in the nearby location.
Apart from this, it makes it very easy for the patients to make comparisons between the given details of the healthcare facilities available in their location. If your local listing is done perfectly, the chances of being found and chosen by the prospects increase.
Search engines like Google and Bing allow you to list yourself. Apart from this, there are many other online medical local directories where you can get your healthcare business included. Every site follows a different process for doing these listings.
Symptoms of Local Listing Disorder
Local listing disorder is a very serious issue for the healthcare professionals as it lowers their chances of being found when a prospective patient is looking out for medical help. It's very risky to let it prevail since it will give the average competitors a chance to outgrow you. These are the symptoms which will help you identify that your medical practice is suffering from local listing disorder.
Not Showing Up for Location Specific Keywords
If a patient living in San Diego, California is looking for medical help, and he/she types "Best cardiologist in San Diego CA" or "best cardiologist near me", a list of cardiologists along with their contact details appear right on the top in the search engine results page (SERP). Their star ratings and the other details can also be checked right there.
Search engines are striving to give as many personalized results as possible. So if you do the same thing and you find yourself very down below or you don't find yourself at all on this list, it means that you are suffering from local listing disorder.
Not Found On Directories Where Most of Your Competitors Are Present
You've already listed your medical practice on local online directories but your listings do not show up in the search engine results for the location/service specific search terms. Instead, you see your competitors appear in the searches for those search terms.
Other Clinics Are More Crowded
Even after putting all your efforts in marketing your healthcare services and treating your patients with utmost care,but you still find the average clinic down the street more crowded, then chances are that you might be suffering from local listing disorder.
Causes of Local Listing Disorder
Broadly, there are five major reasons that can cause local listing disorder. Let's have a look at them one by one.
There are many healthcare professionals who are not present on any local online directories for marketing their medical practice. Therefore, they are not just losing on prospective patients online, but also on the credibility factor.
Local Preference Mismatch
This seems to be a very common reason for most of those who have already listed their medical practice on local online directories, but are still not visible for their service specific keywords. This happens because local online directories preference varies from place to place. So even if you are present on a majority of local listing directories, chances are that you are unaware of the most preferred online medical directories in your location.
"NAP" is an acronym for Name, Address and Phone number. Whenever you list your medical practice on Google My Business or any other local online directories, you'll be asked to fill certain information that accurately defines your medical practice. The required information sections may vary from site to site but "NAP" should be consistent among all.
NAP allows the search engines to clearly validate your location and information, specific to the one the user is searching for. Therefore, an inconsistent NAP on local online directories might lose the confidence of search engines in your medical practice resulting in lower ranking in local searches.
While updating your information on any local online directory, you'll find a column that asks to fill "local business category". This section describes what type of services your medical institution provides. This helps the search engine to refine what types of searches your medical practice and healthcare service is most relevant for.
If your categorization is not specific and too broad, it is difficult for the search engines to recognize which healthcare searches are you most relevant for. That'l l eventually push you down in the local ranking, or might not make you visible at all.
Extremely Negative Reviews
Patients' feedback matter a lot for the healthcare professionals, where positive reviews result in trust building and in increased chances of getting potential patients. Negative reviews can severely damage your credibility and trustworthiness among the existing patient base. Neglecting bad reviews can have a lot of ill effects other than a lower ranking on search engines.
Here's a data from BrightLocal of how consumers trust online reviews these days.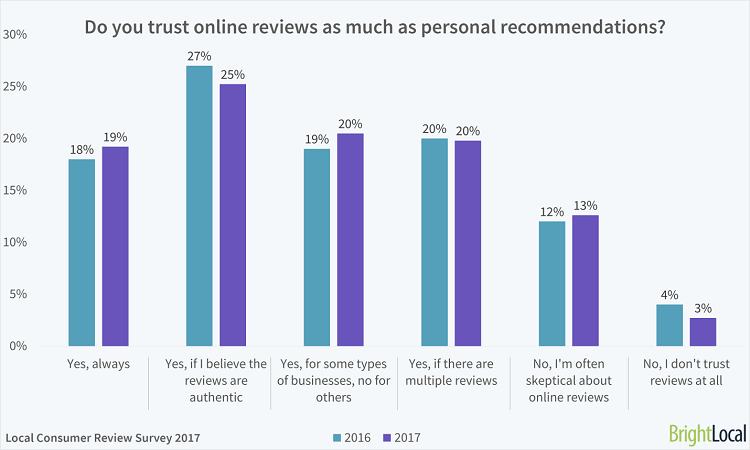 Treatment for Local Listing Disorder
So far we discussed the different symptoms and causes for local listing disorder. Now, let's go through the essential steps required to get a hold of this serious issue. These steps will also provide an online boost to your healthcare profession.
Above All, Get Listed On Google
We already discussed that how important it is for healthcare practitioners and organizations to be listed on Google as well as other online local directories. So get listed on Google ASAP to reap maximum benefits for your healthcare organization.
For this go to Google My Business and opt for a "Local Business Page" even if you are a practitioner and then fill in your name and address.
Hopefully your business listing will appear as soon as you fill in your name and address details, if so, select it. If it doesn't, then furnish all the required information that is needed by Google. After this, your business listing will be updated and Google will send you a verification postcard through mail. This process by Google might take around 3 weeks, but as soon as you enter the PIN on the verification form that has been sent by Google, you're sorted.
Apart from the search engines, listing your medical services and healthcare organization on preferred local online directories also improves your online presence as well as puts you in the direct channel of the patients' search.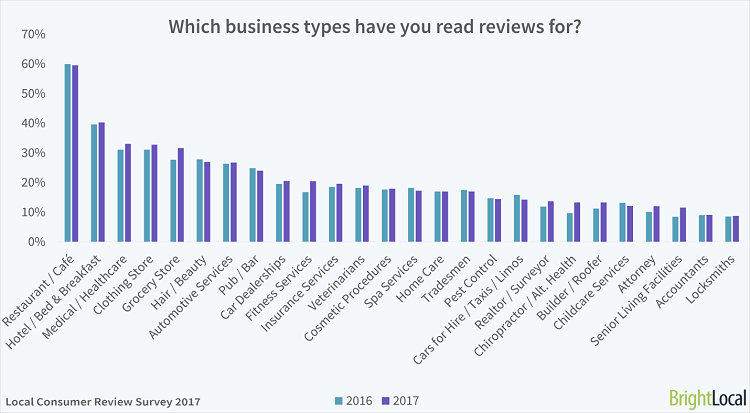 Here's a local consumer review for 2017 by BrightLocal which shows how consumer's review make big impact in every sector for decision making.
Finding the Most Preferred and Trusted Directories
As mentioned earlier, the preference of local online directories and listing websites varies from place to place.
Therefore, you need to conduct a survey in your locality for the most preferred and popular medium that people look up to for finding doctors and other healthcare facilities. Or simply go and Google 'the best doctor in my location'; the drop down that appears as a result once you have entered your search has the link of those websites that are the most popular and trusted ones.
Now, find out the process of getting listed on those websites and update your healthcare service listing on that. This will help in healing your healthcare profession if it's suffering from local listing disorder, as it'll make your medical practice more visible to relevant searchers.
Your healthcare practice might experience certain changes due to merge ups with other practitioners, relocation and rebranding, or phone number changes.
Though these might be common occurrences, they present new challenges like updating your old existing data on all the online platforms, as well as the sites that link back to you. This is so because consistent NAP across different local directories and sites that link to you allows search engines to cross check your data for validity. As well as to clearly define your location and information which in return raises your local search rankings.
These data change events must be managed properly because old information can misdirect patients resulting in lower ranking for not following the best practice. Here are two basic ways that'll help you manage these data change events:
Find all the references to your old information manually on the internet. This includes all the references on your website, all your local online citation and unstructured references on blog sites etc. - each of these should be edited manually. Inform all the possible publications referencing your old data to update it. So that it reflects your new 'NAP'.
Other possible way to lighten this workload is via automated data management systems which are paid services like yext.com, MOZ Local, etc. They are really valued for the significant amount of time they save by distributing your updated information to your existing listing on the important online platforms.
Thus, be very careful while updating your listings on different online directories and manage your NAP across the web.
Specified Healthcare Service Category Selection
Every local listing platform has its own category classification for service. So you need to discover which one is best for your medical practice as you create each citation, then choose the best matching option. This makes it easier for the search engines to find out which searches you are most relevant for.
E.g. if you're a periodontist who specializes in implants and want to market your dental implant service, then choose (dental > implant > periodontist) rather than selecting just periodontist. When selecting your local business category on online directories, it might even happen that a specific medical practice may not find an accurate category to represent itself on a given platform. If so, then choosing the closest possible category and relying on other factors such as your business description is the best option.
Mostly categories are hierarchical in Google backend (e.g. Doctor > Surgeon > orthopedic surgeon > hand surgeon) hence adding categories that span different hierarchies is fine, but if they're vastly different, it may confuse the search engines. Therefore, avoid spam-like repetitions of your category; keep your primary category very specific and additional categories very comprehensive because categorization has always been cited as one of the top local ranking factors by Google.
Handle the Review Balance
Being a healthcare professional you must have spent years in building a genuine online reputation of your medical practice.
But, when it comes to your online reputation, it might not be same as actual reputation. All these listing sites allow the patients to rate your healthcare services through 'star ratings', as well as to write reviews. So if there are a lot of negative reviews about you, it may terrify your new patients and send your existing patient base on a back seat.
We now have observed that there's a vast difference between the real patient satisfaction score and the satisfaction level reflected online. This is so because the dissatisfied patients are more active in writing reviews and in giving feedback than the happy ones. So we can say that the happy and satisfied versions completely go missing on the online platforms. Hence, act wisely and bag more and more positive reviews from your happy patients to balance the review equation.
Get your happy patients to talk about you online by prompting them and institute a program that monitors patients' satisfaction. After all a healthy online reputation is imperative for all businesses in this era of digital regime and healthcare services are something where they matter the most.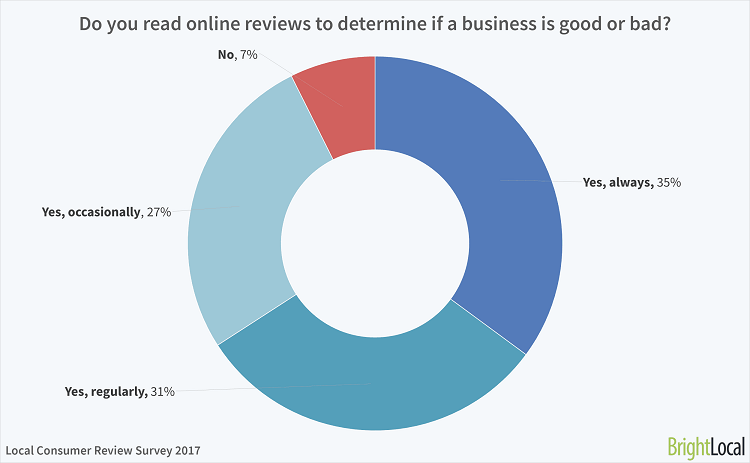 This survey by BrightLocal reflects how consumers have started trusting business reviews to determine the quality and different aspects of a specific service.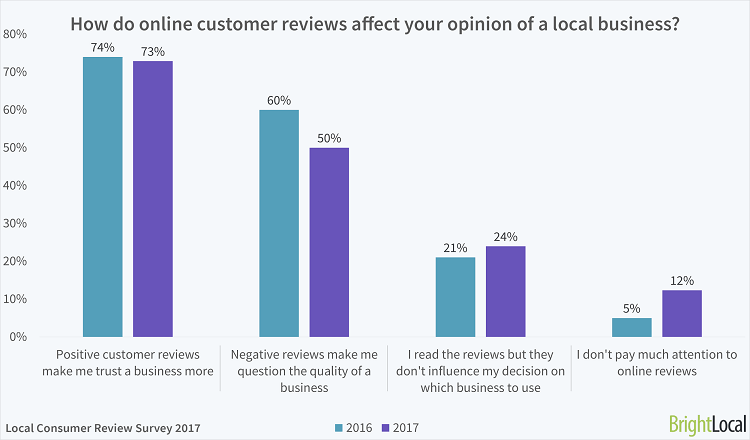 This survey represents how positive online reviews affect the decision making and change in perspective towards a specific organization.
Conclusion
If you meticulously follow all the steps that have been mentioned above, nothing can stop your healthcare local listings from being perfect. As we have repeatedly mentioned, local search optimization is of prime importance for the healthcare industry. Proper local listing is the stepping stone to infallible local search optimization. So, get started, identify and rectify the errors in your local listings, if any. We'll come up soon with further steps that you need to take in order to be found in the top results by the prospective patients located in your area. Stay tuned!