How to Handle Negative And Positive Patient Reviews [the HIPAA-Compliant Way]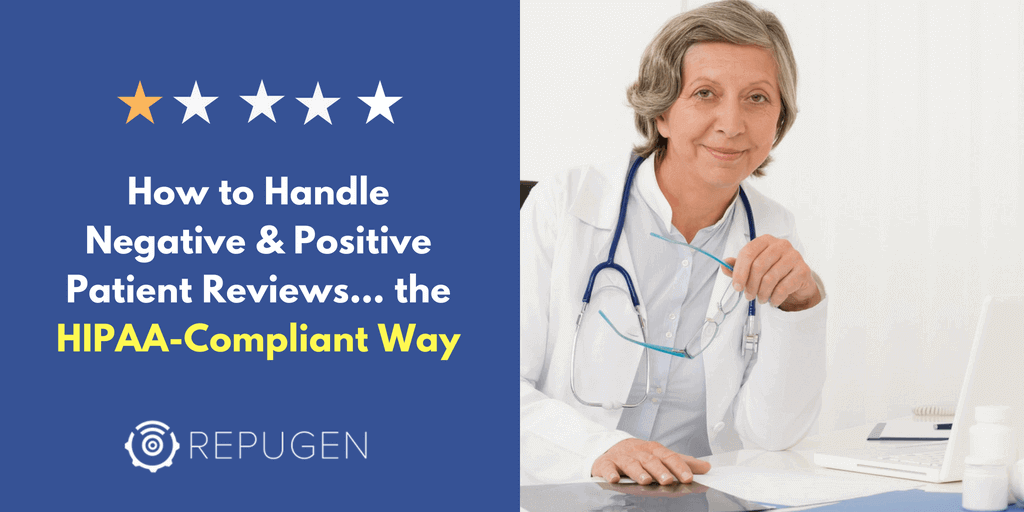 Even though patient reviews have a critical role to play in the success of your healthcare practice, they don't work in solitude. They are a conversation initiated by one of your patients that asks for your participation to present your side on the matter. You would provide the final viewpoint on the situation.\n\nNot responding to a negative review will give the impression that you don't listen to what your unhappy patients have to say and aren't proactively addressing areas where you may be struggling. Whereas, not responding to positive reviews can make you look like you only care to address patients when there's a damage to your reputation. In both cases, it will be your reputation that suffers.\n\nWhen responding to your patients' reviews, it's important to comply with HIPAA regulations. HIPAA compliant review responses keeps you safe from any data privacy-related troubles. Data privacy is a big violation that can bring unnecessary financial and legal problems.\n
How to Respond to Negative Patient Reviews
\nNegative reviews are not always a bad thing. In fact,
you need a few negative reviews
from your patients. Replying to a few negative reviews appropriately can help draw attention toward your business's positive qualities. Think of this concept as quality control.\n\nWhen you see a negative review, don't immediately write a response. It's better to take a short break, analyze the situation, think of a strategy, and then write your response. Below are the "do's and don'ts" of responding to negative reviews:\n
Do Not Even Think of Ignoring Them
\nWhen patients are irate, it's natural for them to sound more dramatic while writing reviews. They're upset and want the world to know about it. Take it with a grain of salt and never take it personally. However,
do not ignore negative reviews.
\n\nAccording to a
study
, the majority (65%) of patients said that it's highly expected of doctors to respond to patient reviews. Responding shows that you take patient feedback seriously and are committed to improving the patient experience. The key here is to be understanding and sincere.\n
See if the Review Violates Terms and Conditions of the Website
\nAnother thing to do before you respond is to check if the review is violating the terms and guidelines of the review website. If the review turns out to be objectionable, such as written by someone else, promotional in nature, sexually explicit, contains third-party names, harasses, abuses, or threatens to harm, etc., you can simply
"flag" or "report"
it. Let the review site know about it so they can investigate it and consider taking it down. Consider writing to the review site. However, remember that they are inundated with these requests and may not get back to you for weeks or months.\n\nIf the review is not objectionable and it correctly points out your fault, it's your responsibility to think of a strategy to respond to it.\n
Here's what you should keep in mind while responding to a negative patient review:
\n
\n
\n

\n
Examine the situation: Analyze the situation from all perspectives; the patient's point of view, the legal point of view, and the public point of view. After analysis, consider a professional HIPAA compliant response that not only solves your patient's concerns but also minimizes the damage to your reputation.
\n
Begin with an apology: Even if you don't recognize your patient's claims, start your response with an apologetic and sympathetic tone. Next, explain your stance on the matter and let your patients know that you're serious about listening to their concerns. For example – "We are sorry to learn about your bad experience. However, this is not something that goes with our standards. Our representative will connect with you to learn more about it."
\n
Passively market your service USPs: There is no harm in providing a little bit of extra information that explains what your patients usually experience. This will insert a little bit of marketing in your response to the bad review. For example – "We are normally known for our exceptional attention to detail, and we regret that we missed the mark."
\n

\n
\n
\n
Note:

Don't include your practice name or relevant search terms, like category and location, in your response as it can make your negative patient review appear in the relevant search results.
\n
\n
Keep it anonymous: Make sure that your team responding to patients' reviews is aware of the HIPAA guidelines. HIPAA requires providers to respond to patient reviews without disclosing the patient's identity and/or their personal health information; such as, but not limited to, phone number, email address, appointment dates or times, diagnosis or test results. Failure of HIPAA compliance can invite hefty fines and even court-related troubles.
\n
Offer to move the conversation offline: Provide contact information of someone at your practice whom unhappy patients can contact to discuss their problem in person. For example – "Hi! My name is [name], and I'm the [provider/practice manager] at our practice. If you'd like to discuss this further, please call me at [phone number] or email at [email address] during regular business hours."
\n
\n
How to Respond To Positive Patient Reviews
\nJust because positive reviews don't cause any trouble (if they are genuine), should you just sit on them and do nothing? Absolutely not. First, that would be like ignoring someone when they give you a compliment, and secondly, don't you think you should amplify the goodwill using those positive reviews? Obviously, yes! Also, it's a great way to spread positive messages about your brand's online reputation!\n\nThe good news is there are a few best practices and guidelines to follow when it comes to positive reviews; these are very important to remember.\n
Here's how to respond to positive patient reviews, the HIPAA compliant way:
\n
\n
Start with 'thanks': Just like you start off with an apology in case of a negative review, you should also thank your reviewer when they praise you. Example – "Hi! Thank you so much for your kind words. We appreciate you taking the time to share your great experience!"
\n
Keep it ambiguous: While thanking, don't use phrases like, "It was great to see you," or "Thank you for visiting the office." Such phrases sound more declaring or affirming and may be used against you for indirectly exposing the identity and actions of a patient.
\n
Boldly market your practice: Inserting your business name, category, location, and your service-related keywords may help these positive conversations, about your brand, appear in the relevant Google search results. For example – "The team here at [your practice name] are delighted to hear your feedback, and we're proud to be the most trusted [service category] provider in [location name]."
\n
\n
Tips to Get the Most Out of Positive Patient Reviews
\n
\n
Amplify it on social media: You should amplify all positive reviews through social media. Try using a graphics tool like Canva or PicMonkey to create engaging graphics of your testimonials and share across social media. Make sure to cross-promote the testimonials on all social channels you're active on. This is known as social proof.
\n
Promote it on your website: You can also create a separate testimonial page on your site and showcase positive patient reviews for promotion. Doing so will also help your page get better search engine rankings.
\n
\n
Note:
To get the most out of positive patient reviews, you should strive to get more overall positive reviews. Incentivizing reviews isn't a great option, it's not ethical, and most review sites don't approve of it. However, you can always
ask and facilitate your patients to write reviews
in an ethical manner.\n\nHandling patient reviews requires time and effort and an understanding of the policies. It's one of the significant tasks under healthcare online reputation management.\n\nTo learn more about how you can efficiently manage the online reputation of your healthcare practice, go through the blogs given below:\n