When a patient begins their search for a new healthcare provider near them, they turn to the internet. With 4.3 billion users worldwide using Google, it's important to focus efforts on ranking your practice and keeping up with your Google Business Profile.
What is a Google Business Profile?
A Google Business Profile (GBP) is a simple tool for local businesses to manage their online presence across Google, especially in the Search and Maps features.
To help patients find and learn about your healthcare practice in the most accurate way possible, you must verify your business and confirm your profile information.
Claiming your healthcare practice's GBP allows you to easily update and manage your information (hours, location, services offered, etc.), interact directly with patients by responding to your reviews, and expand your local presence.
Why Healthcare Providers Need to Set Up a Google Business Profile
Simply put, having a GBP makes your healthcare practice easy to find online. Google constantly makes changes to their algorithm, meaning how your practice displays on search results makes it that much simpler for patients to find and choose you for their needs.
When a patient searches for a healthcare practice, it might look something like this: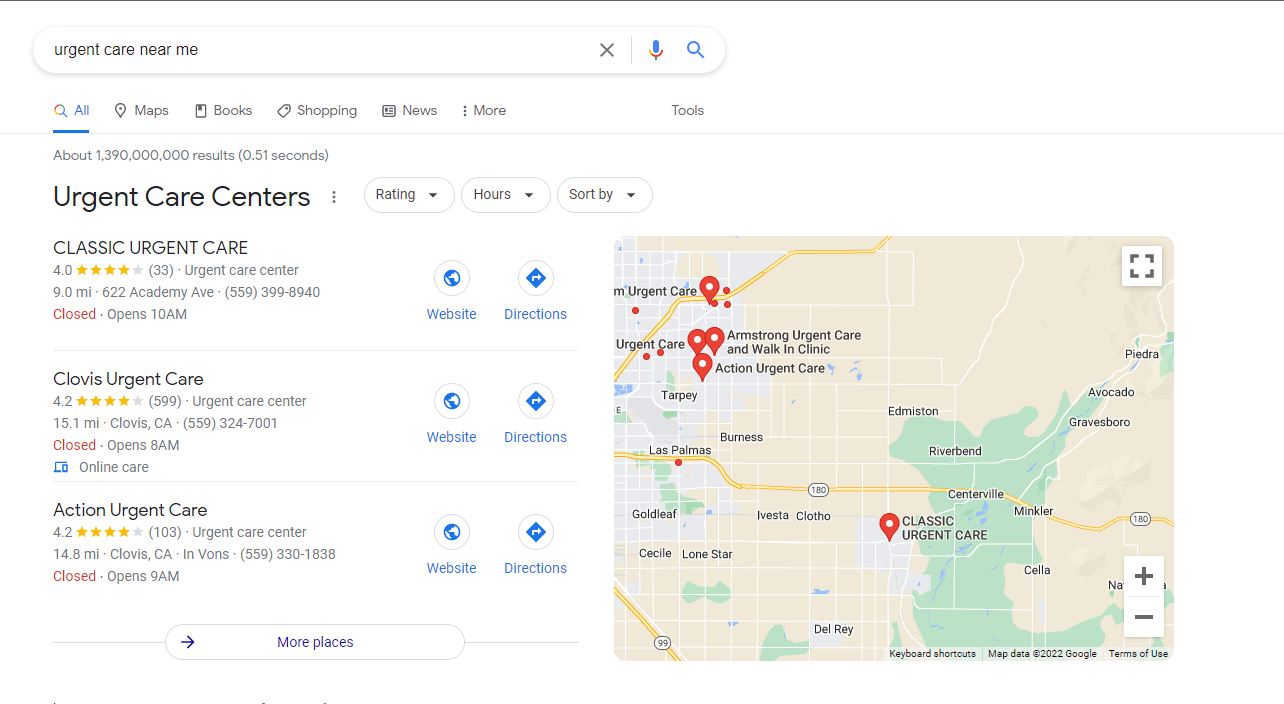 In order for your practice to appear in the map pack (top searches with the map feature), your GBP must be set up.
Google's algorithm is always looking for ways to give preference to healthcare providers located closest to the searcher's physical location and most aligned with their needs.
Registering your GBP will optimize your practice to appear in local search results. In fact, Google reports that healthcare practices with fully built GBPs get five times more views than practices without a claimed profile.
Google, WebMD, and Yelp are the 3 most checked online review sites and are referred to by 66%, 39%, and 35% of patients, respectively. Additionally, 60% of patients will click on your GBP when you show up in local search results.
Healthcare providers also benefit from having a GBP because of patient reviews. Both Google and WebMD are the top most trusted review sites reported by patients. After setting up a GBP, healthcare practices are able to read and respond directly to patient reviews, which is an important factor in your online reputation and online visibility.
How to Create and Verify Your Google Business Profile
Step 1: Visit the business profile page.
Step 2: Go to "manage now."
Step 3: Search your practice by name.
Step 4: If you are unable to find your healthcare practice, you can enter it manually.
Step 5: Begin building your GBP by adding your practice's name and choosing the type of business from the dropdown.
Step 6: Add your physical location. Note: Keeping your name, address, and phone number (NAP) consistent across the internet is extremely important! Make sure to enter the correct NAP on your website, directory listings, and your GBP.
Step 7: You may be asked by Google to verify your profile with an existing GBP they have automatically created. If correct, choose your profile.
Step 8: Place a pin to your exact location. Do this by dragging and zooming around the map.
Step 9: Add your contact information and website to your GBP.
Step 10: Verify your business. You can verify it through phone call, email, text or video. At times, you may be required to verify with more than one method depending on factors such as your business category, public information, support hours, etc.
If you are verifying your business for the first time, here's how to go about it:
Claim your business profile on Google
Verify it through:
Phone call or text- Use this option only if you have immediate access to your business phone number or can receive texts as Interactive Voice Response (IVR) systems will not get the verification code.
Email- Find your GMB verification code in your inbox and follow the steps detailed in the email.
Video recording- Upload a continuous recording of your current location, equipment and proof of management. It can take up to five days for Google to review the video and get you verified.
Live video call- You will join a live video call on your mobile device with a Google representative to verify your profile. Make sure you are within support hours of your region and can demonstrate ownership and location of your business on the call.
Postcard- If you choose verification by mail, Google will send you a postcard with a unique verification code. While waiting for the postcard, do not make changes to your business address, name or category or request a new code. Most postcards arrive within 14 days.
Google Search Console- As an instant way of verifying your business, both existing and new users can verify their website with Google Search Console. You can claim or add your profile, make edits if needed, and connect with your customers immediately.
Once verified, it can take a few weeks for your updated business to show across Google. From there, you can add or update your information at any time.
Google may ask you to re-verify your business to ensure accuracy of records. Any changes to your existing GMB profile will require re-verification.
Step 11: Add your operating hours. If your hours change, you will be able to edit them whenever you would like once your profile is verified.
Step 12: You will be able to add or skip the option of accepting direct messages from your GBP.
Step 13: Add a description of your practice to describe what your healthcare practice offers to patients looking for care.
Step 14: Upload photos of your practice to help prospective patients to feel comfort and trust towards your practice when viewing your GBP. Upload clear, high-quality photos of the office, waiting room, any special features, exam rooms, etc.
How to Claim an Existing Google Business Profile
Step 1: Find your practice on Google Maps by typing in your practice's name and location in the search bar.
Step 2: Click "own this business?"
Step 3: If the listing has already been claimed, you may see this message:
In this case, you can either request access from the owner, or file an appeal to Google.
Step 4: If the listing has not been claimed, you will see this message:
Click "manage now" to begin setting up your profile.
Step 5: Google will send a postcard to your location with a unique verification code to enter, which can take up to 14 days. Email and phone verification may also be an option for select businesses.
Once your GBP is created and verified, you will be able to make regular updates and changes whenever you please. In fact, updates are great for showing Google's algorithm that your healthcare practice is still active.
How to Optimize Your Google Business Profile
So you set up your GBP, but how will patients find you? When patients search for a healthcare provider on Google, your GBP may appear in their search results.
Factors like the words used in searches, distance from the searcher, and your practice's overall online presence determine where your information appears in a Google search.
The information your business profile displays for your practice may include:
Website
Directions
Phone number
Patient reviews
Practice Photos
Summary of your practice
Depending on the relevance of the search, your GBP may show for patients in your area. Luckily, there are several things you can do to optimize your GBP for searches.
Add Your Business Name
Only add your legitimate business name. Do not add keywords, your city's name, the street you're on, etc. This is considered spam, and can create major problems with your online presence, and your NAP.
Primary Category & Additional Categories
Choosing your primary category correctly is extremely important as it has a major impact on search rankings and is the only category to show publicly. If you're not sure what category to choose, check out your competitors to see theirs.
Additional categories can be added with a maximum of nine. Make sure to re-check these additional categories often as they can change.
Address
Make sure you publish your full and correct address, including suite numbers. Having a full address helps Google to recognize where you are, so people searching in your area will be able to find your profile.
Service Area
If you do not have a physical location or serve patients in a hybrid style (both in-office and at their homes, or at other satellite locations), make sure to use the service area feature on your GBP.
For Service Area Businesses: If you do not serve your patients at a physical location, leave the address section blank and enter your service area.
For Hybrid Businesses: If you serve your patients at your business location and travel to their place, add your storefront address with working hours and designate a service area.
You can set a maximum of 20 service areas. In addition, you should not be located farther than 2 hours of driving time from your physical business address.
Hours
Add your regular business hours to set up your GBP. Make sure to utilize the "Special Hours" feature as well, so that you can prepare in advance for special closures, holiday hours, or irregular changes in business hours.
Phone Number(s)
Add your primary phone number first and any secondary numbers as "additional." If your healthcare practice uses a call tracking number, then add it to your profile as the primary phone number, and put your main business line as a secondary number.
Website
Add your website link to your homepage where you want to direct your patients. Make sure that you have optimized your website content with related keywords and the primary category that you offer. This will help to rank your website high on the map and local pack.
If you have multiple locations, you may want to consider creating individual landing pages for each location. It is wise to embed a tracking link here, to track how many people visit your website from your GBP.
Appointment URL
Use this feature as a simple way to get patients to make an appointment from your GBP. You can add up to 10 appointment links per category. Some third-party appointment scheduling systems even integrate with this feature.
Description
The most important thing to avoid when writing your GBP description is to avoid sounding like spam. Write an original description about your healthcare practice, who you serve, and even your mission statement.
Products & Services
This helps patients see what you have to offer all in one spot rather than navigating away from your GBP and potentially getting disinterested or lost.
Attributes
Attributes on a GBP help educate patients on things like what insurances you take, what forms of payment are accepted, accessibility options, health and safety measures implemented, and more.
Opening Date
Make sure to add the month and year of when your practice opened. By adding this information, Google is relieved of guesswork as the algorithm uses multiple sources to determine how long a practice has been in operation.
Stay Engaged with Your Patients
A well-run GBP helps your healthcare practice stay engaged with patients by keeping them updated on all you have to offer, and any changes that happen between visits.
GBP Profile Posts
Your GBP gives you the ability to create posts and promote services, special offers, events and more. This is similar to a social media newsfeed, where you can keep patients updated through singular posts at whatever frequency you choose.
Share Photos and Videos
Relevant, thoughtful, high-quality images are read extremely well by Google's algorithm. In fact, healthcare practices with these types of images in their GBP saw higher volumes of site web visits, calls, and booked appointments.
In the age of social media, consumers have a higher demand for businesses to share high-quality content. Consider hiring a local professional photographer to take photographs and videos of your practice for your website and GBP.
Respond to Patient Reviews
Your GBP lets customers post reviews to your profile for others to see whether your profile is claimed or not. Online reviews are a great way to take valuable word-of-mouth marketing to the web, and can help new people find you online-- especially if you are consistent in replying.
When you respond to reviews, you show existing and potential patients that you value their time and feedback about their visit. Remember that when replying, you'll be posting publicly as your practice.
Understanding the Google Business Profile Dashboard
Your GBP has a helpful "insight" section, where you can view stats on visits, clicks, and more.
GBP Insights give you an inside look at how patients find your practice's listing on the web.
Since many patients find their next healthcare practice through Google Search and Google Maps, Insights focuses on how patients are using Search and Maps to find your listing, and what they do once they find it.
How Patients Find Your Listing
Patients find your GBP listing through direct searches, discovery searches, branded searches, and total searches.
Direct searches: A patient directly searched for your practice name or address.
Discovery searches: A patient searched for a category, product, or service that you offer, and your listing appeared.
Branded searches: A customer searched for your brand or a brand related to your practice. This category will only appear if your listing has appeared at least once for a branded search.
Total searches: The total number of direct, discovery, and branded searches.
Your Insights dashboard will show the percentage of patients that found you on Google via each method.
Performance Reporting on Search
This shows you the queries people used to find your practice. The Searches metric is updated at the beginning of each month, and updates may take 5 days to show up. Search queries display whenever your GBP shows up for a particular query.
Where Patients Find you on Google
This section of Insights shows how many patients found you via Google Search or Google Maps. You'll see the number of views your listing received through each of these services:
View on Search: A customer found your business via Google Search.
Views on Maps: A customer found your business via Google Maps.
Total views: The total views of both Google Search and Google Maps.
Patient Actions
Patient actions shown on your dashboard are: visits to your website, requests for directions, calls from tapping the phone number, and total number of these combined actions. You can also filter by day, and view results in graph form.
Photo Views
This section will show how many times your photos have been viewed on your GBP. You can adjust the time frame and see reflected stats. Here, you will also see total photos uploaded by you/total views, and total photos uploaded by patients/total views.
Conclusion
When utilized, your practice's GBP is an extremely valuable asset to your practice. Grow your visibility and keep patients engaged by fully filling out and optimizing your GBP, and keeping it updated often.