Patients are now increasingly relying on online reviews when selecting a healthcare provider.
In fact, 8 out of 10 patients check online reviews before selecting a healthcare provider, online reputation management has become vital across the entire healthcare industry. We at RepuGen conducted a survey to understand patients' review behavior and found that:
79% of patients use online reviews in their provider selection process
30% of patients avoid poorly-rated healthcare providers
63% of patients check 10+ reviews before choosing a healthcare provider
77% of patients consider the review's age as important
Another study suggests that unhappy patients will complain, on average, to at least 9 people, while happy patients are more reluctant to share their great experience with no more than 5 people. While unhappy patients are more self-motivated to have their frustrations heard, happy patients just need a slight nudge to share their positive experiences with your practice.
Here are 10 simple ways to ask your happy patients for reviews without sounding too pushy.
1. Just Ask Them Directly to Write a Review
It's easy, effective, and incredibly efficient. Directly asking patients to provide an online review works.
According to BrightLocal, 7 out of 10 people will provide an online review if they are asked.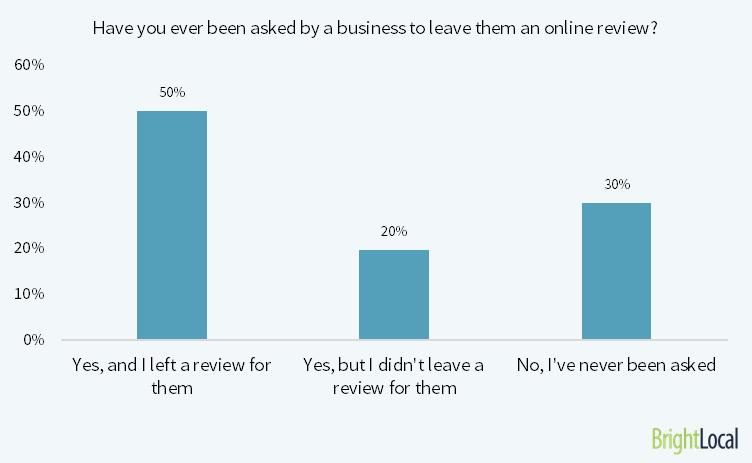 2. Link Your Online Listings from Your Website
Simplify the process of asking patients to write online reviews. Place your review website links across your own website to direct patients. That way, patients won't have to spend a lot of time searching for the best place to put their reviews.
3. Print Out Instructions
Some patients might want to share their great experiences with you, but just aren't tech-savvy to navigate review sites. Printing instructions is a great way to help these patients easily post their experiences online.
4. Ask via Email
Sending a personalized follow-up email to a patient after an appointment is an easy way to ask for an online review. Thank the patient for coming in for an appointment, ask if everything went well, and then include a link to your online review sites.
5. Snail-mail
Snail mail is a fantastic way to reach patients that are used to receiving physical mail. While it might cost a little more, it can help you better connect with more of your patients and leads to a plethora of new reviews.
6. Make a Thank You Video
People love videos. In fact, people watch 1 billion hours of videos on YouTube every day. Try making a video thanking patients for visiting your practice and asking them to leave a review.
7. Ask Patients on Social Media
According to Statista, more than 80 percent of all Americans are on social media. This means that Facebook, Twitter, and other similar platforms are the perfect places to connect with patients and ask them to share their positive experiences with others.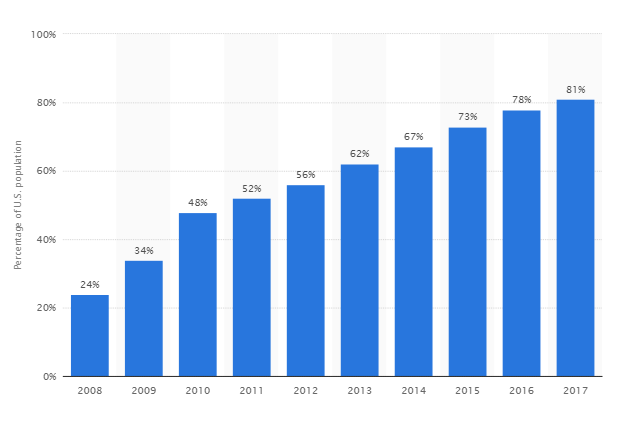 8. Make the Call
If your staff makes follow-up phone calls, why not encourage them to suggest that patients write an online review? This method can be extremely effective with the right audiences.
9. Make It Part of Your Routine
Sometimes soliciting positive reviews can be a little cumbersome. However, you are going to need your staff's support in order to make it work, so ensure that asking for online reviews is part of your office's routine.
10. Use an Online Reputation Management Software
Asking patients to leave online reviews and managing your reputation is a time consuming job that could be better spent providing quality care to your patients. Using an reputation management software for doctors would be a key asset in easily asking your patients for more reviews, improving your patient service recovery process, and managing all of your reviews in one place.
RepuGen is a robust healthcare reputation and review management software that assists in getting more online reviews, and offers customizable plans to cover all of your reputation management needs.
Start Today
Positive reviews play a major role in convincing your prospective patients to choose you over your competitors. Utilizing proactive reputation management will help you get more positive online reviews to interest more patients and take your practice to a level above your competitors. Now is your chance to take the next step in improving your online reputation, learn more about RepuGen today.
Want a comprehensive scorecard of your online reputation? Click here to see how your online reputation is currently perceived by prospective patients.