A few negative reviews are not always bad for your healthcare practice. On the contrary, they provide opportunities for building and nurturing a deeper level of relationship with your patients and improve the image of your practice as well (believe it or not). Healthcare providers intuitively know this fact, but perhaps it's because of the (self-imagined) hassles related to handling/tackling bad reviews, that they get anxious when they see even a few negative reviews on their public page. So first of all, let me clear some things right here:
A few negative reviews are actually not bad for your healthcare business
Handling or tackling negative reviews is easy and it can even increase the chances of patient retention
The best way to combat negative reviews is to get more positive ones, rather than fighting to delete the bad ones that are already posted.
How Patients Use Bad Reviews
Based on our tracking of patients' interaction with negative reviews online, different online and offline patient surveys, and extensive user testing, we've built up an extensive understanding of patients' attitude to bad reviews. Here they are:
Patients want to know everything Patients have a natural understanding that no provider or practice is perfect. However, they want to know about the few negative points so that they weigh them up against all the positive points, in order to make an informed decision.
Patients look for relevance on 'bad' points A bad point for one patient is often irrelevant to another. A working class patient may want a quick solution from their provider to save time, which may be a bad thing for an older person or a retiree who is looking for a more relaxed conversation with their providers to properly explain their situation.
Patients don't look at reviews in isolation A few bad reviews isn't enough to put most patients off: it's the ratio of good to bad that matters. A few bad reviews carry much less weight with readers when they appear alongside dozens of good reviews.
Patients notice when there are no bad reviews Patients are super suspicious if there are only 5-star ratings for your practice. They suspect fakeness or spam, or the presence of some kind of a system to censor patient feedback.
"95% of consumers suspect censorship or fake reviews when there are no bad ones."
What Studies Suggest
Consumers are naturally skeptical of businesses that only have 4-star or 5-star reviews. Also, they feel like they're being forfeited the chance of further looking into the more personally described details about the business (i.e. the negative experiences). According to a study carried out by PowerReviews, and Spiegel Digital and Database Center of Northwestern University, negative reviews have a positive impact on businesses as they help establish trust and authenticity. The report indicates that consumers tend to consider ratings of a perfect 5 stars to be "too good to be true". In fact, most consumers indicated they ignored many five star reviews and they considered them to be fake. Consumers know that businesses cannot be 100 percent perfect, and hence they increasingly rely on negative reviews to make a decision.
"According to the study, 82 percent of consumers specifically sought negative reviews when looking to buy a product or service. The reviews were sought to alleviate concerns about price and safety of a product or service, as well as in gaining the trust of a brand."
According to the Northwestern research team, the number of stars in a review do not have much impact on a purchase when the rating is between one to three stars. However, consumers have a higher likelihood of choosing a business with at least a four star rating. The optimal rating for a purchase peaked at between 4.2 stars and 4.5 stars. As the stars rose closer to 5, the likelihood of purchase declined.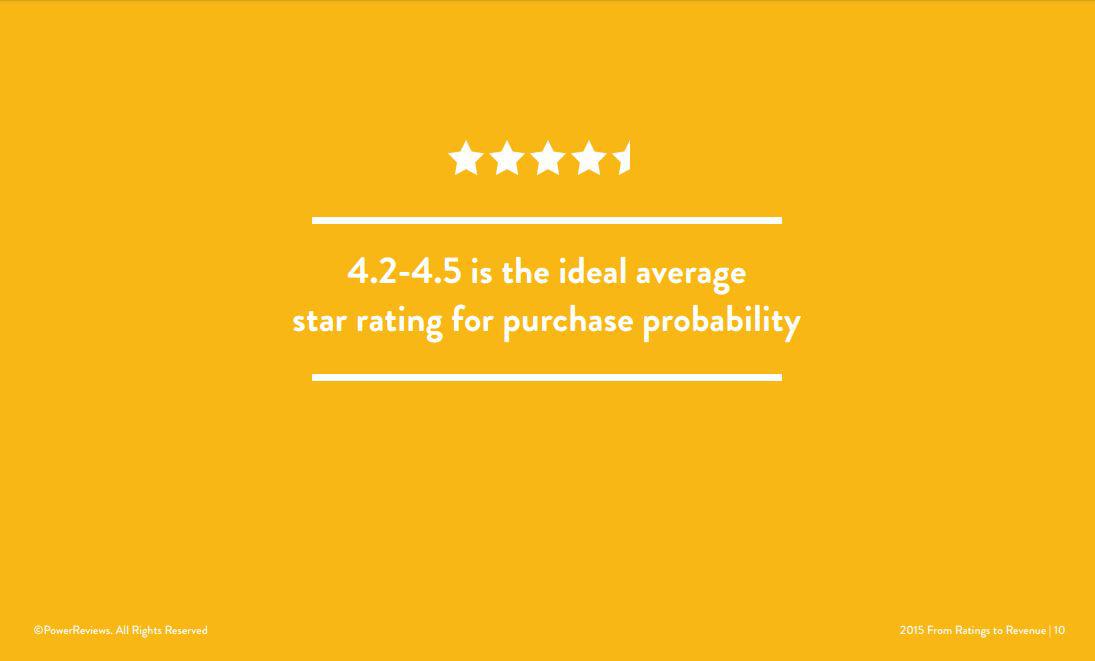 Key Takeaways of the Study:
A few negative reviews help establish trust and authenticity among consumers
People can sense issues or censorship with reviews when a business is at 5 stars mostly
Negative reviews help users to know more, which increases their likelihood of choosing that business
How (a Few) Negative Patient Reviews Benefit Your Healthcare Business
Highlight positive reviews
One of the most significant impacts of the presence of a few negative reviews is they make your positive reviews look genuine, and trustworthy. As discussed earlier in this blog, your prospective patients will not look at your positive reviews in isolation. They'll compare them with the negative ones to make an informed decision. The study into patient's attitude towards review reading suggests that patients note down the bad points about a service from the negative reviews, and compare them with how the happy patients have reacted about that particular aspect of the service. This expedition generally leads your patients towards garnering more faith in that particular aspect of your care.
Increase engagement
The presence of too many 5-star ratings and only praises bore readers. This doesn't just decrease the rate of user engagement on your review pages, but is also a lost chance to educate your patients more about your service. On the contrary, presence of a few negative reviews catches your patients' attention, and it buys time for you to convince your patients to convert, says a Neuromarketing blog. It suggests that consumers who interacted with bad reviews spent 5X as much time on a website as those that didn't.
Boost conversion
Conversion is the ultimate goal of any business, but if your potential patients aren't reading about you online, it's likely they'll look right past you. A few negative reviews are in fact the greatest conversion tool for your business. A few negative reviews inspire your patients to explore more, and the longer they spend their time on your site and view more pages, the higher the chance of their conversion. In fact, according to the same (as discussed earlier) Neuromarketing blog, consumers looking for negative reviews convert at an 85% higher rate.
Earn patient loyalty
A few negative reviews do not damage your overall reputation. On the contrary, they provide an opportunity to earn your patients' loyalty. You can learn about your areas of improvement from negative reviews and address your patients' issues through service recovery programs and retain those patients as your loyal promoters. Here's how you can earn patient loyalty from negative reviews:
Respond to the negative reviewer to let him/her and others see that you care to listen
Contact the patient personally and listen to their concerns
Immediately address their issues and solve their problems
Ask your patient to change or update his/her review on the review website
This way, you don't just instill trust in your existing patients and earn their loyalty, but it also helps your prospective patients in selecting you as their care provider. Note: While responding, look into the authenticity of the review. Report the fake or objectionable reviews to minimize their chances of hurting your search rankings.
Elevate patient experience
Don't just limit yourself to addressing a particular patient's issues. You should also take insight from your unhappy patients' reviews to make patient experience related changes to your facility that should benefit all your future patients. This way, you also minimize the chances of an increase in the number of negative reviews for future. An improved patient experience helps you in improving your hospital's or practice's performance as well.
Get the Reviews You Deserve
Hopefully, you got the message by now: bad reviews can help your healthcare practice grow. However, like all other good things, you'll need negative reviews in moderation. A higher number of negative reviews will undoubtedly harm your practice's growth. With a proactive online review management process in place, you can ensure that more of your happy patients start writing and posting their experiences on different review sites. Another advantage of patient review management is that you know immediately when any review (good or bad) is posted. A prompting at the right time ensures that you address your unhappy patient's issues as quickly as possible.
Conclusion
Don't be afraid of negative reviews, unless they start flowing in greater numbers. Just keep the points discussed in this blog and tackle those reviews smartly. If handled properly, you can turn those few negative reviews into the most important conversion tool for your practice.