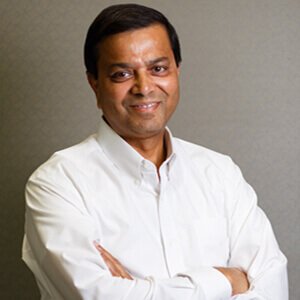 Founder
Hi, my name is Ajay Prasad and I am the Founder of RepuGen. I am a digital marketer and online reputation evangelist. As the Founder and President of the digital marketing agency GMR Web Team, I have been helping businesses of all sizes generate revenue from the internet for over 12 years. I created RepuGen to provide clients with a simple way to take control of their online reputation, so that negative online reviews don't control their business. Read below to see how (and why) I started RepuGen.
---
Problem

As more people started to use the internet to buy products and services, the need for stellar online reputation became a requirement for every business. Consumer research conducted by Bright Local In early 2016 revealed that 92% of all consumers check online reviews before they call or visit any business. The same research also found that only 13% of people will call or visit a business with 1 or 2 stars. We also understood that unhappy customers tend to be the loudest, which means a dissatisfied customer is more likely to write a review on Yelp than a happy customer. If left unchecked, these low star ratings could create an inaccurate representation of businesses.

Solution

To address this problem, GMR Web Team created a review development program in 2010 for its clients where these businesses asked customers for their feedback after receiving a service. These businesses handed out cards with all social media listings to happy customers, and asked them to write reviews online. The program worked very well for some clients. For example, a business with 7 reviews and 1.2 stars on Yelp increased their reviews to over 100 and 4+ stars, resulting in doubled sales. But other businesses did not execute the program as intended and did not see similar results.

Better Solution

I started to think about a process to simplify and automate our review development program. I wanted to create a system that would eliminate the need for human interaction, thus reducing the amount of work a business owner would have to do. My development team built an intuitive and simple user interface under the direction of my marketing team. Together, they created the RepuGen process. This process simultaneously protects businesses from negative reviews and increases positive reviews. It also lets businesses address unhappy customers and retain them. After 10 months of work, RepuGen was ready. I filed for a patent in January 2016 and started testing the product with my clients.

Results

The results were better than I expected. RepuGen immediately started improving online reviews on Yelp, Facebook, Google+, etc. The unexpected benefit was the comments from unhappy customers helped my clients improve operations and increase customer satisfaction.

Availability

Once the process was proven, we made it available for all businesses to help them improve their online reputation through increased positive reviews. We have found that online reviews help increase sales of all small businesses, but they are especially important for professional service providers like doctors, dentists, attorneys, CPAs and others. Our current clients that are seeing good benefits from RepuGen include doctors, dentists, preschools, urgent care centers, landscaping businesses and much more.

Guarantee

We are so sure that our software will help improve online reputation and customer satisfaction that we offer an unconditional satisfaction guarantee. If you actively use this tool for three months and decide to cancel for whatever reason, we will refund 100% of your fee. No questions asked.