Patients are increasingly relying on online reviews for verifying about your practice's reputation.
In fact, the new findings show that 81% of patients consider online reviews when selecting a healthcare provider. It confirms that your online reputation is often a first impression for your new patients. This calls for a dedicated work on your online reviews to avoid a negative first impression on your patients regarding your practice.
It's not just the quality of reviews (positive or negative) that matters. But there are other related aspects such as their age, volume, and whether you're responding to them or not, that affects how your (or your practice's) online reputation would personify before its audience.
The importance of first impressions in healthcare can never be denied. Because reviews reflect the kind of patient experience you're able to provide, you need to be serious about what impressions the online reviews are leaving on your prospective patients.
Reviews come first in the search results and stand in the forefront in providing that experience to your prospective patients. In addition to reviews, your organization's online experience is also a key component of patient satisfaction.
Always know about the various aspects of online reviews that may hamper your healthcare business by presenting a negative first impression of your practice online. You have to acknowledge them so that you can focus on eliminating them.
Here are the 5 online reviews mistakes that leave a negative impact on your patients' first impressions about your healthcare practice and affect their decision.
1. Reviews That Are Too Old
Patients appreciate finding lots of reviews about you. It adds credence to your presence and popularity in the respective locality. However, even the high quantity of reviews can't save your online reputation for long if they're not flowing in frequently.
In our 2021 Patient Review Survey, 80% of patients said that the age of the review affects its relevance. This means that your prospective patients are more likely to leave looking for you any further if you don't show up with recent reviews by your patients.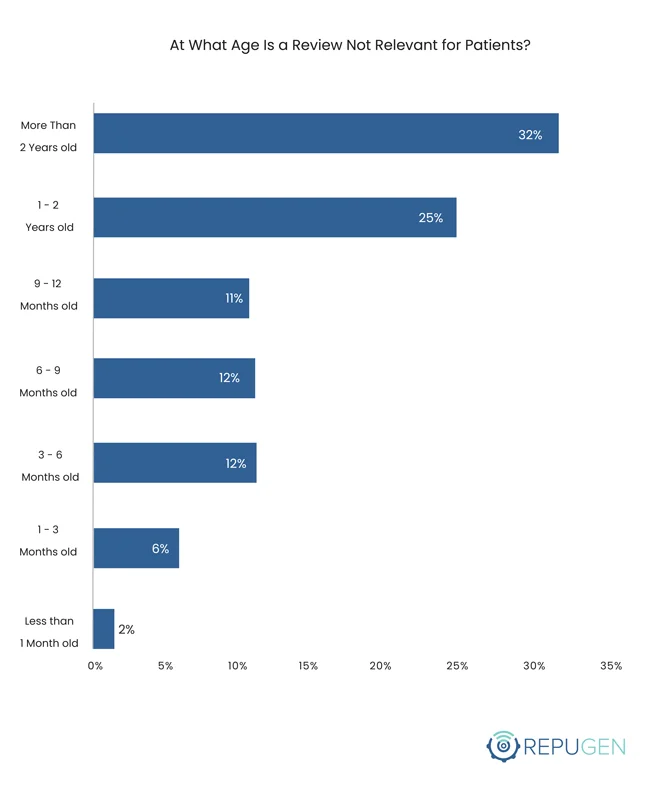 The statistics above also points toward the idea that consumers are relying more on recent reviews. It is clear that more than 50% of patients would not trust if the reviews are older than a year and 32% of patients will not trust if the reviews are over 2 years old.
The findings show the importance of the recency of reviews and how the age of the reviews affects the trustworthiness of healthcare practices. Therefore, providers should work towards getting reviews on a regular basis to increase their trust and build their robust healthcare reputation.
2. Too Many Negative Reviews or No Reviews
Zero reviews are as bad as negative reviews. Sometimes, even worse. On one hand, too many negative reviews will suggest a bad reputation for your practice.
On the other hand, no reviews will suggest a non-existent reputation with zero credibility on the internet. Time-poor consumers (your prospective patients) who can't find any reviews about you will instead check out other providers with at least an average review reputation. It's all the same for providers who show up with too many negative reviews.
A whole bunch of negative reviews will also make your patients not want to use your service. In fact, according to the RepuGen survey, 40% of patients refuse to select a provider with poor reviews, this increased by 10% over 2020. This shows how crucial online reputation management for healthcare providers is.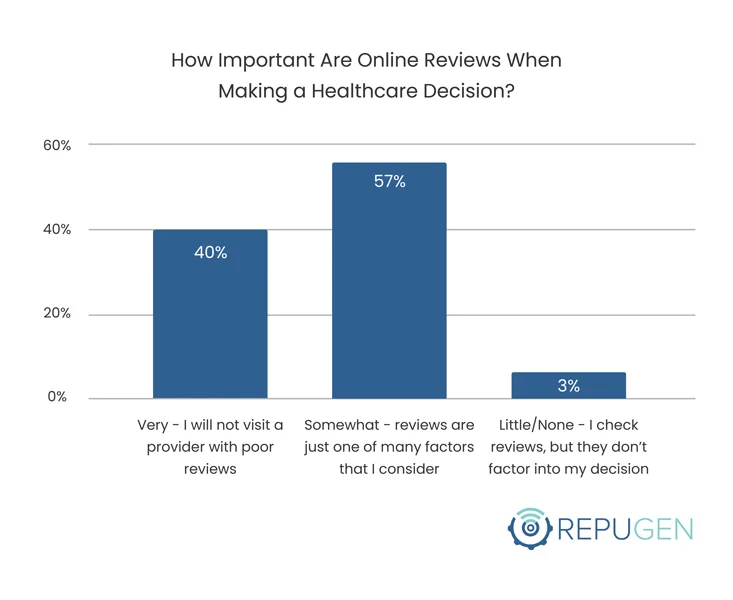 3. Too Many 5 Star Ratings
If there are too many negative reviews, your prospective patients won't bother to scroll any further on your profile page.
They'll simply research elsewhere. If there are too many positive (5 stars) reviews, they'll be hesitant and question the credibility of perfect reviews. Most of them won't stick at finding more about you. As a simpler move, they'll leave. Patients won't spend more time than necessary to research your practice, and will instead, look elsewhere for a more credible and reliable practice.
According to a neuromarketing blog, 95% of consumers suspect censorship or fake reviews when there are no bad ones. This is the reason why you don't want to appear too good to be true. This is more so true for healthcare practices. That's because a healthcare business mostly drives on local patients. In most situations, these patients already have a general idea about your practice and its quality of care through news or views.
Obviously, all those news and views can't be perfect. So, when they find only (or mostly) 5 star ratings with too good comments about your service quality on review sites, they cannot digest it.
4. Outdated or Inconsistent Listing
Patients go on looking at multiple reviews websites to get a better picture about you, according to a Zocdoc.
Various researches have shown proofs of that too. Landing at inconsistent information regarding your practice across these different platforms will not only confuse them, but also make them angry. Many of our existing healthcare clients were having some or other form of listing inconsistency on different review websites when they came to us.
These were simple errors like not being consistent with updated information (changes in email address, phone numbers, location of business, etc.) on all platforms. However, these simple errors were causing severe damage to their online reputation. After we updated and made all information consistent throughout the review platforms, with some time, we started seeing a positive shift in conversion rates.
It's necessary to ensure that your business information is consistent across all websites, including the review websites. Focus particularly on NAP (Name, Address, and Phone Number) information because that's where your patients' attention lands.
5. Zero Response on Patient Reviews from Your Side
Unfortunately, negative reviews do happen sometimes. While responding to them tactfully and in a highly professional manner can reduce their bad effects, not acknowledging them with a response will only add to the bad impression.
Patients value responses to negative reviews. It gives them an assurance that there is someone on the other side who is listening to their concerns and taking care of it.
According to the survey, over 50% of the patients that left negative feedback said that the practice responded to their feedback and 65% of patients were satisfied with the response of the healthcare practices.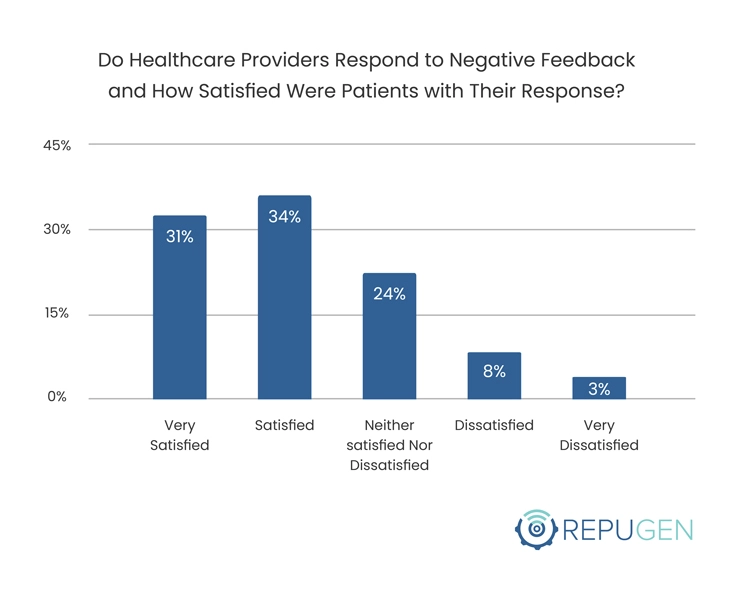 There are 60 review websites focused on healthcare in the US. It's difficult and expensive to keep up with all these platforms manually. That's why it's recommended that medical practices and doctors invest in a healthcare reputation management solution for the job.
Managing Your Practice Reviews with RepuGen
We understand how daunting it can be for you as a doctor to manage online patient reviews when you are always on the move. That's where RepuGen can help you. It automates the process of surveying patients and managing their feedback, so practice managers don't have to.
Watch how RepuGen works to improve patient experience and your hospital's performance.
In the end
Because a healthcare practice is all about its reputation, it's highly recommended that you take care of these five issues with your online reviews. By improving the quality of patient care, you can grow your medical practice.