7 Top Dentist Review Sites You Should Be Monitoring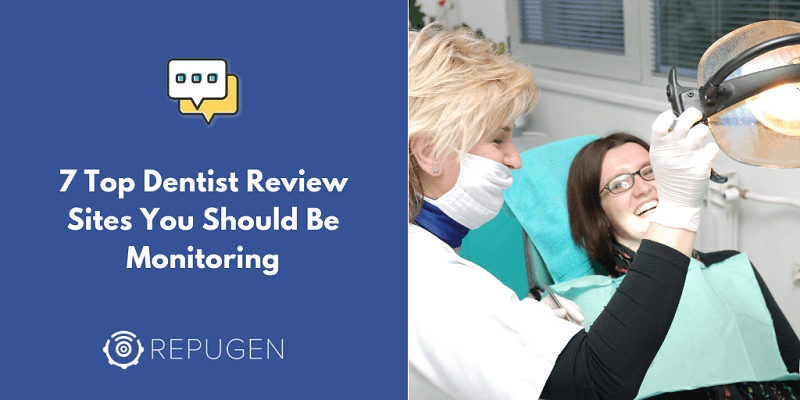 According to a survey by Software Advice, more patients are using online review sites to research for healthcare providers. 94% of patients use online reviews to evaluate providers and 72% as their first step to finding a new provider. Also, 2018 Local Consumer Review Survey by BrightLocal found that 86% of consumers read reviews for local businesses. Therefore, maintaining a stellar online presence on dentist review sites is essential for your dental practice.
Why are dentist review sites important?
Potential patients will always want to visit a dentist with a proven track record and a good online reputation, so they will trust the information and reviews shared by other patients. Many potential patients trust dentist rating sites while searching for dentistry services around them. Therefore, online review sites are essential for dentist reputation management. Your online reviews and ratings on these sites will prove your expertise and will attract more patients to your clinic.
Dentist review sites can also help you improve your patients' experience. The patients' reviews and feedback will let you know what your patients are talking about you, what they think or what they feel about your services. In this way, you'll know what needs to be changed. It'll help you create a happy and satisfied patient base and grow your practice.
The internet is flooded with hundreds of online dentist review sites that allow patients to share their personal experience and review on the dentistry services. We have compiled a list of top review sites for dentists.
Top 7 Dentist Review Sites for Dental Practices
Yelp has emerged as one of the fastest growing online review sites with close to 131M total visits in the last six months. It has ranked as one of the best online references/directories with a strong worldwide presence. As a dedicated site for providing business reviews, it is very popular amongst the dentists and healthcare industry. It is one of the perfect platforms to get reviews from patients.
When it comes to online presence, how can one ignore Google! It is a crucial business review site which combines the power of local business listings. Just like Facebook, many dentists have an active presence on Google My Business page where patients share their reviews, feedback and even ask questions related to dental health or services being offered. It has millions of visitors, so it plays an important role in dentist reputation management.
1-800-Dentist is an interactive platform where one can find a number of articles and videos on dental care. With close to 165,000 visits, it also works as a dentist directory. The patients have to answer five questions to get a custom dentist recommendation. 1-800-Dentist asks the patients to share their experience and review about their dental visit. Potential patients are highly influenced by these reviews.
Healthgrades claims to have over 7 million reviews of dentists and doctors on its site. Potential patients can request an appointment for dentists listed on the site. And later, they can review the dentist through an easy process. It features free dentist profiles and health-related content for patients.
Zocdoc is an important dentist rating site where potential patients can book online dental appointments according to their search preferences. This site asks patients to share their review on the dentist or dental care clinic they have visited. It has a lot of other features to offer like dental visit reminders. With over 3.8 million visits, it is an important site to get dental reviews.
Dentistry.com has a community feature where real dentists interact with the community members who can be their existing or potential patients. The dentists answer the dental questions asked by the community members. Also, there is an 'Expert Corner,' where the expert dentists regularly publish several articles on good health and dental care. It also features an appointment booking tool.
Claiming itself to be one of the most transparent healthcare review platforms for doctors, CareDash comes next in the list with 1 million searches alone in March 2019. This platform allows patients to look for doctors and dentists in their area and compare ratings of different providers so that they can choose the best one. Patients can also share their experience by leaving a review and rating.
While patients can do all that, healthcare providers and practice managers can claim and manage doctor profiles for free. They can also respond to patient's reviews and improve overall engagement. CareDash also has a library of information with tips and advice to help both patients and doctors.
Take a proactive approach to building and maintaining your online presence on these dentist review sites!