In the past year, over 99% of consumers used the internet to find information about a local business before choosing to visit or not. Similarly, 81% of patients are turning to online reviews when choosing a new healthcare provider. So, it's very important to monitor and handle your reviews as they roll in-- especially the negative ones.
Studies show that 40% of patients refrain from using a healthcare service if they find too many negative reviews online. So in the long run, negative online reviews, whether from real or untruthful patients, can cost you 30% of your business.
Negative reviews can also leave a poor first impression on patients and damage your reputation in the eyes of search engines, which could mean low visibility on the web.
Likewise, a plethora of negative reviews (or no reviews at all) can inadvertently show prospective patients that your practice has a less-than-ideal reputation and offers subpar services and care.
In this blog, we're going to discuss:
So, let's discuss negative reviews, why patients leave them, and how to handle them appropriately.
Why It's Important to Respond to Negative Patient Reviews
About 32% of surveyed patients say they have left a negative review for their healthcare providers, with the younger population being more likely than others to leave a negative review.
While negative online reviews are typically not a fair representation of a healthcare practice, they are still damaging when they are the only reviews available for prospective patients.
It's extremely important to respond to any negative reviews as 65% of patients who leave negative reviews are satisfied by the response given by the practice. This also means they are more likely to change or delete their review.
Responding well to negative reviews also shows that you are committed to improving the patient experience. Attention to these matters shows patients that you care about their experiences and are committed to listening and correcting any wrongs that may have occurred.
What Factors are Primarily Responsible for Negative Feedback?
Quality of care received, the provider's demeanor, and billing issues are the top three reported factors responsible for negative reviews.
Other factors include wait times, issues with front desk staff, and issues with finding and/or parking at the office. It is important to take these factors into consideration; improving your patients' experience specifically in these areas can mitigate negative reviews.
HIPAA Compliance
All review responses from staff are required to be HIPAA compliant, so keep that in mind when developing a strategy for replying to patient reviews.
HIPAA requires providers to respond to online patient reviews without disclosing the patient's identity and/or their personal health information such as, but not limited to, phone number, email address, appointment dates or times, diagnosis, and test results. Failure of HIPAA compliance when replying to online patient reviews can lead to hefty fines and/or other legal ramifications.
How to Respond to Negative Patient Reviews
Now, let's discuss some of the best practices for responding to negative reviews.
Respond Quickly to Negative Reviews
A quick response shows that your practice cares about patient experiences. Letting negative reviews sit for too long can also cause negative feelings and misinformation to spread; for example, if someone left an untrue or spam review.
It is best to reply quickly, within 1-2 business days, to mitigate any negative feelings, display how much you care, and show prospective patients that your practice works hard to make things right.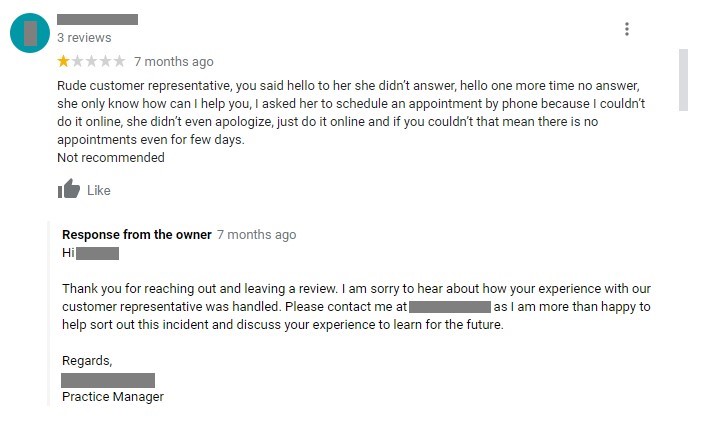 Apologize and Explain
Whether you believe it is the fault of the patient or not, always offer an apology for their negative experience. This can look something like, "we are sorry you had a bad experience with our front office staff…"
Next, offer a brief explanation while being careful to not sound defensive or angry at the patient. For example, if a negative review mentions a long wait time, offer an explanation such as, "unfortunately our clinic saw a rise in critical patients so wait times may have increased,".
The point is to offer an apology for whatever they experienced while also calmly and kindly explaining the situation from the practice's perspective.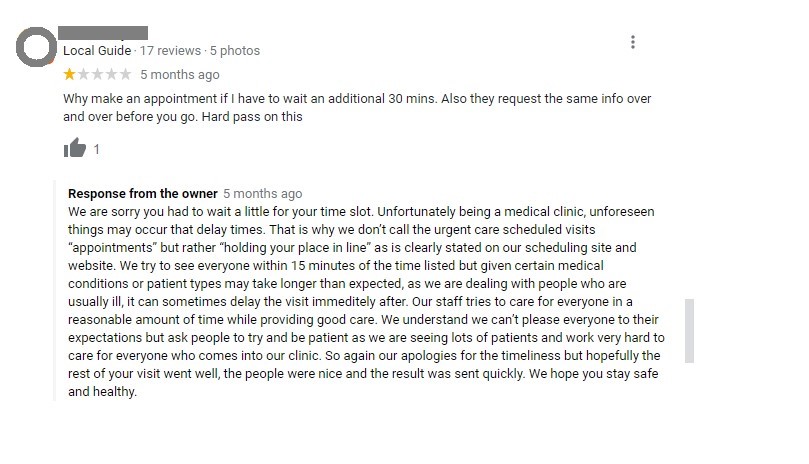 Attempt to Resolve Offline
Keeping responses short and to the point makes your practice look more professional. Responses to negative reviews that contain several paragraphs may be seen as negative to patients reading through them as it may make you look defensive instead of caring.
To keep responses short, always offer a way for the upset patient to contact you offline in order to speak on the issue and further attempt to come to a resolution. This allows your practice to have a private conversation with the patient, where you can acknowledge their review and offer resolutions.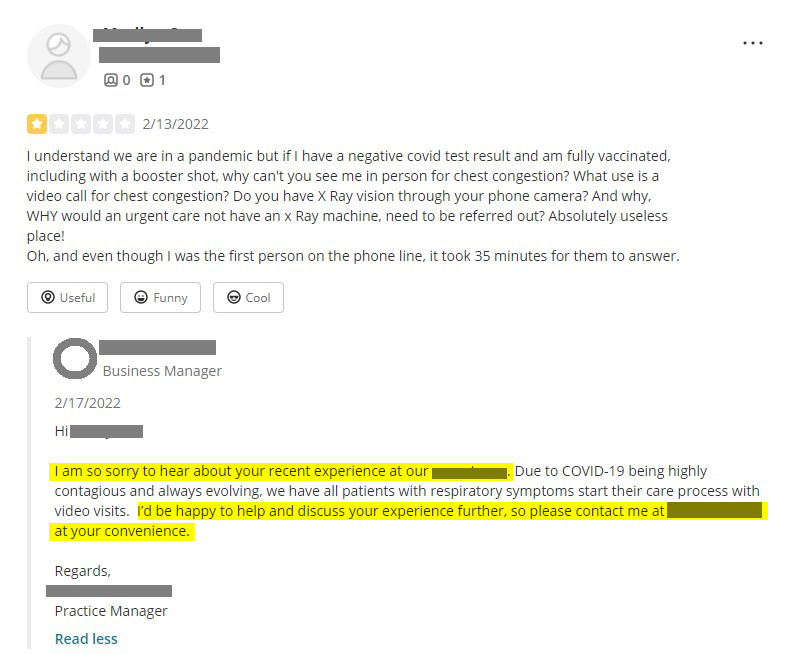 Do Not Ask Them to Delete
Asking a patient to remove their negative feedback (or removing it yourself) is not only unethical, but will also provoke more negative feelings about their experience.
Unsatisfied patients who see that their feedback has been not only ignored, but deleted, will often take their grievances to other online platforms. This includes social media, where they can easily reach all local friends, family, and even entire neighborhoods.
Thank Them
While it may seem strange to thank a patient who just left your healthcare practice a negative review, it's a necessary step to take when writing your responses.
Thanking patients for their time and honest feedback is a great way to show that you are dedicated to listening to patients and making improvements for the future.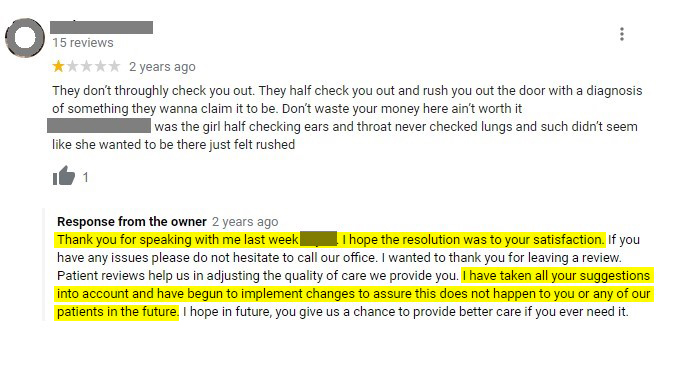 Addressing Unhappy Patients the Right Way
Keeping up with patient reviews can be time consuming, which might not be ideal for busy healthcare practices.
Luckily, RepuGen's proprietary software helps practices establish a successful service retention process to maintain and grow a loyal patient base.
This software seamlessly acknowledges and addresses any unhappy patient's concern in a timely manner with minimal hands-on work needed from your practice.
When patients feel listened to and cared for, they are more likely to delete or change their review into a positive one, while also becoming a loyal patient.
Schedule a demo today to see what RepuGen can do for your healthcare practice.