This blog focuses on the discussion regarding the most popularly used review websites for healthcare, what are their general terms and conditions regarding review reporting, and what's the process for that on each of these websites.
Negative reviews do happen sometimes.
And, the best way to tackle them is to respond to them politely and personally.
Seeing their concern addressed, your angry patients (in reciprocity) may change or even delete their bad reviews. But responding for addressing the concerns is good when negative reviews are true to their claims.
How do you think you'd respond to a negative review that's false or faking a story? It's possible! Sometimes, it may be an infuriated patient who writes a false review over-analyzing or over-emphasizing the story. At other times, it may be a jealous competitor, a previous employee, or someone else spamming your review profile with fake content.
Reporting or flagging those objectionable content on review sites (Google, Yelp, Facebook, HealthGrades, Vitals, etc.) is the most convenient way for doctors and practice managers to get rid of them.
It takes less effort (just few clicks), and guarantees favorable results – so long you can provide credible arguments. You may try some other options like confronting by posting the right details, or complaining with the authorities, but let me assure you here that those are not the best options for tackling with fake reviews.
Problems with the Other Options
Confronting by posting the right details
The only way to prove a fake story untrue is to give out the right details.
But there lies the trap! That's reality!
Sometimes, it may be an infuriated patient who writes a false review over-analyzing or over-emphasizing the story. Other times, it may be a jealous competitor, a previous employee, or someone else spamming your review profile with fake content.
There's more to HIPAA privacy guidelines!
Suppose an angry patient complains (on Google, Facebook, Yelp, etc.) that he wasn't treated appropriately, and even discloses his health information to simply assert on his point. Even in that case, the physician cannot use that already disclosed health information to explain why he chose the treatment.
Leave explaining, a simple apology from the physician will be seen as a confirmation to those details, which is the same as disclosing it by yourself, says HIPAA.
Filing a lawsuit
Perhaps, you may consider filing a lawsuit against your patients who wrote those fake and defaming reviews. But I'm sure you would not choose that path. Here's why:
Requires significant investment of time and resource
Evidence needed to establish a defamation claim is often difficult to prove
An image of a physician who sues his patients in connection of a bad review is certainly not what you'll want to have
It's a fact that physicians suing for online defamation rarely succeed, says Eric Goldman, a law professor at Santa Clara (CA) University
What Kind of Reviews Can be Taken Down?
Review reporting is easy but it doesn't always guarantee that the reported review will get removed.
That's because review websites cannot agree to either side of the story; yours or your angry patients'. Also, their review policy doesn't allow them to simply delete their own user's reviews, until and unless they violate their website's review guidelines.
Yes, you heard it right...there are certain types of reviews that can be removed!
No matter whose side of the story is true, review websites will most happily remove those reviews that violate their terms and conditions or guidelines. Knowing the respective site's terms and conditions will let you:
know the difference between reviews that can get removed and the ones which can't, so that you are not wasting your time
present a perfect argument that goes parallel with review site's terms and conditions, so that site's manager is convinced to remove it
"As the review websites' are generally immune from liability for decisions to leave, or to remove, content posted by their users under the federal law, they can agree to take it down without fear of legal repercussions if they find your argument credible."
For reviews which you can't get removed, you can still lessen their impact by personally contacting the angry patient and talking over their issue with them. After resolving their issues, you can politely ask your angry patients to remove or change their review. They'll most likely do it!
Related blog: Dealing with Unhappy Patients: How to Retain a Healthy Relationship
Which Review Sites Are Important?
There are hundreds of review websites in America, but only few of them are important enough to leave any impact on your healthcare business through the reviews posted on them. Here are some in order of their importance:
Google.com: Google reviews are the most important because they appear on many locations, i.e., Google+, Google Maps, and of course the Google search results (with the cumulative star rating). Google reviews texts may also get displayed in a large block of the screen in a search result.
Facebook.com: Facebook reviews also appear in the search results with the cumulative star rating. Facebook's huge popularity among its users makes it the second most important review platform.
Yelp.com: Yelp is the third most important review website in terms of traffic in US. Because of its huge traffic and its ability to improve search engine rankings, almost every practice and providers have their profile page on it.
HealthGrades.com: It's a 'specific for healthcare' review website and it stands foremost in its category in terms of popularity.
Vitals.com: In the 'specific for healthcare' review websites category, Vitals is the only other website that receives enough traffic to take it seriously.
We'll discuss the review policies of each of these websites, and how you can report reviews on them.
How to Flag a Google Review?
It's very hard to get reviews removed from Google, however, it's possible if the questioned review either violates the Google's review guidelines, or if the questioner (the practice or provider) can submit a court order to Google for removal of review (which isn't the best way of course).
Before knowing about how to flag a Google review, take a look at the gist of the applicable section of the review policy laid down by Google:
Reviews should be real; based on genuine experience at location (As you cannot reveal any information for proving your point, it's better for you to take the legal route for this type of complaint)
Reviews should be specific and on the topic (You can explain to the review site manager why a certain review is not on topic, and get it easily removed)
Reviews shouldn't be sexually explicit or contain profanity (Very easy to get removed)
Reviews that are abusive, hateful, threatening, and harassing (you'll have no problem getting them removed)
Reviews that impersonate another or misrepresent an affiliation with a person or an entity (Again, you are better off the legal route)
Reviews that contain advertisement links (Also easy to get removed)
Steps to flag fake reviews on Google My Business
Desktop

Mobile

How to Report a Review on Facebook?
Nothing specific to reviews have been laid down by Facebook.
Facebook's community standards decides about the fate of the reported content or a review. It doesn't lay down hard and fast rules for reporting an objectionable content. They are more like open to interpretation, and the company clearly states that in some cases, the company may not find things inappropriate just because you find them disagreeable or disturbing.
Even so, many things are quite obvious regarding content sharing policies in the Facebook's Community Standards. If you want to take a review down on Facebook, the review should satisfy one of the following conditions:
Not related to the page
Sexual explicitness or profanity
Bullying, harassment or hate speech
Directly threatens or promotes violence
Obscene and offensive language or gesture
Steps to dispute reviews on Facebook
Go to the reviews page.
Click on the drop-down arrow on the right of the review in question.
Select the "Report Post" option from the drop-down menu. Choose the appropriate option from the new pop-up window and submit your request. Only administrator of the page can report a review on Facebook.
How to Flag Reviews on Yelp
Yelp is somewhat similar to Google in terms of reviews reporting services. In order to get a review removed from Yelp, the review in question should violate their Content Guidelines or its Terms of Service. To summarize, a review should violate one of the following to get it removed:
Reviews containing threats and harassment, sexually explicit content and obscene language and gestures (These are always easy to get removed)
Reviews written by employees, family, relatives, friends, competitors, etc. are not allowed (Anything that's written with a conflict of interest for your business will be easily removed)
Reviews that are promotional in nature; contain links to other landing pages (Easy to get removed)
Reviews should not violate someone's privacy (photos or names without approval from the stakeholder other than the business owners stand subject to removal)
If you don't like a review, and think that it also violates the Content Guidelines or Terms of Service of Yelp, just click the flag icon at the right of the review in question and that's it.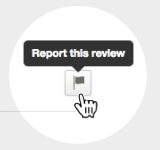 On the Yelp for Business Owners app,
find the review which you want to report
Click on "More option" icon and then "Report Review"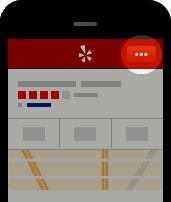 Yelp team will review if the review actually violates the guidelines or not. If yes, the review will stand removed. Only the owner of the review page can flag a review on Yelp.
HealthGrades (No Text Reviews)
HealthGrades does not have text reviews so you don't actually have to worry a lot about it.
It shows only the star ratings that represent a total score by patients based on different criteria. Just take care of the repeated submissions of ratings by patients as it may bias your total calculated score. If you feel that your profile may be spammed, you can reach out on info@healthgrades.com to voice your complaint.
Vitals (Easiest One to Deal With)
Getting a review removed is the easiest on Vitals. You can report the review and also connect with the team to explain the matter in detail. First, let's have a look at the conditions that need to be met for a review to be removed:
If the review is written for someone else; it's not your own
If written by an employee
If it contains third-party names
If it contains sexually explicit content
If it harasses, threats, abuses, or harms
If it's promotional
Just click on the "report abuse" next to the review with which you have issues. You can also reach out on support@vitals.com to further explain the matter. If still the reviews are there, you can hide any two from showing upfront. Sometimes, it becomes difficult to differentiate between a negative review and a fake review.
It's better to have a proactive healthcare reputation management system, in place to constantly monitor your online reviews, and let you identify the bad reviews before they get posted. Schedule a personal live demo or call us at 866-246-7891 to understand how RepuGen will help you eliminate fake reviews and address negative reviews.