Reputation Management for Surgeons: 5 Essential Ways to Build and Protect Your Online Image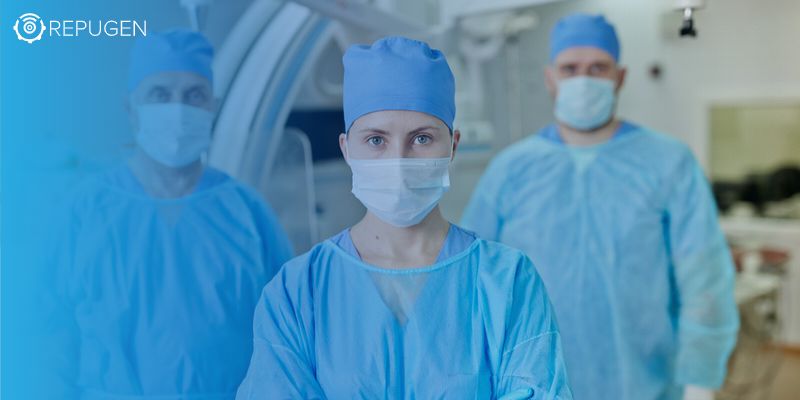 In today's digital age, online reviews have become an integral part of the healthcare industry. Patients often rely on online reviews to make informed decisions about their healthcare providers. Beyond just online reviews, being aware of overall online reputation can be just as, if not more, important for healthcare providers' presence.
But why exactly do surgeons need online reputation management? Surgeons need online reputation management to protect and enhance their professional reputation on the internet. As more patients search for medical information online, a surgeon's online presence and reputation can greatly impact their practice.
Read on to learn a few practical tips that surgeons can use to ensure their online reputation is excellent.
The Importance of Reputation Management for Surgeons
Did you know that about 66% of people use Google for checking reviews in the healthcare industry? Online reviews have become crucial in building or damaging a surgeon's reputation. In general, around 81% of patients consider online reviews when selecting a healthcare provider.
Positive reviews can attract new patients, increase trust, and improve a surgeon's credibility. On the other hand, negative reviews can discourage potential patients, lower trust, and damage the surgeon's reputation.
1. Potential Consequences of a Negative Online Reputation
A negative online reputation can have significant consequences for a surgeon's practice. Potential patients may choose to go to a different surgeon, leading to a loss of business. A bad reputation online can lead to legal and ethical difficulties, making managing one's online presence even more important.
Only 32% of the overall number of patients give a negative review/feedback for a healthcare practitioner. Concurrently, younger patients are more likely to voice their dissatisfaction than older patients.
2. Benefits of a Positive Online Reputation for Surgeons
Let's have a look at several benefits of a positive online reputation for a surgeon:
Attracts new patients
Increases trust and improves credibility
Patients prefer surgeons with a positive online reputation
A strong online presence builds the surgeon's brand and establishes them as an expert
Improved patient outcomes
Strategies For Managing A Surgeon's Online Reputation
There are various strategies that surgeons can use for online reputation management. These strategies include:
1. Monitor Online Reviews and Patient Feedback
Monitoring online reviews and patient feedback is essential for surgeons to maintain their reputation as 40% of patients now refuse to select a healthcare provider with poor reviews. This underscores the importance for surgeons to stay on top of their online reputation and actively monitor patient feedback as 80% of patients check online reviews when selecting a healthcare provider.
Patients nowadays rely heavily on online review platforms like Google and Healthgrades to research healthcare providers. To maintain their reputation and stay on top of patient experiences, it's crucial for surgeons to have a reliable online reputation tool such as RepuGen.
RepuGen not only streamlines but also automates the feedback collection process, which enables surgeons to monitor patient satisfaction trends over time and proactively improve their practice's reputation. The tool automatically sends out patient surveys and collects feedback from various online review platforms, eliminating the need for manual data collection.
RepuGen offers a user-friendly interface for surgeons to collect patient feedback through automated surveys via email or SMS. The platform also provides valuable insights into patient satisfaction trends and enables surgeons to respond to reviews from a single dashboard, helping them identify areas for improvement and track progress over time.
2. Respond to Negative Reviews in a Professional Manner
Negative reviews can be damaging to a healthcare practice's reputation. However, responding to negative patient reviews in a professional manner can help showcase how much you care about patient feedback. Here are some pointers on how to respond to negative patient reviews:
Respond Quickly to Negative Reviews: It's important to respond quickly to negative reviews. This shows that you are actively engaged in managing your online reputation and that you care about your patients' experiences.
Apologize and Explain: Start your response by apologizing for the patient's negative experience. Then, provide an explanation for what went wrong. This helps to show that you understand the patient's concerns and are taking steps to address the issue.
Attempt to Resolve Offline: Attempt to resolve the issue offline, if possible. Reaching out to the patient and offering to work on a solution will show that you care about their experience and are willing to make things right.
Do Not Ask Them to Delete: It's never a good idea to ask a patient to delete their negative review. This can come across as insincere and may even make the situation worse. Instead, focus on addressing the patient's concerns and improving their experience.
Thank The Patient: Finally, thank the patient for taking the time to provide their feedback. This will show them that you value their opinion and are open to constructive criticism.
3. Promote Positive Press and Patient Testimonials
Reviews and testimonials from satisfied patients are an effective tool for healthcare branding and marketing. Displaying them on your practice's website can produce a variety of benefits, including:
Social Proof: Patient testimonials can provide credence to your practice's positive statements. Other patients vouching for you can go a long way in increasing your brand's credibility because not all new visitors to your website will take your word for it.
Human Touch: Showing real-life patient-doctor interactions and experiences that resulted in positive outcomes for patients humanises your healthcare brand. It can help you connect with clients more effectively.
Patient Acquisition and Retention: The positive things that patients say about your healthcare services might be the deciding factor for prospective patients looking for a provider.
4. Managing Social Media and Website to Present a Professional Image
Surgeons can use social media to research and compare the quality of services provided by their rivals and assess their patient satisfaction. By adopting strategies used by other businesses, healthcare providers can improve their tactics and enhance their customer service.
Managing social media can benefit healthcare providers in multiple ways:
Helps to engage with the general public, discuss sensitive health-related topics, and provide reliable information to combat misinformation.
Healthcare providers can also monitor third-party review sites and forums to analyze sentiments and improve patient experience.
Social media can be used to communicate in real-time during times of crisis, providing updates on hospital capacity, operation status, and emergency room access.
Social media can also be a useful tool for gathering patient feedback and addressing their concerns promptly.
5. Use a Patient Engagement Platform
A patient engagement platform improves healthcare by providing patients with easy access to their health information, personalized care plans, and virtual care options. It helps healthcare providers communicate with patients more efficiently, schedule appointments, and send reminders.
Doctors can participate more actively in their own care, track their progress, receive feedback, and connect with other patients. By using such a platform, healthcare providers can create a more patient-centered approach to care, leading to better outcomes and greater satisfaction.
Healthcare practices often have problems with inaccurate or infrequent reviews, no process for addressing unhappy patients, and an inability to identify patients likely to refer. A patient engagement platform is valuable for surgeons to connect with their patients and ensure patient satisfaction. It can be used to gain a better understanding of the patient's journey and what the patient feels about the services provided, enabling you to provide better care.
So if you want to improve your online reputation, get more reviews, and establish an unmatched service recovery and retention process to maintain a loyal patient base, find out how our proprietary software can help.
RepuGen is a healthcare reputation management software that strictly follows HIPAA guidelines to ensure your patients are at the center of our solution. It provides a platform that collects patient feedback to assess what areas of care and services could be improved. We offer a proactive approach to manage online reputation, improve accuracy, and provide tools to improve care, all to ensure that your online presence accurately reflects patient satisfaction.
How does RepuGen help you in reflecting patient satisfaction?
We use patient profiles to track your patient's journey
Schedule automated reports for upcoming appointments
Analyze and assess the loyalty of patients
Best Practices for Building and Maintaining a Positive Online Reputation
Below are best practices for building and maintaining a positive online reputation for surgeons:
Provide excellent patient care
Effective patient care involves more than just successful treatment outcomes. Patients also value positive interactions with friendly, skilled, and efficient healthcare employees. By providing staff training, healthcare providers can educate their personnel to deliver the superior experiences that patients expect and deserve.
Communicate effectively with patients
Establish a rapport and gain trust, and ask the right questions to learn the patient's perspective, concerns, and skills. To ensure effective patient education, start by gathering clues and assessing the patient's knowledge and readiness to learn. Involve others and identify barriers and limitations to education.
Seeking ways to improve and stay current in the field
Continuously seeking ways to improve and stay current in your expertise area is essential to maintaining a positive reputation. It includes participating in continuing education programs, incorporating new technologies, and seeking feedback from patients to improve continuous care.
Encourage satisfied patients to leave positive reviews
Encouraging satisfied patients to leave positive reviews is a proactive way to enhance an online reputation. In fact, 8 out of 10 patients check online reviews before selecting a healthcare provider displaying how online reputation management has become very important across the entire healthcare industry.
Automate Your Reputation Process with RepuGen
Asking patients to leave online reviews and managing your reputation is a time-consuming job that could be better spent providing quality care to your patients. Using reputation management software for surgeons would be a valuable asset in easily soliciting more evaluations from your patients, enhancing your patient service recovery process, and keeping all of your reviews in one location.
RepuGen is a powerful healthcare reputation and review management software that helps you earn more online reviews and provides configurable options to meet all of your reputation management needs.
Don't let negative reviews hold your practice back! Positive feedback from satisfied patients can be the deciding factor for new patients choosing your practice. With proactive reputation management, you can improve your online reputation and attract more patients to your practice. Take the first step in enhancing your online presence today by choosing RepuGen!
Ready to see where your practice stands? Get a comprehensive scorecard of your online reputation now by clicking here. See how your practice is perceived by potential patients and take action to improve your reputation today. Contact us now!