Healthcare practices can drive higher patient acquisition from the Internet if they can ensure their practice appears on the first page of Google search results.
While this statement is true, it doesn't always guarantee the expected results.
After all, how many users/patients do you think will check every link on the search results page before selecting a provider?
To get patients to click on your practice's link before any other, you'll either need to acquire the top position (at least within the top five) or present something more 'catchy'.
That's where Google review snippets come into the picture. One of the best ways to improve click-through-rate (CTR; the percentage of users who clicked on the link to come to your web page) for your site on Google, without even ranking in the top 3 or top 5 of the search results, is the Google review snippets.
[Remember those graphical star ratings appearing below the site link for search results on Google.]

[Review snippet of one of our highly esteemed healthcare clients]
These review snippets provide a more reliable picture and are also eye-catching, which makes users click on the link, even by ignoring the links appearing above it in the search results. Not only could this equate to more new customers, but it could also increase your web page's CTR, helping it to rank higher for relevant keyword searches in the future.
The first organic result shows a significant drop in click-through-rate when a featured snippet is present, according to a study by Ahref.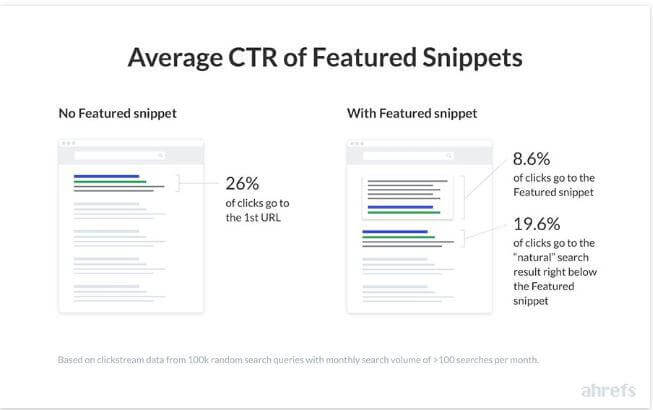 How to Get Review Rich Snippets in Google for Your Medical Practice
As discussed earlier, review rich snippets increase the credibility of your practice by showcasing aggregate ratings from your patients right in the search results, which helps to increase your site's click-through-rate. As a result, your site's overall traffic rise in number. Also, as most of these people were incited by your reviews to visit your site, it's more likely that they will convert too.
Let's look at how you can implement review rich snippets on your site:
Utilizing Schema Markup
You cannot make your whole site appear with a review snippet, as in, your home page showing aggregate review scores from all patients.
That's not even the right way to do it.
Google's review snippet guidelines ask that you "refer clearly to a specific product or service," and "provide review and/or rating information about a specific item, not about a category or list of items". Following Google's guidelines, each service page of your practice (for which you want review rich snippets to appear) should aggregate ratings from only the concerned patients.
Also Read: The Right Way to Solicit Great Patient Reviews for Your Practice
The primary question here is how you can make your select service pages appear with rich review snippets on Google search results, and the answer to that is – by incorporating schema markup into your website.
Schema markup is a way to show your site's key information, such as location, contact details, business hours, or ratings by patients, within the search results through rich-featured snippets. It's a shared markup language (born from a joint effort between Google, Bing, Yahoo!, and Yandex in 2009) that makes rich snippets readable in any markup format, in any search engine, and in any browser.
Here are the recommended practices** for schema markups of your reviews (ask your SEO team to do this for you):
Step 1: Create a testimonial page, if there is none, and fill it with patient reviews. Avoid borrowing reviews from third-party review sites like Yelp, Google, HealthGrades, etc. That practice isn't recommended! You can utilize RepuGen for getting consistent reviews from your patients.
Step 2: Next, mark up each review with the review schema. Google recommends using JSON LD for this. Depending upon your service or specialty, wrap the reviews with the relevant schema. For example, physician schema for physicians, dental schema for dental practices, and medical organization schema for hospitals. Also, include the aggregateRating with the average of all the reviews on the page.
Step 3: Then, add the markup to your website's <head>.
Step 4: Add your specific schema (dental, physician, or medical organization) and aggregateRating schema to other relevant pages on your site. For medical practices, it should be the specific service pages or the location page (but usually location pages do not contain testimonials).
Note: Don't forget to check for errors. Use Google's own structured Markup Data Testing tool for identifying errors. Fix the errors to help Google read your schema implementation easier.
Tip for Multi-Location Practices
A multi-location practice, which has separate location pages on its site, should use schema markup reviews from patients of each review location
The XYZ location page should show review stars in search results because you marked up XYZ patient testimonials on that page, and so on.
Related Read: Your Healthcare Practice Needs Negative Reviews Too! Here's Why
Conclusion
Showcasing review scores right in the search results helps in catching user-attention by making your practice more visible from others. As a result, the user traffic increases on your site, which also helps in increasing the conversion rate.
**Reference: https://whitespark.ca/blog/how-to-use-aggregate-review-schema-to-get-stars-in-the-serps/
Related Blog Posts from RepuGen!