Here's Why You Are Missing Out on Patients to Your Competitors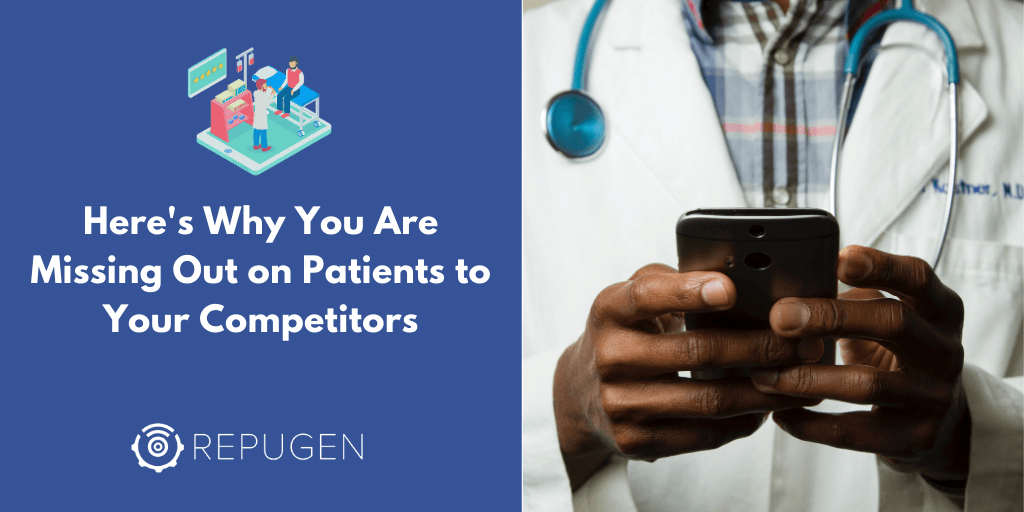 Do you know how many of your current patients return to your healthcare practice or are happy enough to recommend it to their friends, relatives, or even strangers?
Studies show that nearly 80% of patients look at online reviews to learn from previous patients' experiences before deciding where to go for treatment. Without a positive reputation, patients will choose your competitors over you.
If you want to improve patient loyalty towards your practice and stop losing business to your competitors, you need to address these 6 critical areas:
1. Weak Online Presence
According to a Pew Research Center study, 77% of patients begin their search for healthcare providers online using Google or other search engines. Your healthcare organization is virtually irrelevant to the many patients who search for medical services online if your online presence does not have the following:.
Website: Having a website will showcase your practice and services to prospective patients. Be sure to create a professional and optimized website so that your target patients can find you online.

Social media presence: Patients may look into your social media profiles, like Facebook and Twitter. Having an active social media presence with fresh content can attract more new patients.
2. NAP Inconsistency
Having incorrect online information of your practice's name, address, and phone number (NAP) can hurt your search engine rankings and direct patients to your competitors instead.
Having inconsistent information is common especially when you have multiple NAP citations on different platforms. Examples of NAP inconsistencies are:
Leaving out certain information, such as the ZIP code
Incomplete street names or other parts of your address
Using an informal version of your company name
Varying formats or styles for your NAP information
Without NAP consistency, your healthcare business might encounter:
Inconsistent NAP information can mislead and waste your potential patients' time, which will deter them from choosing your practice.
If prospective patients cannot get the correct information online, then they will be blocked from contacting and visiting your practice.
How to Achieve NAP Consistency
NAP consistency is a great way to improve customer trust, attract referrals, and improve your local search rankings. With the RepuGen's Listing Consistency tool, you can easily guarantee the accuracy and uniformity of all the NAP data you publish across multiple online platforms.
3. Ratings, Reviews and Testimonials on Your Website
According to a survey by Software Advice, about 84% of patients admitted that they use online reviews to assess a physician. Meanwhile, doctors/dentists emerged as the most reviewed business types by customers, as stated by the Local Consumer Survey Results by BrightLocal
Similarly, the existence of credible testimonials will boost your online influence as real patient feedback on your site can help elevate your trustworthiness in the eyes of first-time visitors.
RepuGen's Public Testimonials widget is here to help you.
4. Too Few Reviews on Review Sites
According to a RepuGen survey on how patients use reviews, 63% of patients read ten or more reviews on different sites before selecting a medical practice.
Patients are the key to all healthcare practices. Providing poor customer service is bound to push your current patients to your competitors.
When your patients are happy with your customer service, they're more likely to return in the future and will more readily recommend your practice to others, helping your business to grow.
6. Having a Poor Online Reputation
The best way to turn around your poor online reputation is by reaching out to your patients and asking them how their experience was. With this strategy, you will acquire more positive online reviews and get the opportunity to address patients with negative experiences. Although this is a necessary step in order to build your patient relationships and online reputation, you need to make sure that it is not taking away from the quality patient care that you already offer.
Utilizing a healthcare reputation management system, like RepuGen, can be the step you need to take to make sure you are not losing patients to your competitors. Working on these 6 critical areas can significantly improve your patient retention while attracting more potential clients to your existing patient base.