Appointment Cancellation & No-Shows: What is the Best Approach to Handling Patient Cancellations?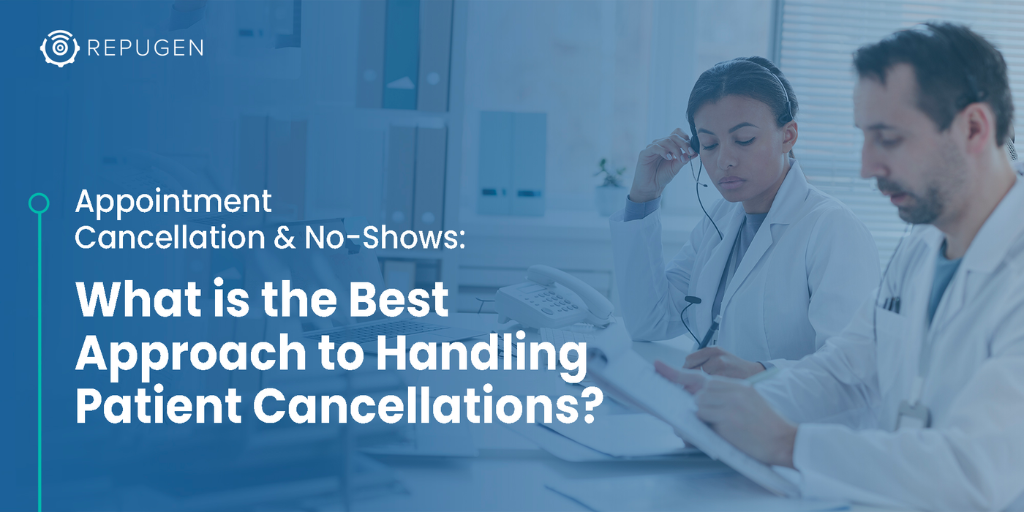 Appointment cancellations and no-shows are more than just an expected part of doing business. Lost appointments cost U.S. healthcare providers over $150 billion per year, and cost individual physicians an average of $200 per unused timeslot.
Besides causing monetary loss and staff headaches, appointment cancellations and no-shows can be detrimental to the health of your patients and may deter them from coming back.
A study shows that even one missed appointment can risk patient retention in the long run. In fact, patients who miss or cancel an appointment once are 70% more likely not to return within 18 months.
These missed appointments can be harmful to patients with long-term health conditions that would benefit from regular visits and creates a communication block between patient and provider, lowering the quality of care.
In fact, patients with one primary care-sensitive condition who never no-show for appointments have a low attrition rate of about 12%, compared to a 24% attrition rate in patients of a similar profile with one or more no-shows on record.
There are two types of patient cancellations to consider when strategizing and planning for your practice: cancellations and no-shows.
A patient cancellation occurs when the patient gives notice that they will not make their scheduled appointment. A patient no-show occurs when no notice is given of a cancellation, and the patient does not show up at their scheduled day and time.Let's discuss how to handle patient cancellations and no-shows to keep both your practice and patients healthy.
All About Cancellations
A new study shows that on average, the highest percentage of canceled appointments are follow-up visits. Additionally, Monday appointments are more likely to be canceled than any other day, and the average healthcare provider's office only backfills 15% of canceled appointments.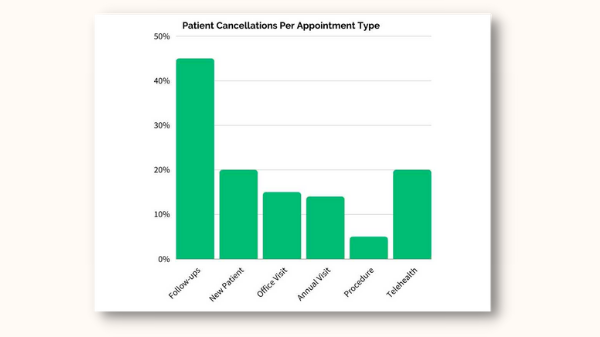 Source: https://queuedr.com/resources/patient-cancellations-guide-book/
The number of cancellations that healthcare providers experience can depend on several factors: appointment type, day and time of appointment, patient demographics, patient volume, offered specialty/specialties, location(s), seasonal factors, and more.
Additionally, Orthopedics, Dermatology, Primary Care, and Pediatrics are the specialties with the highest average cancellation rates per day.
Essentially, patients cancel appointments for a multitude of reasons. It is ultimately up to them whether to reschedule or not, but providers have many tools available to mitigate cancellations and encourage return visits.
No-Shows
Several studies exist to examine the reasoning behind patients who simply do not show up for their scheduled appointments. Some suggest that factors such as gender, age, appointment lead times, and satisfaction with previous visits have a strong effect on no-showing.
Some studies claim that miscommunication and scheduling conflicts are what truly lies at the heart of no-shows.
No-shows can also occur due to symptom resolution, geographical and transportation problems, general anxiety about appointments, long wait times, insurance coverage, and more.
Whatever the reasons are behind patient no-shows, it undoubtedly hurts both the patient and provider.
With this information cancellations and no-shows in mind, what can providers do to mitigate both?
What is the Best Approach to Handling Patient Cancellations?
Once a healthcare practice receives notice of a patient cancellation, the office staff should have a plan in place to fill the empty times. This can include moving schedules around and contacting patients who may have an appointment at a later date to see if they can come in to fill the slots.
Besides the last-minute scramble to fill canceled appointment times, there are several ways to reduce patient cancellations and avoid no-shows ahead of time.
Appointment Reminders
Avoid last-minute cancellations and no-shows by sending out multiple appointment reminders to patients to ensure they do not forget their appointment day and time. These reminders can be sent via phone calls, texts, emails, or even snail mail. Using tools like the appointment reminder feature from RepuGen keeps your patients on track and also allows you to send daily appointment confirmation reports to your front desk to help keep your calendar full.
Clear Communication
Knowing that 45% of canceled appointments are follow-ups, it is important to clearly communicate to patients the importance of returning. Educating them on their conditions, symptoms, procedures, etc., and why they need to be seen in a timely manner can help close any gaps of confusion or apathy felt by the patient.
Telemedicine Appointments
For cancellations and no-shows caused by geographical, transportation, childcare, work conflicts, etc., offering telemedicine gives patients another way to experience care. When patients are able to receive care from their own homes, they are less likely to experience problems that lead to cancellations and no-shows.
Cancellation Policy
A clear cancellation policy should be in place to deter habitual cancellations and no-show-ers. Whether you decide to charge for cancellations/no-shows or not, a written policy that patients sign is a must. Make sure to mention the detrimental effects that skipped appointments can have on patient health outcomes as well as the inconvenience it causes for other patients seeking care. Also, ask for a reasonable notice in regards to cancellations as this will help you prepare to fill up your schedule again.
Follow-Ups
The truth is, patients might feel embarrassed or ashamed for canceling or not showing up for an appointment. Following up with patients in a kind, friendly way is important for patient retention. For no-shows, give patients a call 10-20 minutes after their appointment start time to kindly let them know they were expected. If they are not able to make it, offer to reschedule. For cancellations, follow up with patients to get them to reschedule, noting the importance of their visit.
Track Habitual No-Shows and Cancellations
If you have patients who are known for canceling or not showing up, keep track of them. Additionally, once repeat offenders are identified, you can reach out to see what barriers these patients are facing that are keeping them from showing up. By doing so, you may find that there are simple solutions to help them get them through the door once again.
Accessible Appointment Editing
Allowing patients to easily cancel or change their appointments online is a great and simple way to reduce appointment cancellations and no-shows. Instead of having to remember to call the office during operating hours, patients can cancel or rearrange their appointment any time of day at their own convenience.
No matter what strategies make the most sense to implement at your healthcare practice to reduce appointment cancellations and no-shows, a seamless patient engagement platform can help immensely.
Automatically engage with patients through appointment scheduling, reminders, educational materials, and more through a healthcare reputation management and patient engagement platform from RepuGen.
Free up tedious man-hours and let the software do the work for you to reduce patient cancellations and no-shows.