17 Customer Service Lessons from Shep Hyken [In Tweets]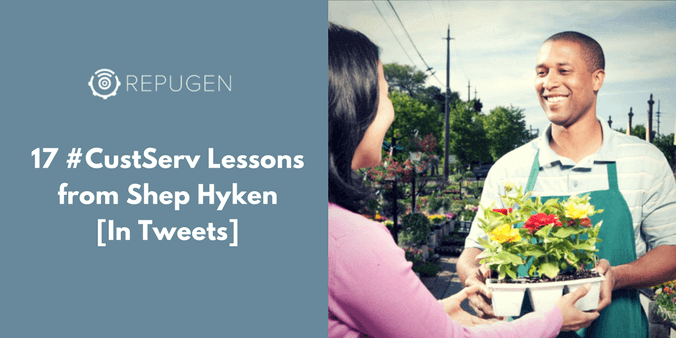 Implementing a customer loyalty program makes a good start for rewarding customers, but inevitably it's a better idea to reward customs all year round. This view is held by customer service guru Shep Hyken, who constantly gives helpful advice on Twitter. The following 17 tweets are some of Shep's most inspiring tweets customer service lessons.
#1. Customer Service is the Price of Admission
To me, customer service is the price of admission. It's the table stakes to enter the game. It should be the norm, not the exception.

— Shep Hyken (@Hyken) April 2, 2017
It's the barometer for determining if your business is capable of competing. Ultimately, customer service should be viewed as the norm instead of an exception.
#2. Make Every Interaction Count
Make every interaction count, even the small ones. They are all relevant.

— Shep Hyken (@Hyken) April 3, 2017
Even small interactions are still relevant to the big picture. It's better to treat customers like people than statistics. Communication is an essential building block to business success.
#3. Customer Loyalty is Earned
For a customer to be loyal to a company, the company first has to show loyalty toward the customer.

— Shep Hyken (@Hyken) April 3, 2017
In order for a customer to show loyalty to a company, the company must first do something that benefits the customer. Even if it's not during customer loyalty month, customer service lessons are constantly unfolding.
#4. Loyalty is More Than a Rating
Loyalty's hard to achieve. It's not just a rating. It's an emotion. By engaging a customer emotionally, you've the potential for loyalty.

— Shep Hyken (@Hyken) April 3, 2017
It's difficult to achieve because it involves emotion. It's important to engage with people on an emotional level to earn their loyalty.
#5. Loyalty Programs Can Nurture Relationships
Use the loyalty program to develop and nurture a relationship with your customers – to really make them loyal.

— Shep Hyken (@Hyken) April 2, 2017
Once you implement a loyalty program, maximize it by continuously rewarding the customer. Let them feel they are part of an exclusive and special group.
#6. Keep It Super Simple (KISS)
KISS – Keep it super simple! Customers don't like complication. They like simple and easy. It helps builds their confidence.

— Shep Hyken (@Hyken) April 1, 2017
The most successful loyalty programs are the ones that don't present too many hurdles, since customers are attracted to simplicity. Customers will more likely develop confidence about a company if the communication is easy to understand.
#7. Consistency Wins
Be it multiple locations or numerous employees, the customer deserves a consistent customer experience. Anything less is unacceptable.

— Shep Hyken (@Hyken) April 1, 2017
It's best to run stable campaigns across multiple locations so that the brand is consistent. When campaigns lack consistency, the customer may wander from the company to avoid confusion.
#8. Overcome Customer Objections With Value
Best way to head off customer objection, provide so much value it pushes concern for pricing to back of the list of reasons to buy.

— Shep Hyken (@Hyken) March 31, 2017
By explaining what the customer is gaining, it makes price less important as a purchasing barrier.
#9. Brands are Customer Experiences That Depend on Employees
A brand is defined by the customer's experience. The experience is delivered by the employees.

— Shep Hyken (@Hyken) March 31, 2017
If customers perceive employees as negative, it can affect their image of the brand. That's why customer service must be viewed as a high priority for a business to grow.
#10. Customers Aren't Always Right
The customer is not always right. (They really aren't.) But, they are always the customer. So treat them with dignity & respect.

— Shep Hyken (@Hyken) March 29, 2017
Sometimes they simply misunderstand a message or fail to read instructions. Even so, you must always treat customers with dignity and respect. Whether or not it's customer loyalty month, customer service lessons depend on two-way communication.
#11. Don't Ignore Social Customer Care
"Social Customer Care Cannot Be Ignored" by @Hyken #custserv #cx #socialmediamarketing https://t.co/NfzONdXQ2T pic.twitter.com/6SzNSbuzns

— krysta gahagen (@krystaelaine) March 30, 2017
Take social media seriously as a way to provide online customer service in real time. You can develop a marketing list and get involved in discussion groups that can help you understand your market better and refine your products or services.
#12. Speed is a Competitive Customer Service Strategy
When it comes to customer service, speed's a competitive strategy. It's also a value added advantage customers are willing to pay for.

— Shep Hyken (@Hyken) March 30, 2017
Providing quick service adds value to what customers are paying for.
#13. Employees Should Fit Your Corporate Culture
Hire for the right values, have some fun at work & make sure your employees fit the personality of the culture of the organization.

— Shep Hyken (@Hyken) March 29, 2017
Make sure employees match the values you are trying to associate with your brand. Personality is very important to developing loyalty.
14. Be Loyal to Your Customers
To get loyalty from your customers, you must also be loyal to them.

— Shep Hyken (@Hyken) March 28, 2017
Learn about why customers resonate with your brand and then keep letting them know you value their loyalty.
#15. Create Customer Evangelists
Creating a community of customer evangelists is a powerful strategy. Listen & learn from them. Their feedback's crucial to your success.

— Shep Hyken (@Hyken) March 27, 2017
In other words, educate your customers how to promote your brand to others. Learn from their feedback and use positive comments for your testimonials and reviews.
#16. Set an Inviting Tone
Set the tone for the first impression of each particular interaction, which sets the tone for what's to follow.

— Shep Hyken (@Hyken) March 26, 2017
First impressions go a long way partly from the tone that sets the communication that follows.
#17. Always Say "thank you."
Don't forget to say, "Thank you!" You can thank a customer in person, on the phone, with a thank you note, an email… pic.twitter.com/upjENHYYve

— Shep Hyken (@Hyken) March 25, 2017
Remind customers that you appreciate their business. Make sure every encounter ends on an upbeat note. Related Posts: