Nowadays, every business should take care of its online presence and reputation. Whether you run an online or local business, these two factors affect your brand value and trust. The same applies to medical spas. Fortunately, there are plenty of tools on the market that can support you in optimizing your company's online presence and reputation. This article will show you how to best utilize SEO for medical spa reputation management.
Why does a medical spa need good online reputation management?
Healthcare reputation management is important to all medical organizations, but medical spas are a type of business that particularly needs it. The decision to choose this type of service is usually carefully analyzed by prospective patients who compare various competing offers and read user reviews before making a choice.
Reputation management is essential in getting patients to choose your services as it involves showcasing your patients' experiences so that others can get an accurate picture of what your patient care is like.
Reputation management for the medical spa is also essential in terms of SEO since such sites are YMYL (Your Money or Your Life) sites with strict reputation control by Google and require a higher page quality.
Three Pillars of Medical Spa Reputation Management
1. Branded search data
Company search result data shows how popular your practice is on the web by how many people search for it on Google or other search engines. What's more, they show what medical spa keywords Internet users use to find your company online.
You can use such information to understand what your potential patients are looking for and what brand associations they have when they search for similar services online. It will allow you to tailor the content on your site to meet your patient's needs and expectations better.
A tool that shows this data is Google Search Console. With it, you can check:
Which terms are most popular among your patients
How many people clicked on your site after typing in a specific keyword
What your ranking is on a search results page for a particular keyword
The Click-Through-Rate of your website (the ratio of users who visit your site to then umber times it is shown in a search result)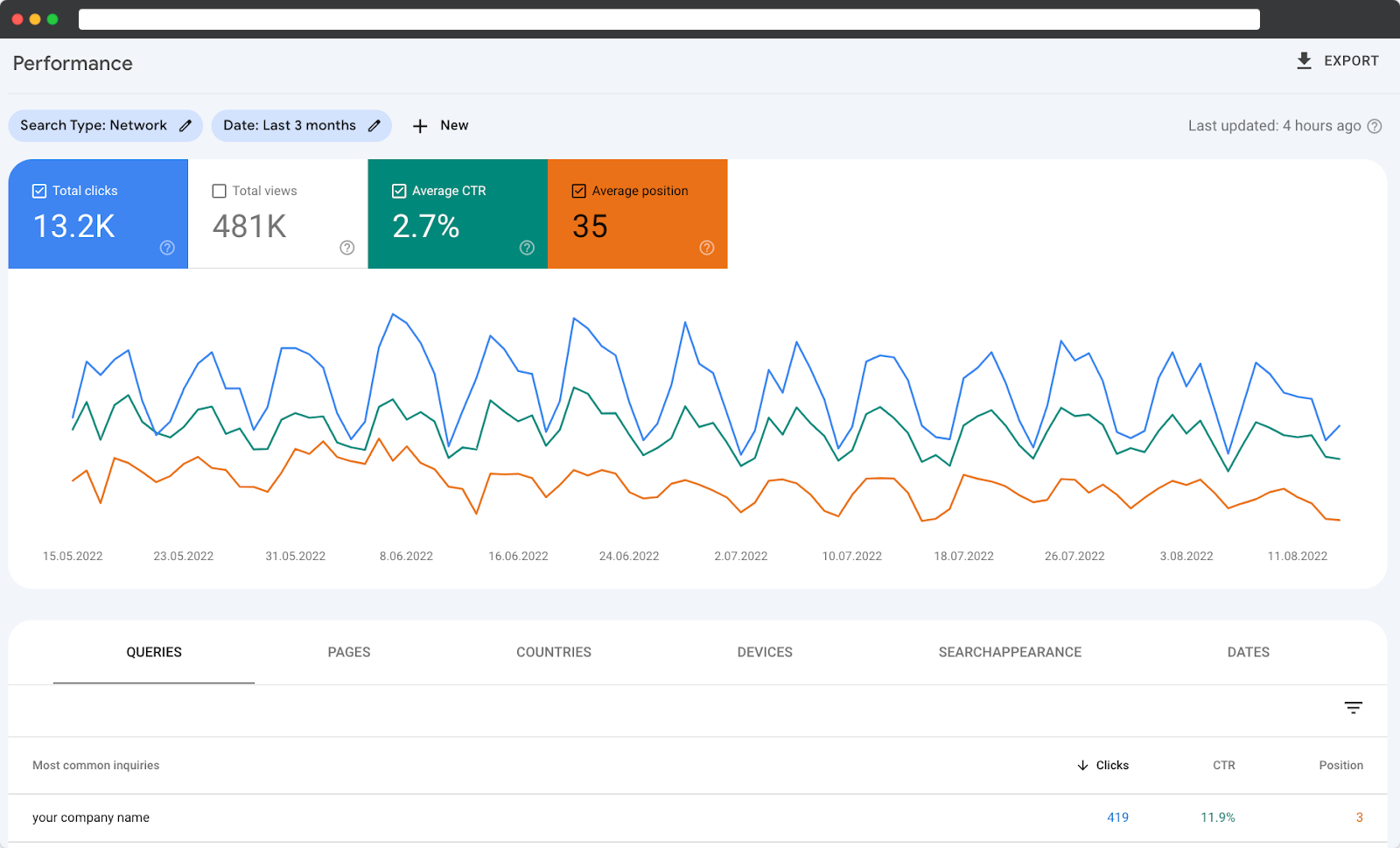 Google Search Console
You can also analyze your performance over time and compare specific periods. This data will allow you to manage your online visibility better so that you can see where you might need improvements so you can attract more patients to your practice.
2. Analyze competitor data and create benchmarks
Data on your healthcare practice is crucial. But if you want to gain a competitive SEO advantage as a medical spa, you also need to monitor the performance of your competitors. Information about their activities and results will allow you to see what actions work for them and which ones should be avoided. You can also find their weaknesses and position your business better in a specific area.
To check the SEO performance of your competitors, you can use the Competitor Research Tool by SE Ranking, which gives you a comprehensive view of all your competitors' promotion strategies. Specifically, you'll get detailed information on:
Organic and paid traffic of your competitors
Keywords your competitors rank for
Backlinks leading to the competitor's website
All the data you'll find will allow you to prepare a strong SEO strategy and become a strong market leader.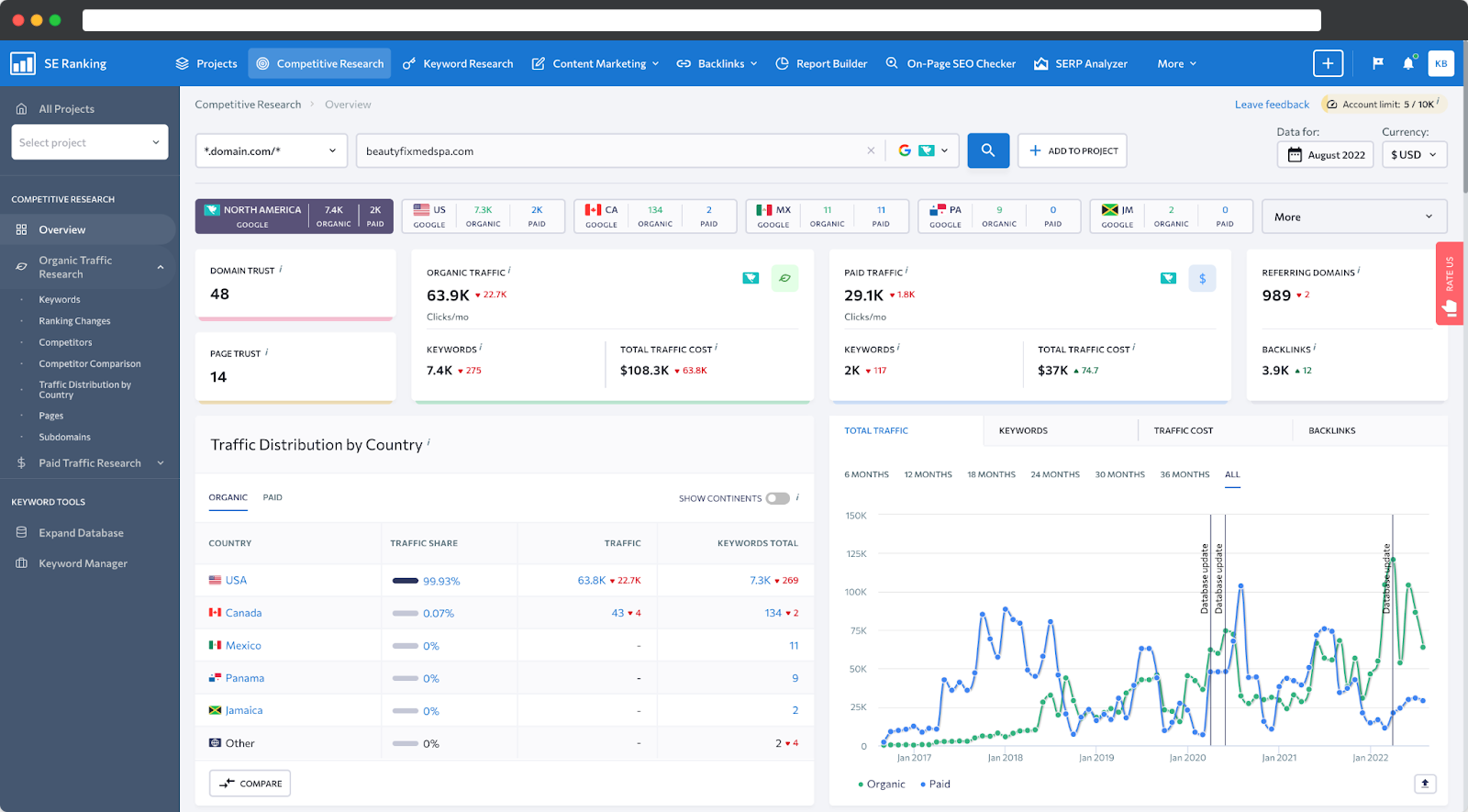 3. Review data
Reviews are the best source of knowledge about your brand's strengths and weaknesses. Thanks to them, you can discover why patients love your services and what needs improvement. Therefore, it's a good idea to monitor any mentions of your company and respond accordingly continuously. No comments (especially negative) should be left unanswered.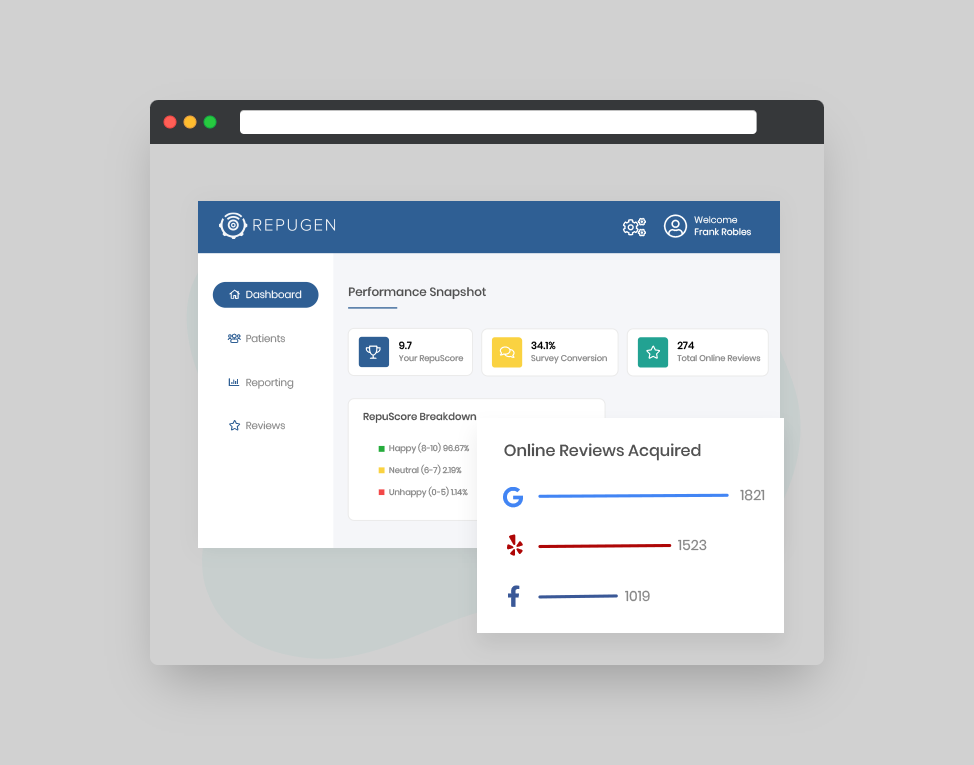 If you're running a medical spa, it's your responsibility to show that you care about your patients' positive experiences, value their feedback, and will do everything to ensure the highest quality of care. Utilizing an online reputation management solution like RepuGen can assist in this as you will be able to monitor your patients' feedback, learn more about their experiences through robust sentiment analysis features, and boost the number of positive online reviews.

The Value of SEO Reputation Management
According to the 2022 Local Consumer Review Survey, up to 98% of consumers read online reviews and 82% said reviews are important in their decision in the healthcare niche particularly. These numbers show how important SEO and online reviews are to increase your position in search results when prospective patients look you up.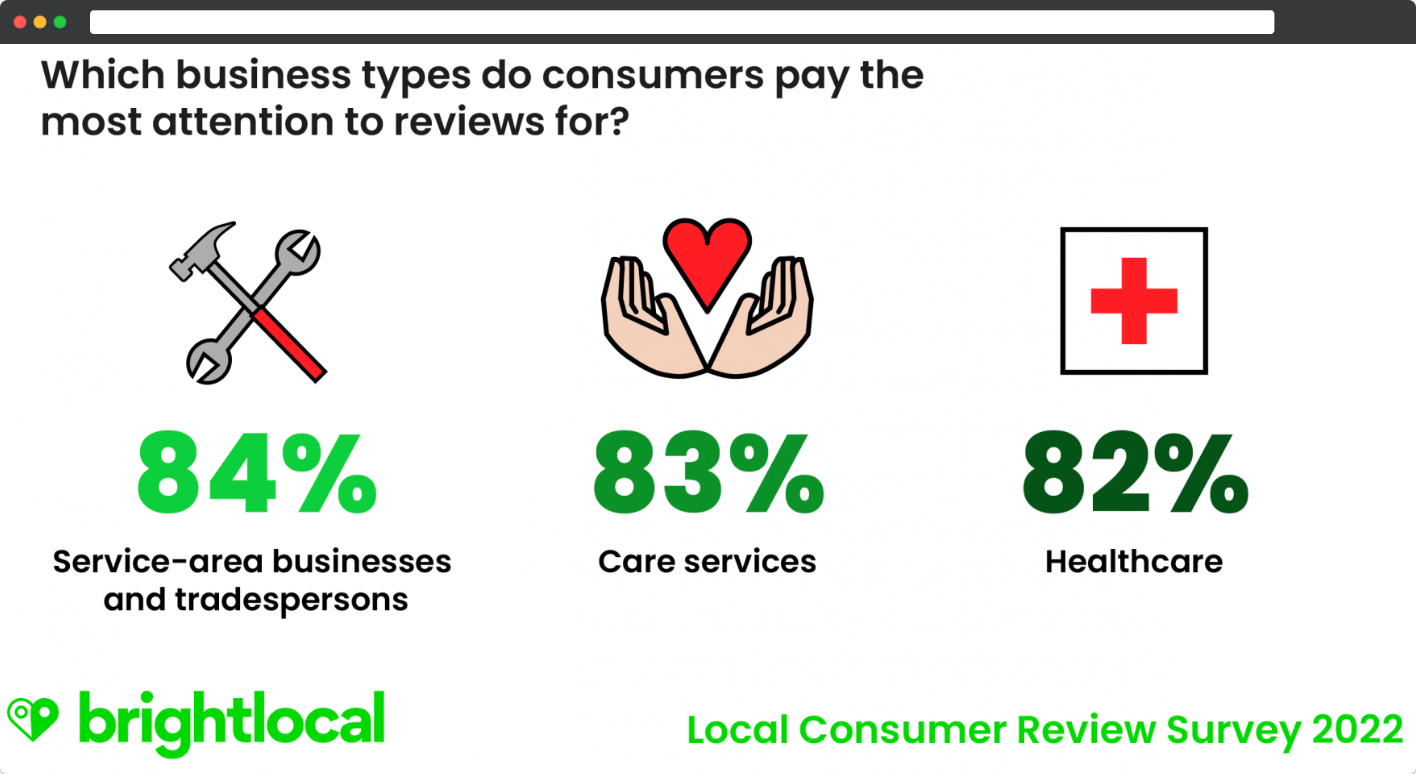 4 Ways for Successful Medical Spa SEO Reputation Management
1. Create a strong online presence
A healthcare practice's website is your most essential online business card. You need to ensure that every user can find all the most important information about your practice there, such as:
What services you offer
Pricing information
Pictures of your establishment
Information about your employees
Information on the experience of your company and its position in the market
Patient testimonials
Contact information
In general, the goal of your website is to increase brand interest and boost sales, so you should apply a comprehensive conversion strategy that will bring site visitors to your spa's doorsteps.
To convince prospective patients, highlight strengths that persuade them to use your medical spa's services. If you have awards or other achievements, don't forget to add them. Additionally, create content that includes high-value keywords that will allow your medical spa to rank higher when prospective patients search you.
Besides your website, creating company social media channels is also a good idea, as many patients check information about healthcare practices through them.
2. Manage Your Business Profile
A business profile is a service offered by Google where you can enter and manage information about your company, such as:
Address
Services offered
Contact information
Patient reviews
Photos
Opening hours
And many more...
This information is visible in Google search results and gives patients essential information about your practice. A verified profile on Google builds higher trust and increases engagement with your patients.
In the case of a medical spa, it is also worth adding information such as:
Links for booking online appointments and virtual care
Health services offered (like house calls, diagnostics, and procedures)
High-quality photos to show patients what to expect before they arrive
3. Handle negative search results
If your business struggles with negative mentions appearing on the first page of the search results, it will negatively affect sales at your medical spa. Therefore, you need to make every possible attempt to address it. Firstly, you need to understand why negative results are appearing when someone searches you. You can start off by analyzing keywords related to your practice that show negative content. You should also check the "People Also Asked" search prompts that show up for your practice.
The next step is to prepare a proper content strategy to "fill" the first page of the search results page with positive content. Use negative keywords to create positive brand content and optimize it for top-ranking positions.
In addition, you can create FAQs with answers to the most common questions that may appear in the patient's decision-making process. In the case of medical spas, these could include spa locations, pricing, payment methods, medical advice, additional services, and more.
4. Authoritative backlink building
To build your SEO online reputation effectively, you should take care not only of the content visible on your site but also of your backlinking strategy, which involves linking to your site from external sources. In the case of healthcare reputation management, you should make sure that a link to your website appears in the best local medical media, directories, or business listings. You can also work with medical industry partners (doctors, influencers, and other companies) who can add you to their websites.
Backlinks will make your website rank better in search results, improve trust in your brand, and "push" sites with negative reviews to lower positions in Google results.
SEO & online reputation management is the future of your medical spa business
Taking care of SEO reputation management is crucial to improving your medical spa business's credibility, visibility, and sales performance.
Although improving SEO performance is a long-term process, you can do most of the work without extensive technical knowledge of SEO. Sometimes all it takes is a few minor changes to improve the performance of your business significantly.
However, monitoring your performance regularly and taking care of your SEO reputation management strategy to achieve the best results is important. Your ranking on search results and the amount of online reviews you receive can change frequently, so regular monitoring is essential if you want to bring tangible benefits to your company.
Banner Image by lookstudio on Freepik