We've been celebrating our growth, but that doesn't mean we haven't been hard at work. We are constantly designing meaningful features to make RepuGen even more beneficial. Over the past few months, we've launched new features that we want to ensure don't fall under your radar!
Patient Profiles
Introducing our latest intuitive report, Patient Profiles! These individual patient reports enable you to see trends in sentiment across appointments and the reason behind satisfaction or dissatisfaction behind each touchpoint. Within RepuGen you can schedule automated reports for upcoming appointments, which lets you easily see the patients' current sentiment, the day of their last visit, the rating of their last visit if they've posted a positive or negative review and more. View these Patient Profiles reports by visiting the Patient List and clicking the far right column for any patient!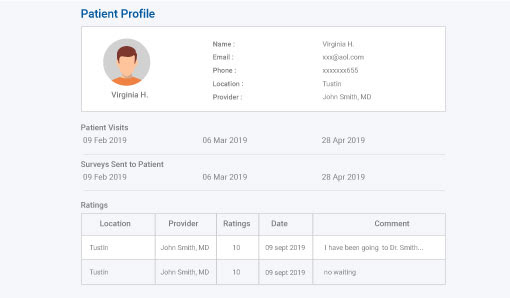 Listings Consistency
Now with RepuGen, you're able to easily track the consistency of your listings across the public review sites you care about most! With our listings consistency scanning tool, you can leave the attention to detail to us by easily generating a report of your listings with all inconsistencies flagged. Check out the Listings page on the left sidebar, select a location or provider and enter your information to generate your listings report, OR just email your RepuGen rep to get started!