In this modern healthcare setup where hospitals' revenue is directly linked with patient satisfaction, it's crucial for hospitals to take a more proactive approach to fulfill their promise of delivering great care experience to their patients -- so that they can survive the stiffening competition. Modern patients (who are now more aware of their rights and are equally empowered by the availability of different care options) demand more than good quality of care from their providers. They don't just want to get cured, but also feel cared for. Your hospital can accomplish that feat by implementing an in-house culture of patient care and training your staff to enforce the same. This helps in adding a touch of sophistication to your patient care approach that improves patient experience immensely. An improved patient experience directly affects your bottom line as patient revisits are increased, and CMS reimbursements start coming in full—sometimes even with a bonus. However, improving patient experience requires an in-depth knowledge of your patients' emotional reactions and feelings as they go through different processes and stages inside your hospital. We'll explain later in this article how that knowledge can be acquired. First, let's see how industry stakeholders have defined the patient experience.
What Is Patient Experience?
According to the Agency for Healthcare Research and Quality (AHRQ), patient experience encompasses:
…the range of interactions that patients have with the health care system, including their care from health plans, and from doctors, nurses, and staff in hospitals, physician practices, and other healthcare facilities. As an integral component of health care quality, patient experience includes several aspects of healthcare delivery that patients value highly when they seek and receive care, such as getting timely appointments, easy access to information, and good communication with health care providers.
The Beryl Institute, a healthcare organization dedicated to improving patient experience, defines patient experience as, "the sum of all interactions, shaped by an organization's culture, that influence patient perceptions across the continuum of care." Below is a video from the Beryl Institute in which health care providers and hospital marketing coordinators talk about their point of view on patient experience.
Now, let us understand what factors impact patient experience in your hospital.
What Impacts Patient Experience in Hospitals?
The best way to understand what factors influence the perceived quality of a hospital visit is a quantitative and qualitative study to see what patients exactly wanted. You can accomplish that with an automated patient satisfaction survey system (powered by hardcore analytics) where you first collect feedback from patients and then drill deep down into the data to learn about the different aspects of how your patients felt. The Cleveland Clinic discovered their patients' top three concerns in a study focused on measuring patient satisfaction. Those three concerns are respect, good communication among staff, and happy employees during their stay. As they drilled down into the data with analytics, they were surprised to discover that on the scale of what's important to patients, wait times were the least important. Display of concern and caring, however, were the most important. The following image highlights their findings: [caption id="attachment_679" align="aligncenter" width="720"]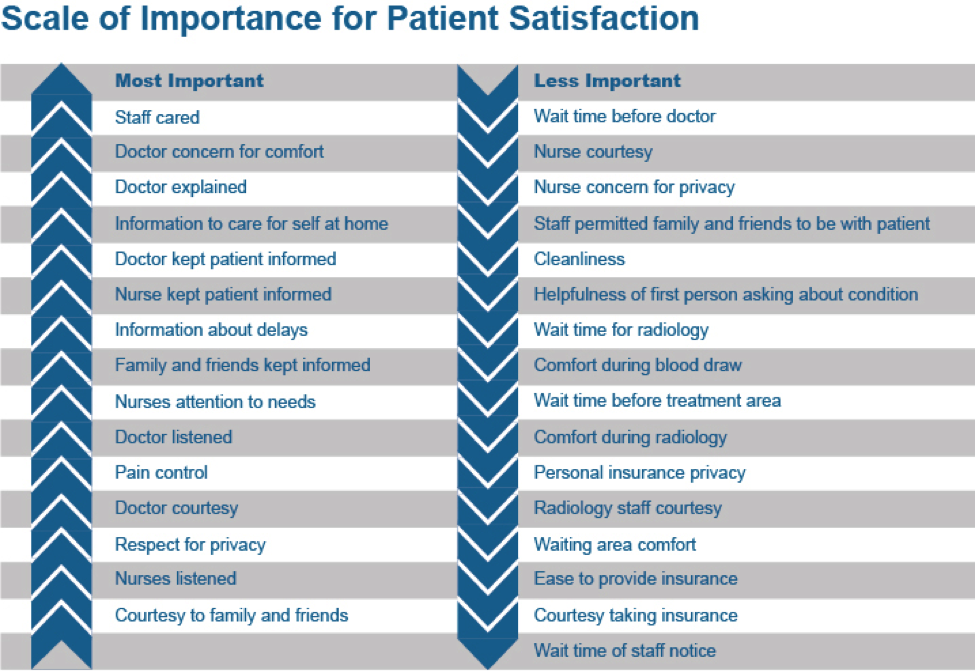 Image Credit: HealthCatalyst.com[/caption] As a result of their discoveries, the Cleveland Clinic piloted an initiative where each staff in the emergency department was taught to communicate with each patient during their wait. For example, the janitor sweeping the hallway near the patient might say, "I know you've been waiting here for long. Is there anything I can get you?" With that, they found a sudden rise in their patient satisfaction score.
How to Improve Patient Experience Using Data Analysis Technology
Just like the Cleveland Clinic, you can also use data analysis technology to gauge your patients' emotions and sentiments through their written feedback and use that information to target their most specific areas of concern in your patient experience improvement programs. That way, you can improve your overall patient experience and maximize patient retention. RepuGen's patient sentiment analysis feature helps you accomplish all these. It converts gathered genuine patient feedback into intuitive charts and reports that help you understand exactly where your medical practice is performing well and where it needs improvements. Patient sentiment analysis is the process of routinely collecting, processing, and interpreting patient-generated large data set of free-text comments and quantitative ratings. It is utilized by the healthcare providers for examining the positive or negative opinions and emotions to monitor and improve their practices' performance. The process of sentiment analysis technology is simple. Using RepuGen, you send an email and text message to your patients with a link to take the survey. In the survey, you ask them to rate you on a scale of 0-10 (for calculating the Net Promoter Score) and provide an open-ended comment box where patients can write about their experience and opinion. The tool's natural language processing (NLP) and artificial intelligence (AI) enabled technology simultaneously identifies and categorizes patients' comments and opinions. This technology extracts human emotions out of the written patient feedback by identifying words and patterns generated over time. For instance, a patient's review may start with remarks about a nursing staff. Here, RepuGen's NLP and AI technology will analyze the review in its entirety and categorize it with other reviews that contain similar themes. This will help you find out the thing that frustrated patients in their interaction with your nurses – it may be lack of warm blankets at night, or the late response time when called. That's it! The whole process of review collection, analysis, and sentiment reporting are automated. The only thing that you need to do is talk to your patients and encourage them to leave a review. Everything else is taken care of.