How to Keep Your Patient Appointment Schedule Full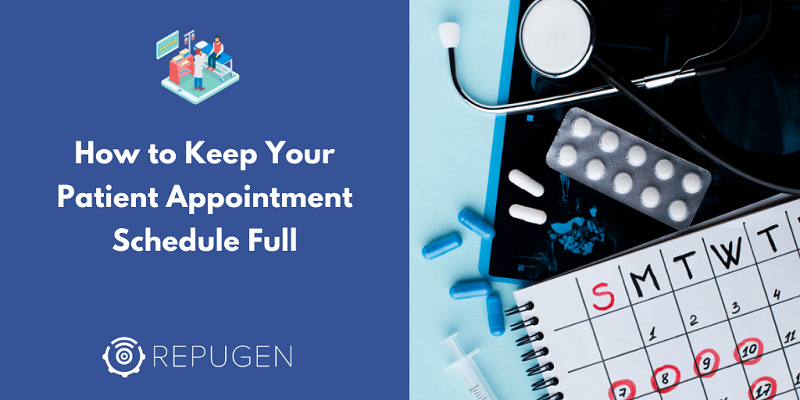 There are many reasons as to why a patient might not show up for their appointment. Some may be busy at work, others might have family commitments, and some might have forgotten that they had an appointment. Implementing an appointment reminder system can help create a conducive work environment, reduce wait time, and save you from costly results of no-shows.
What Is the Purpose of Appointment Reminder Systems?
No-shows and last-minute cancellations can be financially draining for any healthcare practice. While it is already inconvenient for you and your patient, rescheduling appointments can cost you time and money. With an appointment reminder system in place, you can avert last-minute cancellations while encouraging your patients to notify you ahead of time.
How to Remind Patients of Their Appointments
Use text & email reminders and confirmations
Texts and emails are one of the easiest ways to remind your patients of their scheduled appointments. With the help of automated appointment reminders, patients will be notified of upcoming appointments. From there, patients can confirm, cancel, or request to reschedule their appointments by responding to the text/email.
Keep track of appointment cancellations
Monitoring a patient's cancellation history is important because frequent no-shows can become a predictable pattern that interferes with your patient's appointment schedule. By keeping track of cancellations, you can adjust your schedule to fill in any cancellations while rescheduling the patient who could not make it.
If your appointment book is always full, patients may be interested in being placed on a waitlist to fill last-minute cancellations if it means meeting with the doctor sooner. If there is a last-minute cancellation, a digital waitlist allows you to notify the next patient in line about the available slot, saving you time and making the next patient happier.
Automate Patient Outreach Reminders
Patients may not remember when it is time to make appointments for their healthcare needs, like for an annual checkup. This is where implementing a patient outreach reminder system will help both patients and healthcare practices. For patients, they will be reminded when it is time to schedule their next appointment. As for practices, they will strengthen their patient base by retaining more patients, and thus increasing their revenue.
What Information Should Not Be Included in Appointment Reminders?
Helpful as they are, it is important that appointment reminders are HIPAA compliant. So as per HIPAA policies, you need prior authorization before sending out an appointment reminder. To prevent unwanted parties from gaining important details, do not include sensitive information related to the patient's health in the reminder, such as their diagnosis, their treatment plan, etc.
Why You Should Invest In An Appointment Reminder Tool
Valuable time is spent by your staff in scheduling appointments instead of completing other important tasks such as assisting patients with emergency care, attending to those in the waiting room, and so on. By investing in online scheduling software, you can enable your patients to choose a time that best suits them. You can also implement a calendar on your organization's website where patients can make their appointment requests. With RepuGen's appointment reminder system, you can easily keep your patients on track with their scheduled appointments. From daily appointment confirmation reports to 2-way SMS interactions with your patients, you gain the ability to better engage and retain patients.
Contact us at RepuGen to learn more about keeping your appointment book full with a reliable solution to improve patient retention and boost patient loyalty.
Related Post
1. How You Can Recover More Of Your Unsatisfied Patients
2. How Patient Reviews Influence Your Medical Practice's Web Rankings
3. 8 Ways Employee Engagement in Healthcare Can Boost Patient Satisfaction
4. Why Are Testimonials Vital to Healthcare Businesses' Success?