How to Improve Patient Satisfaction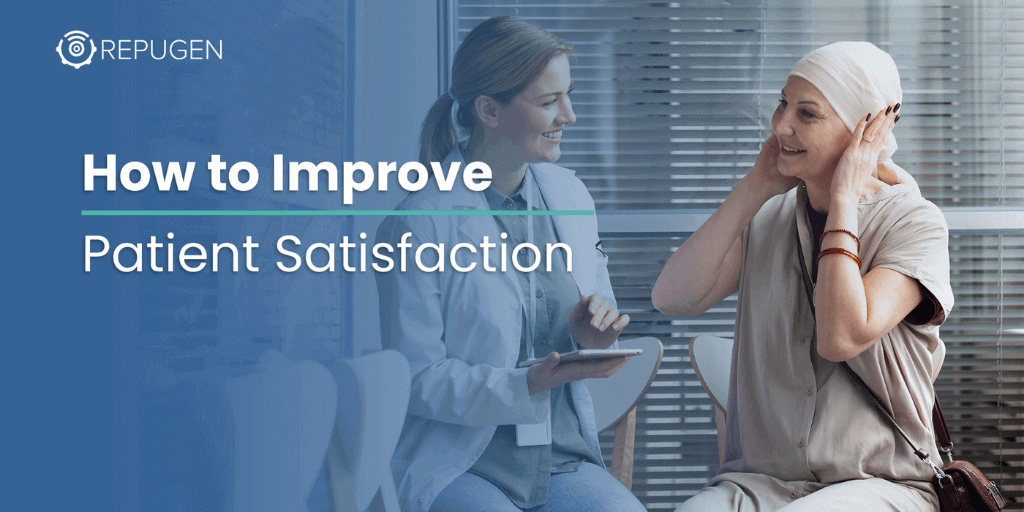 The root of a successful healthcare practice is a satisfied patient base. Satisfied patients bring in more clientele and are more likely to return for routine visits. Without a satisfied patient base, your reputation, referrals, and practice as a whole will not thrive.
What is Patient Satisfaction?
Patient satisfaction in a healthcare setting is a measure of the quality of care offered, determined by how positively or negatively patients perceive their care and overall experience with your practice.
Satisfaction is also a strong motivating factor in producing faithful, returning patients. Therefore, it is important to place an emphasis on your patient satisfaction levels in order to make any necessary adjustments that will benefit both your patients and your practice.
There are benefits to both the practice and the patient when satisfaction levels are high. For example, patients with positive experiences see an increase in their trust levels, sense of loyalty, and better health outcomes.
On the other hand, healthcare practices with high patient satisfaction rates experience improved patient acquisition and retention, improved practice reputation, higher staff morale, increased productivity, and even reduced malpractice suits.
But, how do practices ensure they have the right plans and measures in place to continuously monitor and improve patient satisfaction?
With today's technology, there are several ways to monitor and improve upon patient satisfaction. Whether it is an automated tool or simply an easy-to-read report, patient satisfaction monitoring is easier than ever.
How RepuGen Helps Improve Patient Satisfaction
Your practice may be too busy or you might not have enough staff members to personally speak with each patient about their experience.
However, even the busiest practices can implement successful patient satisfaction strategies with RepuGen. This powerful tool helps healthcare practices improve patient satisfaction in 8 important ways:
1. Gather insights from surveys and reviews in one place: With all feedback in one place, you know exactly what patients are thinking and feeling the moment they leave your medical practice. This provides a clear picture of any areas that should be adjusted to ensure future patients are satisfied.
2. Analyze insights from patient feedback: RepuGen gathers patient feedback and converts it into intuitive reports. Use these reports to develop plans and goals for satisfaction improvement.
3. See how your practice is performing in every department: With AI-based sentiment analysis, you can easily understand how your patients feel about the doctor(s), the front desk, or any other entity at your practice. By providing a report with common feelings surrounding your practice (i.e. annoyed, frustrated, excited, satisfied) you can tailor a plan to improve patient satisfaction based on data.
4. Discover patient sentiment trends: Monitor sentiment trends in your patients to understand your strengths and weaknesses to better pinpoint areas for improvement. Turn your patients' feelings into actionable changes that improve the overall experience.
5. Use patient profiles to track every patients' journey: Easily view patient sentiment trends across patient appointments to find the reason behind their satisfaction or dissatisfaction at each touchpoint.
6. Schedule automated reports for upcoming appointments: The average doctor will see around 20 patients per day. With this tool, you can easily recall patients' previous experience(s) to save time and improve experience on both the patient and provider end.
7. Analyze and assess your patients' loyalty: View historical patient data to quickly and easily assess the overall loyalty of your patients. Use this information to improve experience to keep patients retained.
8. Gain insight into where an experience drops off: Use trend reports to understand the sentiment of patients during particular time periods and identify where satisfaction drops off to develop new strategies to acquire and retain satisfied patients.
RepuGen is here to make it easy to view and analyze patient satisfaction for the purpose of improving scores. You can gain a holistic understanding of your patients' experiences from the moment they learn about your practice to the moment they brag about their trustworthy new healthcare provider by implementing this powerful tool.
When patients feel they are really listened to, they are likely to feel more satisfied with their care. RepuGen's tools allow you to view and analyze patient feedback in intuitive reports, dashboards, and more.
Ready to elevate your patient experience? Schedule a live demo now to see what RepuGen can do for you.