Key Statistics
79% of patients check online reviews when selecting a healthcare provider.
30% of patients will not visit a healthcare provider with poor reviews.
Google is the most frequently visited site for a provider's reviews, with 76% of patients checking reviews on Google when selecting healthcare providers.
Among the various review sites, the most trusted ones are Google, WebMD, and HealthGrades, in that sequence.
63% of patients check ten or more reviews before deciding on a healthcare provider.
Online reviews have become an essential part of the patients' decisions when selecting a new healthcare provider. Our analysis of over 1,500 physicians suggests that, unless managed, online reviews mostly reflect the outlooks of a few unhappy patients, not the actual patient satisfaction. Given that online reviews are a significant factor in the decision process when selecting a provider, managing an online reputation is highly essential.
The RepuGen Patient Review Survey provides deep insight into:
How patients are using online reviews
Which review sites they check
The most trusted review sites
How many reviews they check before making their provider selection
Important factors that affect their selection process
We conducted a survey in July 2020, among 1431 people, across the U.S., aged 18 and above and asked them a series of questions to understand their online behavior and review habits. Read on to find out what factors patients consider while selecting a healthcare provider.
Patient Review Habits
Do Patients Consider Online Reviews When Selecting A Healthcare Provider?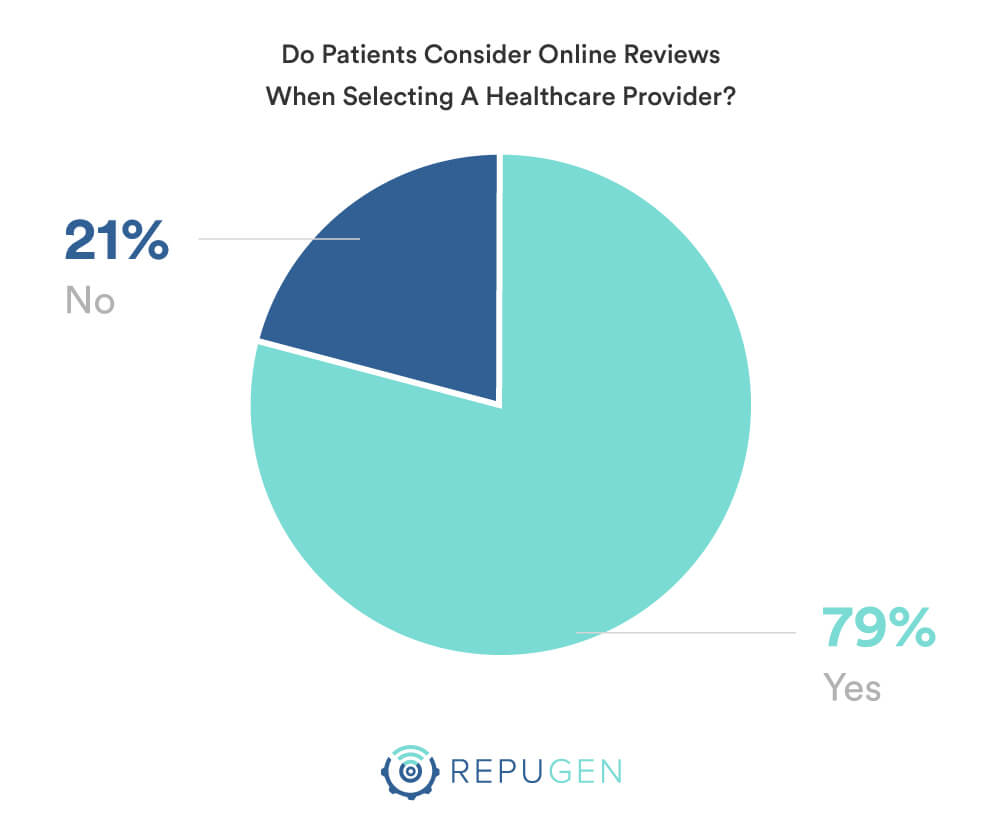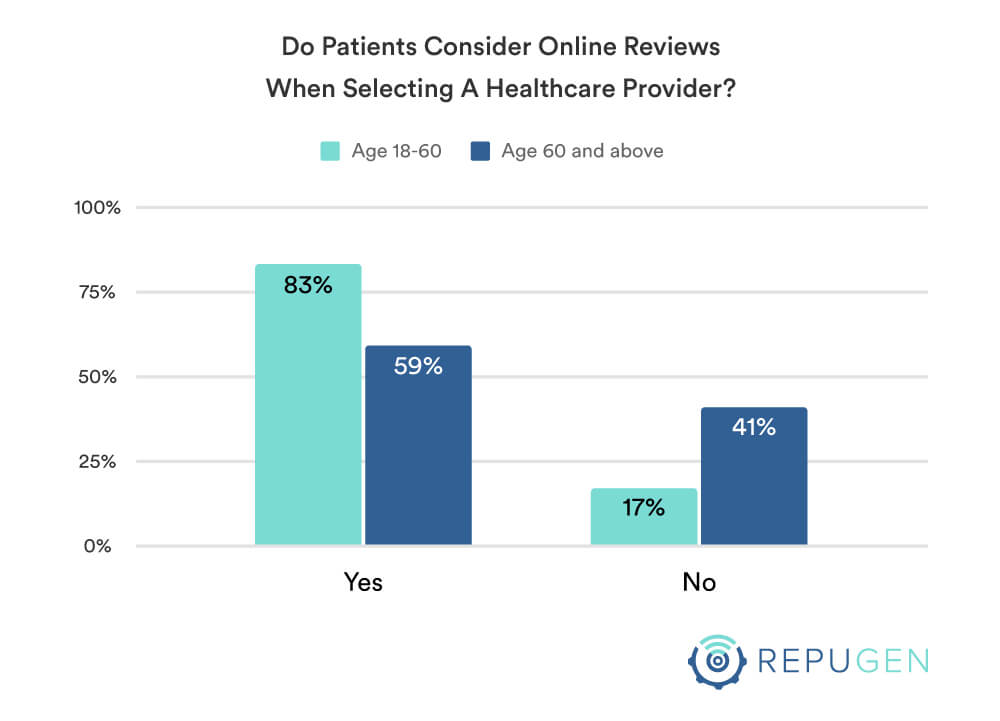 Key Findings
Consistent with the overall consumer behavior which suggests 80% check online reviews when making a purchase decision, 79% of patients consider online reviews when selecting a healthcare provider.
The importance of reviews drops dramatically among the older population. 83% of patients under age 60 check reviews when selecting a healthcare provider vs. 59% of patients over 60.
The key findings show that most patients are checking online reviews of healthcare providers before deciding to schedule an appointment with them. With so much information available online, patients are making well informed decisions about their healthcare options.
We were not surprised by the drop in the importance of reviews among the patient population over the age of 60 since they are more likely to be using the same healthcare providers for a longer period of time and remain satisfied with their experience.
How Important Are Online Reviews When Making a Healthcare Decision?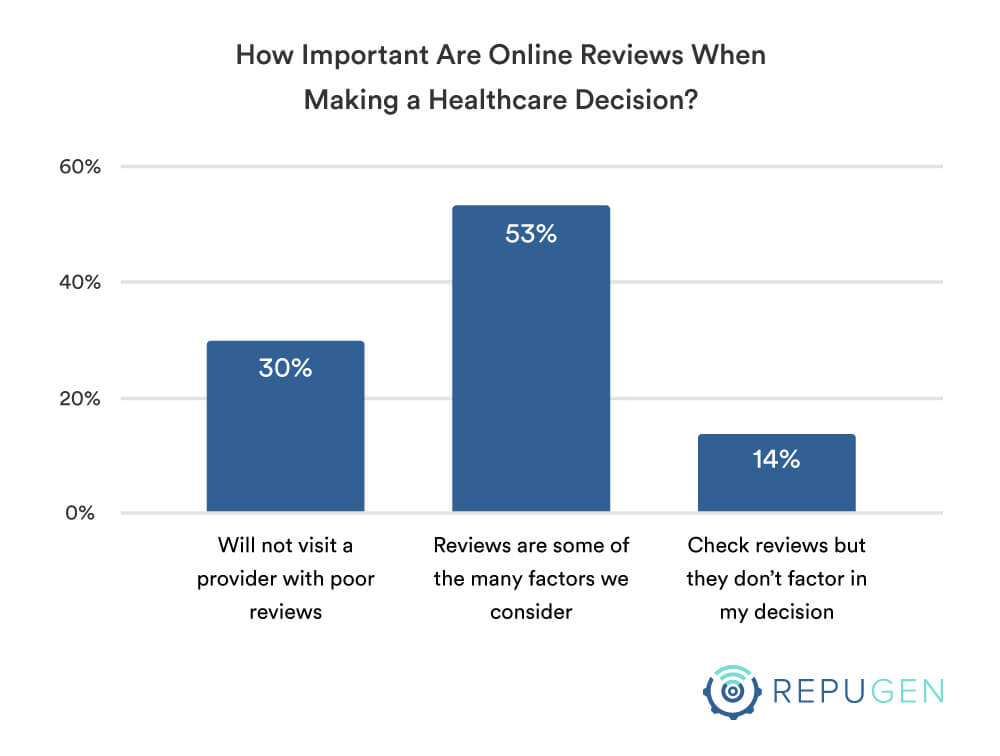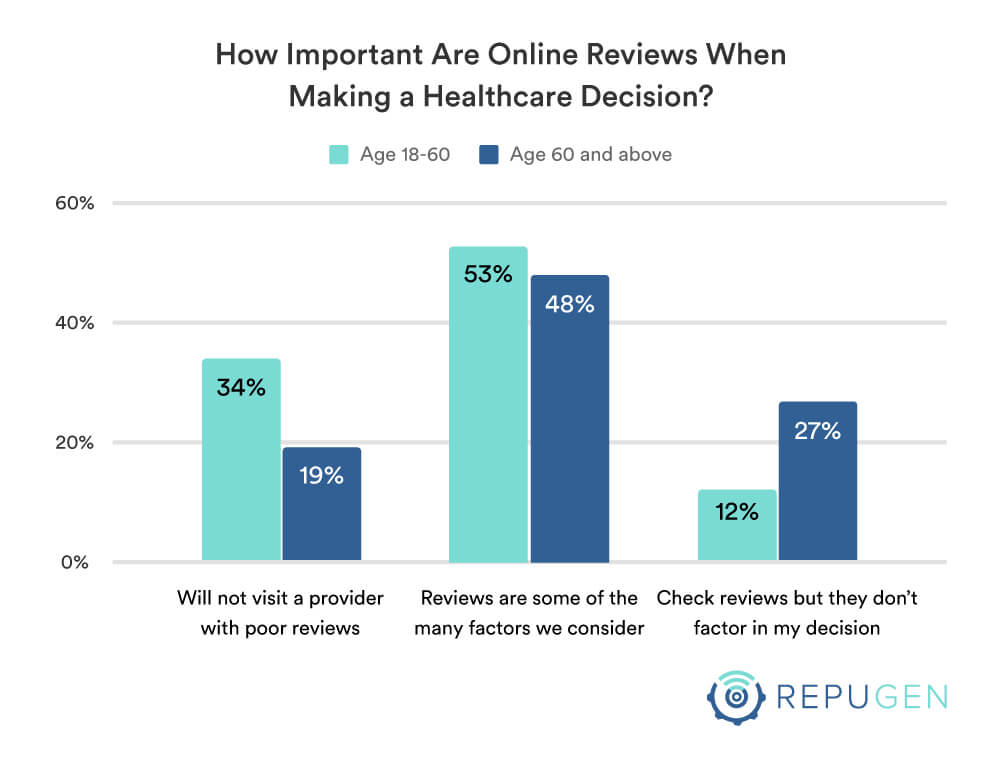 Key Findings
Managing online reviews is critical for healthcare providers. It plays some, or, the only role in a provider decision for 83% of the patients, with 30% refusing to select a provider with poor reviews.
While the value of the review is vital for healthcare providers in younger patients, it also plays an essential role for older patients.
The data reiterates the importance of online reputation management for healthcare providers, since when reviews are left unmanaged, the actual patient satisfaction level reflected by the reviews is generally skewed by a handful of unsatisfied patients.
Which Review Sites Do Patients Check for Healthcare Providers?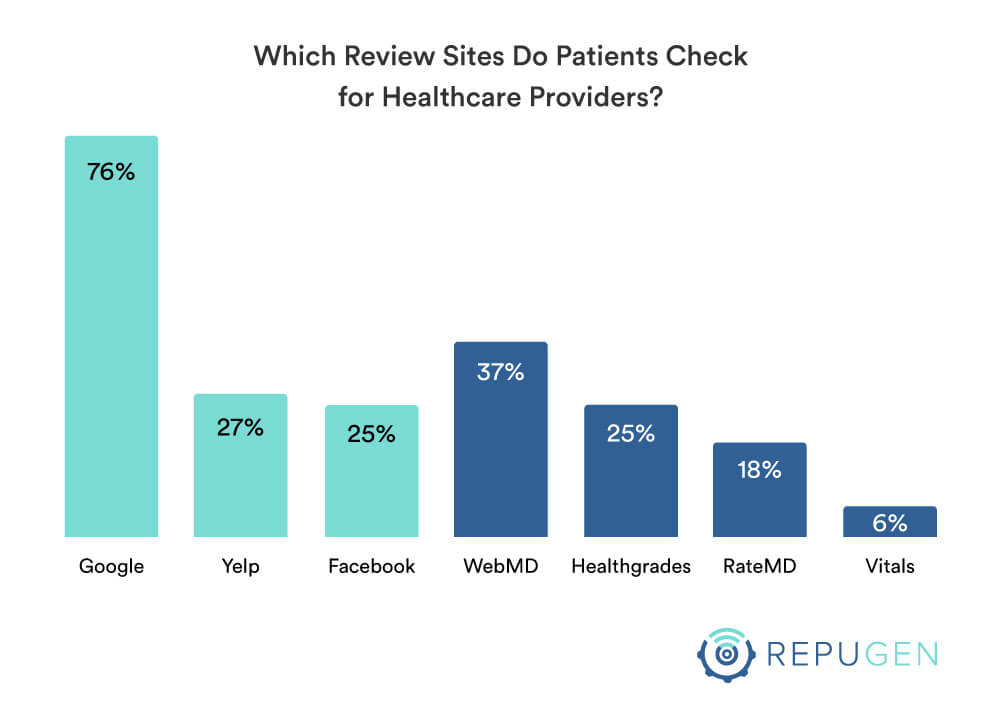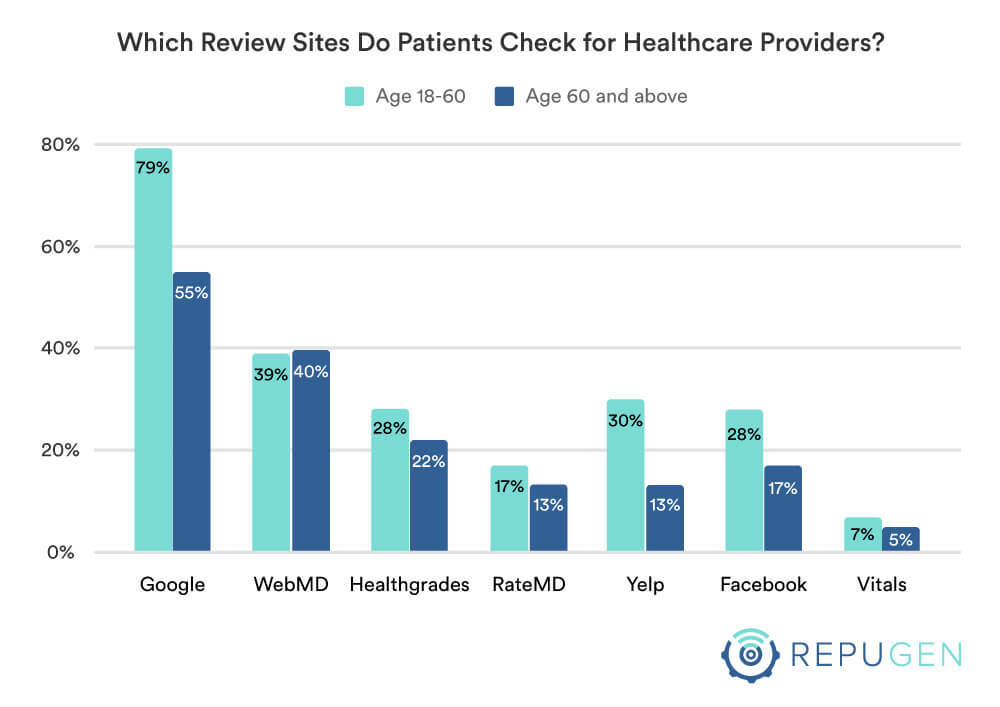 Key Findings
76% of the patient population who leave reviews, leave reviews on Google. This doesn't come as a surprise, given that most of the searches for healthcare providers happen on the Google search engine, and the reviews are displayed prominently for the providers that show up on the search results.
However, 37% of patients checking WebMD for reviews surprised us, especially given the frequency of visits to the platform by the younger population. Most providers are unaware of this fact given the lack of interest by RepuGen's clients and prospective clients when it comes to managing their reputation on WebMD.
The biggest surprise was the lack of visits to Yelp and Facebook for reviews, given its popularity among consumers for other services. It appears that patients prefer specialized platforms when reviewing healthcare providers, a finding that justifies the presence of several healthcare review platforms.
The significant implications of this finding for healthcare providers are
The necessity of generating and managing reviews on the healthcare centric review platforms
Ignoring their focus on getting more reviews on Yelp.
And most important, having a robust online presence on Google and stellar reviews on the Google platform. Healthcare providers need to get found when prospective patients search for their services. Once they appear on the Google search, their reviews show up prominently on the right side of the page. A positive reputation on Google would result in either a patient trying to find more information about the healthcare provider or moving on to the next provider in their Google search results.
Which Review Site Do Patients Trust The Most?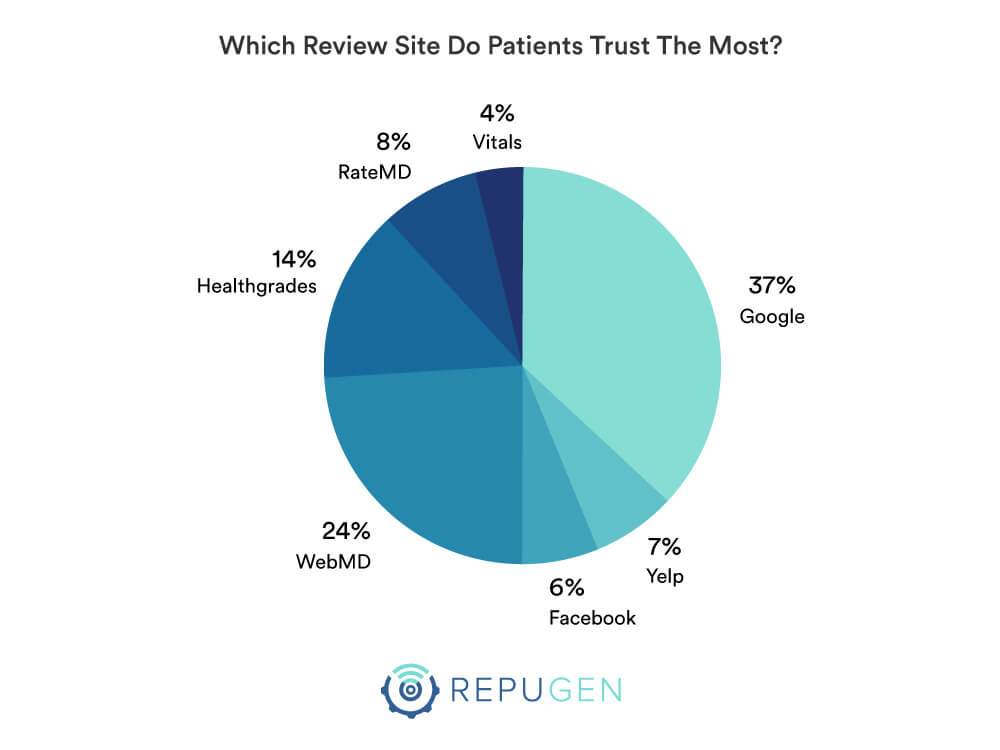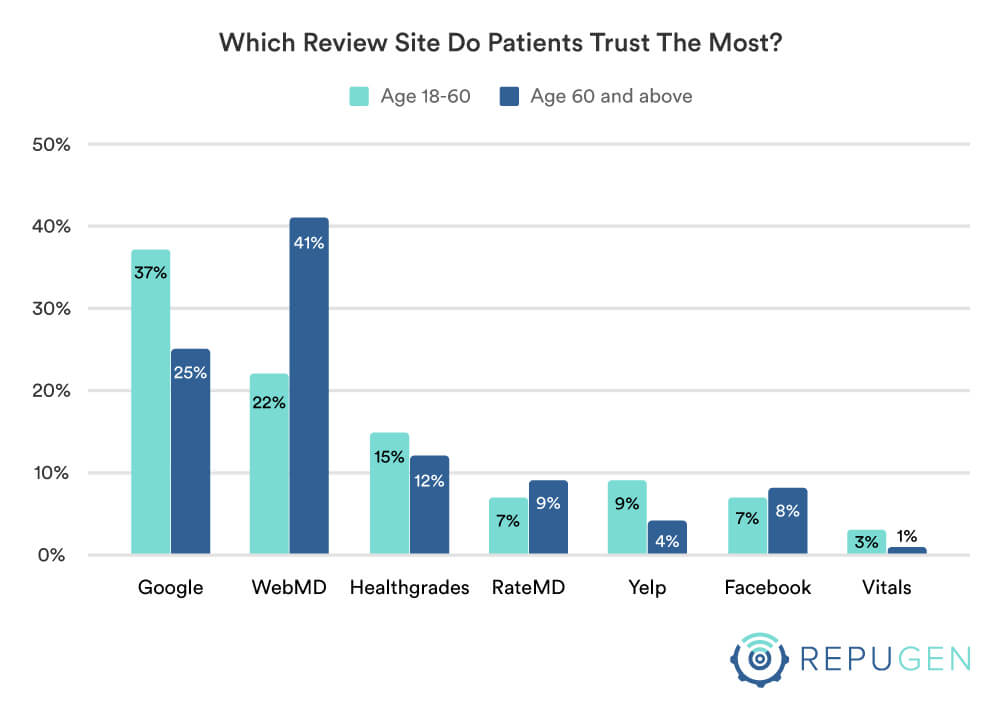 Key Findings
It's no surprise that Google is the most trusted site for reviews, given the high percentage of patients checking reviews on the platform. However, its trustworthiness is much lower than its overall market share of reviews read.
The trust in the reviews on WebMD was disproportionate to the percentage of patients that check the platform, with the 60+ population trusting it even more than Google.
Despite their universal brand recognition, the lack of trust in the reviews of healthcare providers on Yelp and Facebook explains their smaller market share of healthcare provider reviews read by patients on their platform.
Since 79% of the population rely on reviews of healthcare providers during their selection process, the review-site trustworthiness findings suggest that
Healthcare providers need to take WebMD seriously when planning their online reputation management strategy, especially ones whose patient base is older.
Emphasize minimizing the use of advertising on Yelp and Facebook until their trustworthiness and market share improves.
All review platforms need to work diligently to increase patient trust for reviews of healthcare providers on their site.
Does The Age of Review Affect its Relevance?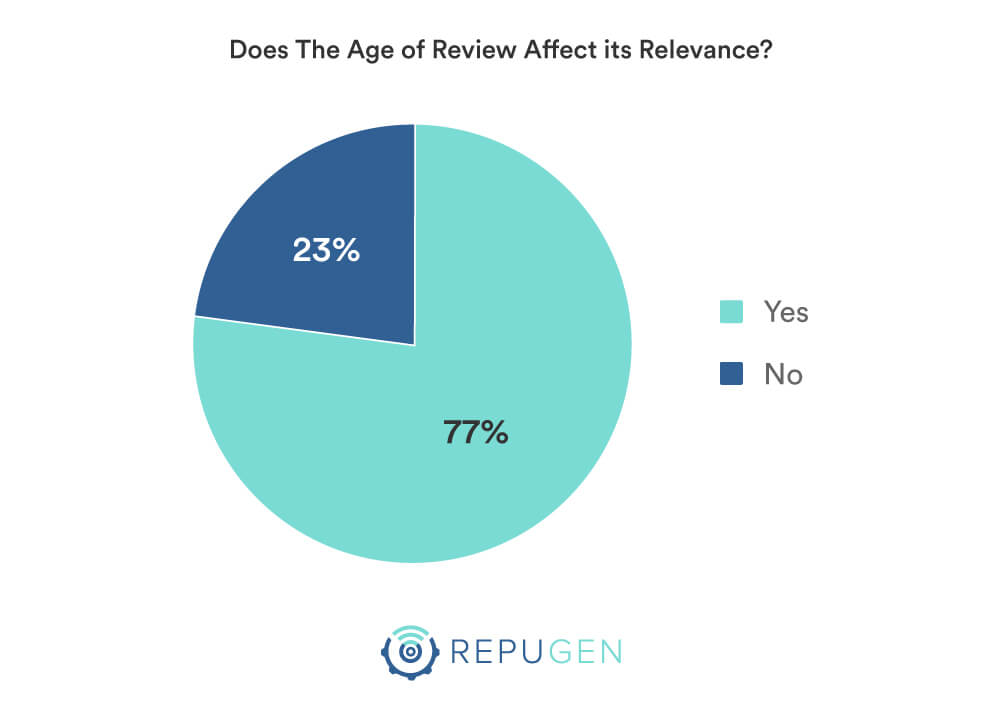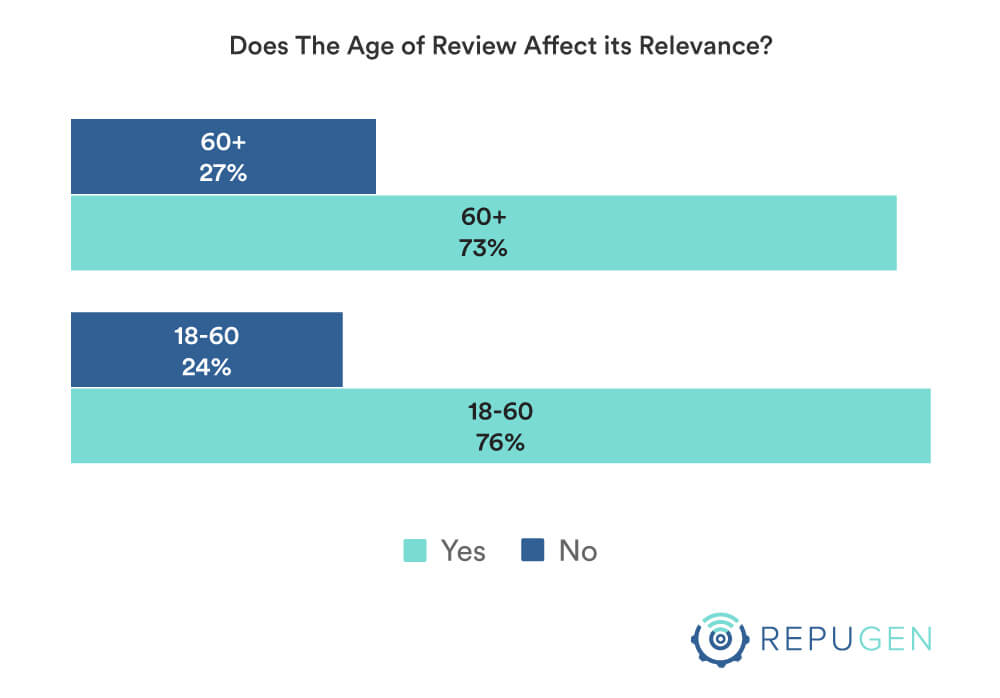 Key Findings
The recency of the last review written is a critical factor in whether a patient would consider it relevant.
Since not all patients check all websites, it becomes imperative for the providers to get regular reviews on all related platforms.
Patients under 60 years old value reviews' recency, which is consistent with how they use reviews for other services. Patients over 60 years old do not care for recent reviews as much, most likely because they have already been visiting the physicians they plan to visit.
A cursory check of reviews on different platforms for almost any healthcare provider will show a lack of recency on many review platforms. The data above shows that not all patients check all relevant review platforms, which means a provider runs the risk of a prospective patient checking a review site with stale data and getting rejected. Healthcare providers should compile reviews on all relevant sites, display it by recency, and make sure that patients find the compiled version on their website and Google search for keywords like "Dr. xxx reviews".
At What Age is a Review Not Relevant For Patients?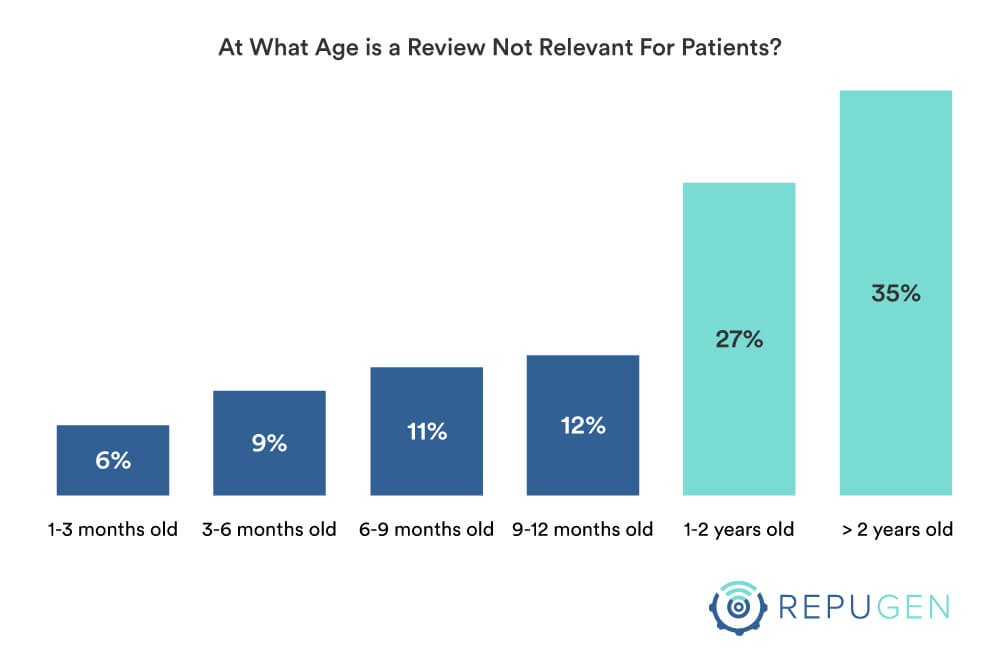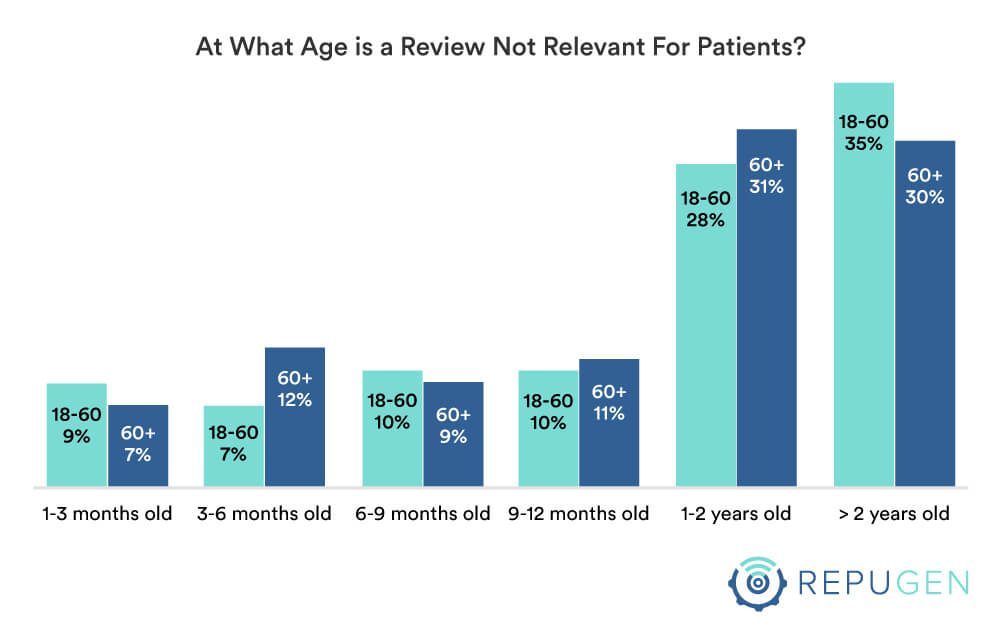 Key Findings
62% of patients do not trust reviews older than two years.
36% of patients would ignore reviews written over a year ago.
Younger patients are more likely to distrust older reviews, but not as significantly different from the older segment as they are on other measures.
These findings came as a surprise because it shows that patients are more accepting of older reviews than other business segments like restaurants, etc., where consumers tend to ignore reviews over three months old. Patients appear not to expect a drastic change in healthcare providers' services over time.
The recency of reviews is still essential because the smaller percentage of patients still only trust recent reviews. The more recent the review, the better! Healthcare providers should work on strategies to get reviews on a regular basis.
The suggested solution above about compiling all reviews in one place by recency would mitigate the need to generate recent reviews on all platforms.
What is the Minimum Number of Reviews Patients' Check Before Selecting a Healthcare Provider?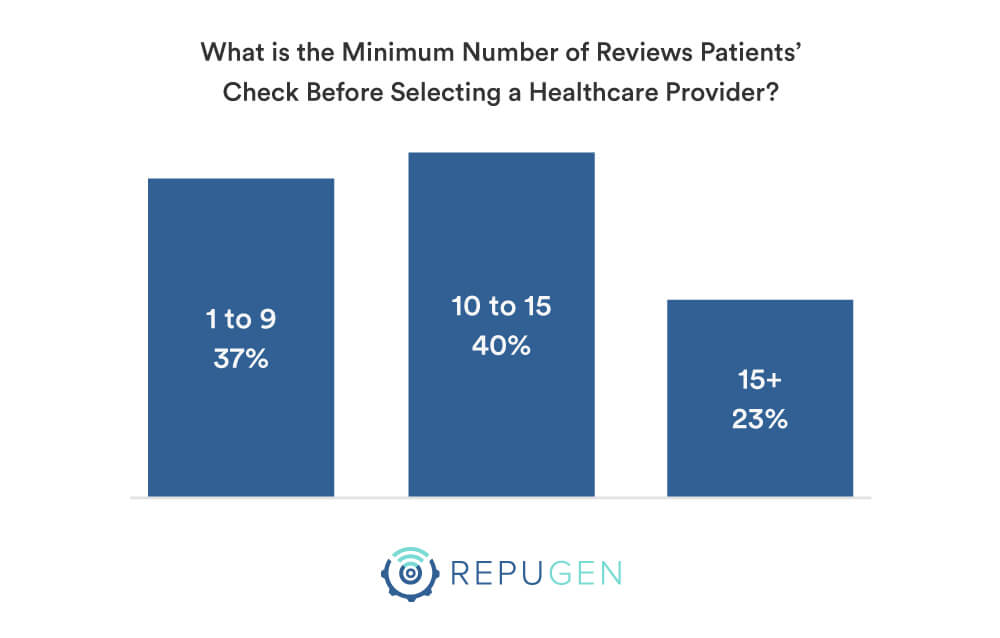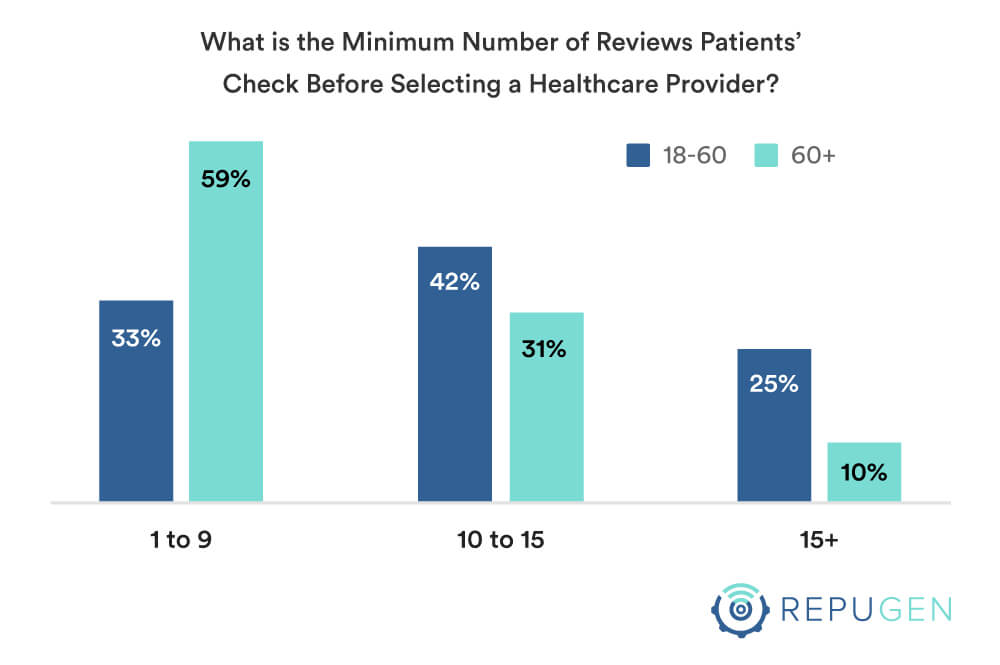 Key Findings
The need for getting reviews on a regular basis becomes evident, as 63% of patients read ten or more reviews before making their decision.
Given the other findings of review consumption, 77% of patients below 60 years old are reading ten or more reviews vs. only 41% of patients above 60 years old, does not come as a surprise.
Given that most patients check 2-3 review platforms, providers should strive for at least ten reviews on all relevant platforms to cover 100% of patients checking their reviews.
The need for at least ten reviews on all platforms makes it imperative for healthcare providers to have a strategy that works on acquiring more reviews regarding their services and the quality of care they provide on all platforms regularly.
If a healthcare provider compiles all reviews in one place and makes it easy for patients to find the compiled version, the patient requirement will be addressed.
What are the Most Important Factors in the Healthcare Provider Selection Process?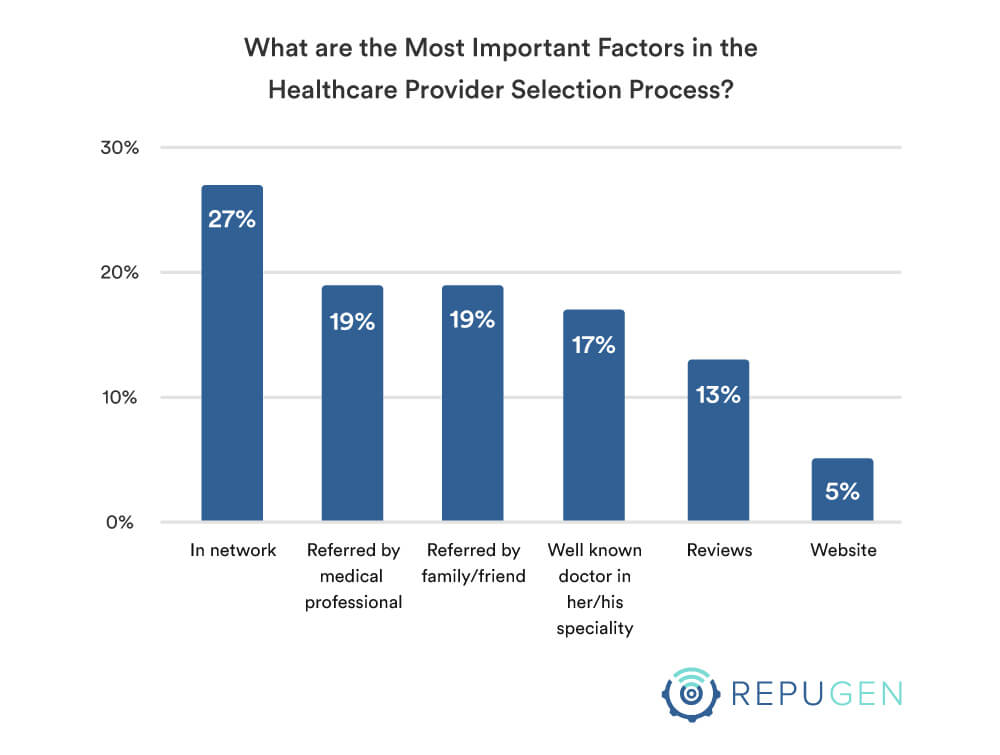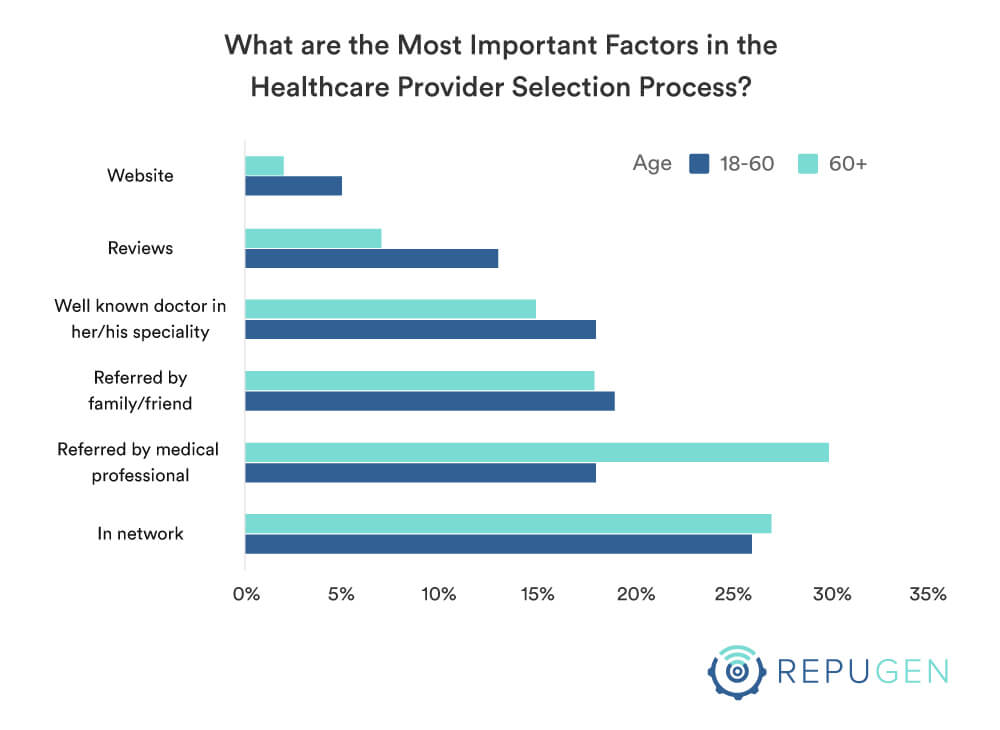 Key Findings
When forced to select one factor that is most important in the healthcare provider selection process, the factor of a provider being In-network, was the most important factor.
Consistent with the other review consumption behavior, the patients under the age of 60 rely solely on reviews by almost 2 to 1 compared to the patients above the age of 60.
The importance of reviews drops well below factors like In-network, Referral by medical professionals and friends/family, and the provider's reputation. However, online reviews play a significant factor when patients decide how well known a healthcare provider is in their field.
Since referrals and the reputation of a healthcare provider are the dominant factors, providers should create an effective reputation management strategy to have a stellar online reputation and a marketing program for generating referrals from happy patients. Specialist providers should develop and execute a plan for acquiring referrals from the referring physicians.
What Are the Top 3 Most Important Factors When Selecting a Healthcare Provider?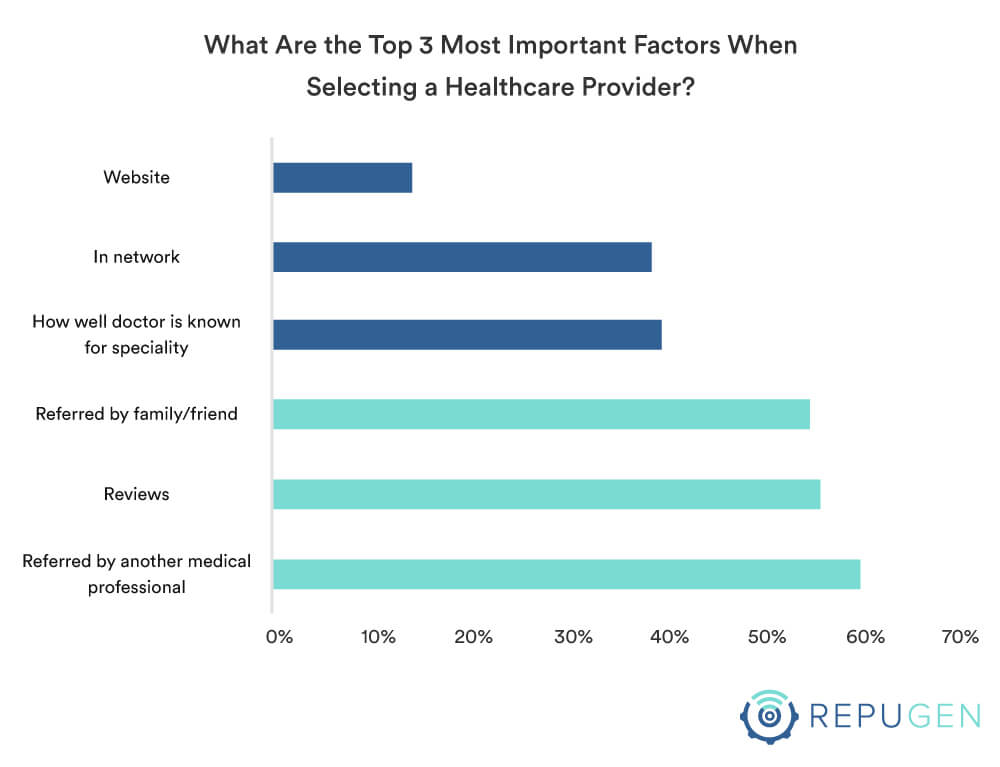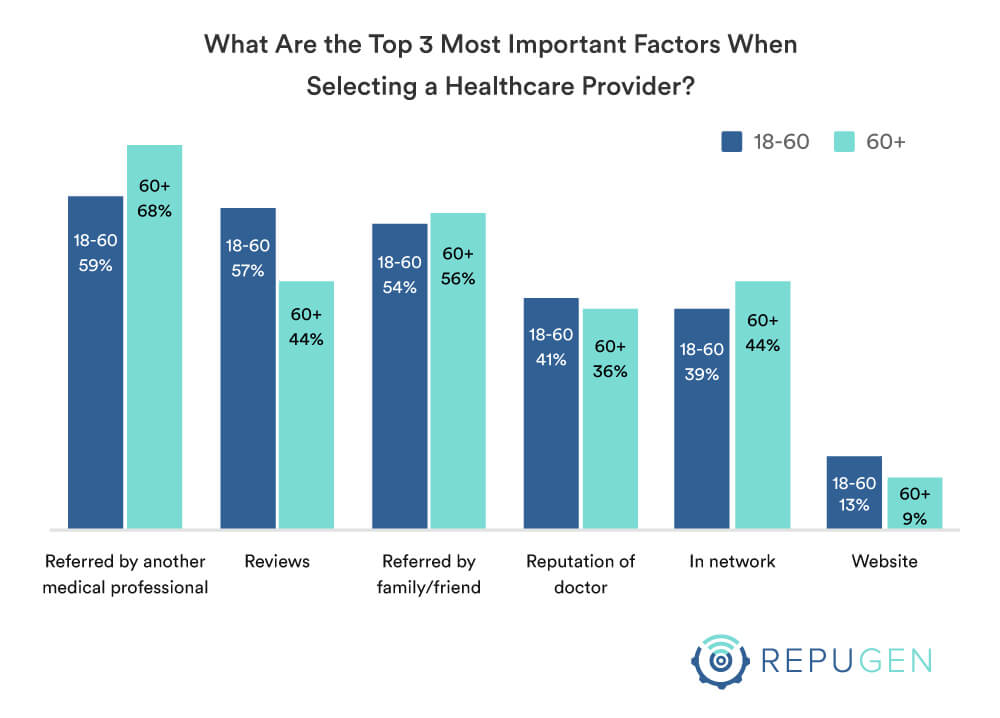 Key Findings
When we asked patients to select the three most important factors when choosing a doctor, reviews jumped to the 2nd position from 5th as the essential factor. Surprisingly, In-Network requirements dropped from 1st to the 5th position, suggesting that patients would be willing to go out of network providers unless in-network providers also meet other criteria.
The importance of reviews in the healthcare provider selection process is significantly higher than in-network physicians among younger patients. In contrast, older patents value in-network availability higher than reviews.
The findings show that healthcare providers cannot solely rely on their insurance networks to maximize patient acquisition. They need to improve their reputation because their prospective patients will compare their online reputation with their peers in the network. A focused plan to improve patient satisfaction to generate more referrals from them and managing their online reviews diligently is required to retain and acquire more patients.
How Often Do Patients Visit a Dentist Per Year?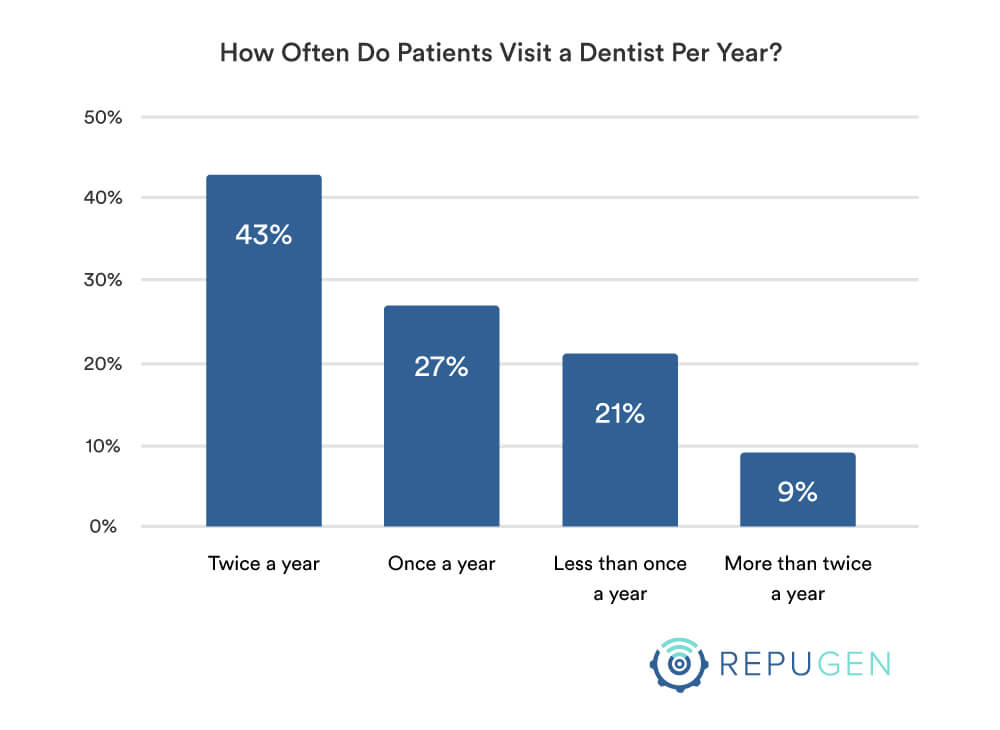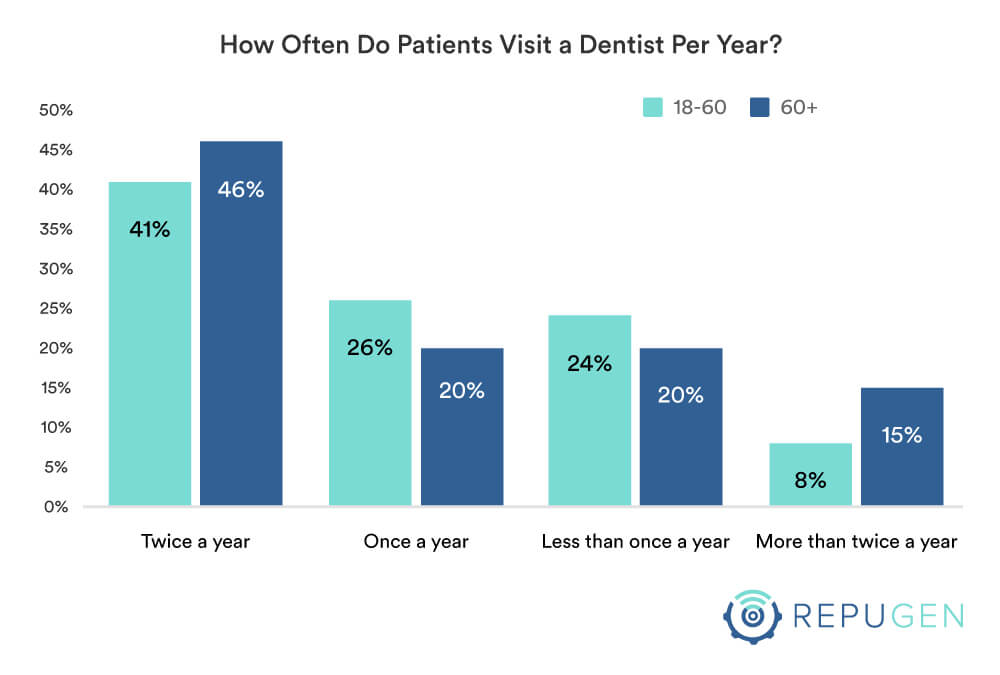 Key Findings
This data shows that the lifetime value of new patients for dentists is enormous, especially since a satisfied new patient is likely to bring their family members and recommend their dental services to their friends. Dentists need a strategy to attract new patients consisting of tracking and improving patient satisfaction, managing their online reputation by getting regular reviews from all patients on all relevant review-platforms, and getting a robust Google presence.
How Often Do Patients Visit a Doctor Per Year?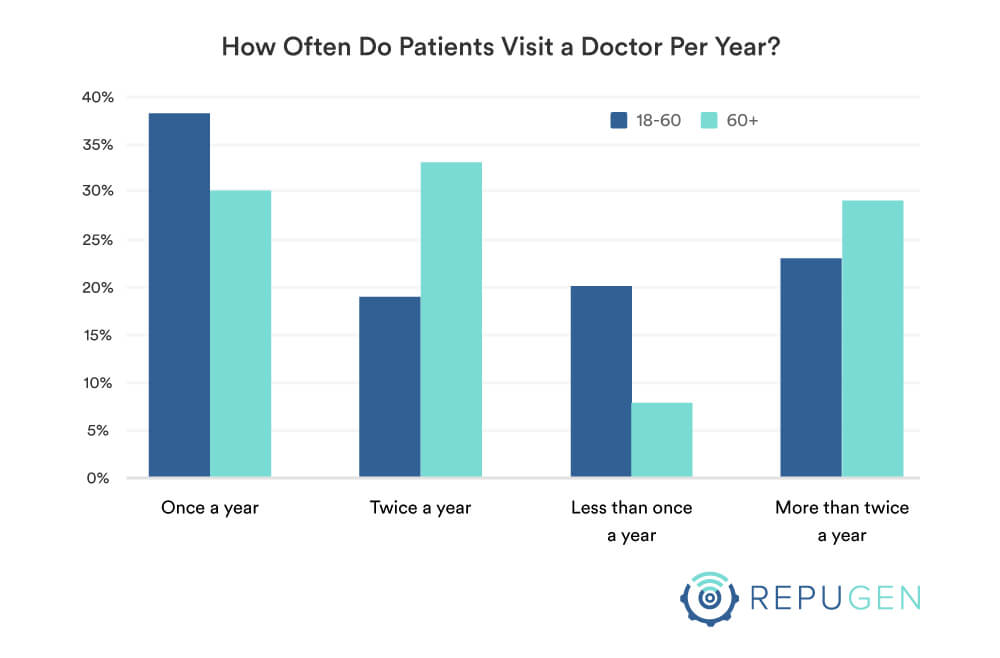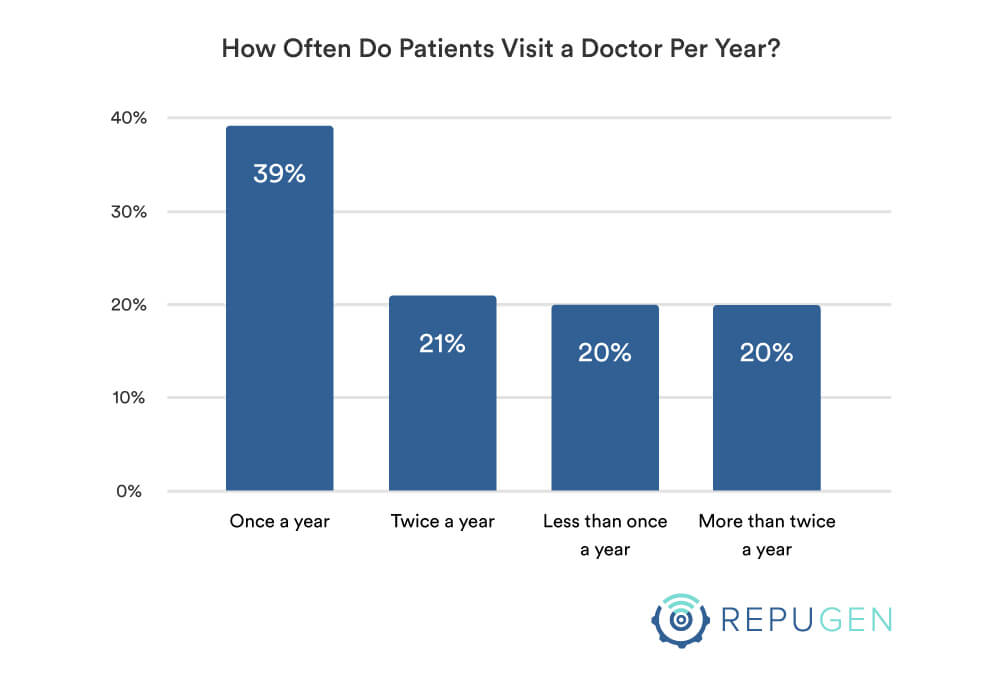 Key Findings
As is the case with dentists, medical healthcare providers can retain a higher percentage of their patients and generate a steady flow of new patients to their practices. Whether you are a private practice, an urgent care center, surgical centers, specialty hospitals, or a large institute, execute a strategy of consistent patient satisfaction tracking, accumulate new reviews on all relevant platforms, and ensure a robust online presence.
Execute a strategy of consistent patient satisfaction tracking
Continuously work on improving satisfaction
Generate fresh reviews on all relevant platforms regularly
Maintain a robust online presence so that you or practice show up when a prospective patient is googling to find a provider in their geography.
Additional Information
Contact us for more details regarding this study. There are numerous amounts of data which include the breakdown by gender, income group, geographical regions, etc. We would be more than happy to share this data since it could help you recognize the value of managing online reviews by physicians. It is not fair for either patients or healthcare providers if their online ratings do not reflect their actual patient satisfaction. Patients could end up making a sub-optimal selection of a provider, and patient-centric providers may miss out on new patients because of poor reviews by a handful of their unsatisfied patients.