12 Simple Ways to Encourage Patients to Leave Great Reviews For Your Practice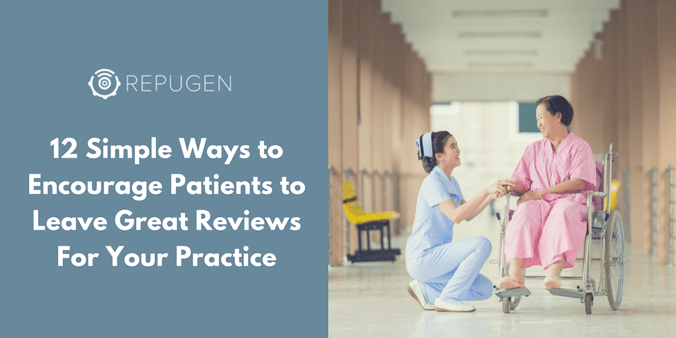 What do your online reviews say about you? No, not about the quality of care you provide or the overall patient experience you deliver. What do they say about your connections with patients?
Are you one of the fortunate physicians who is able to convince patients to write reviews about your healthcare practice-and do it without becoming a bother? Or are you on the other side of the spectrum? If your online reviews aren't what you'd like them to be, it might be time to take some aggressive (but never annoying) steps to connect with your top-tier patients in order to convince them to write reviews.
Because online reviews matter. Consider these statistics gathered from various sources:
92 percent of people regularly or occasionally read online reviews
90 percent of people say that the online reviews they read influence their decisions
54 percent of people say that they typically visit a website after reading an online review
88 percent of people trust online reviews written by people they don't know as much as they trust the recommendations of people they do know.
A study suggests that unhappy patients will complain, on average, to at least 9 (or more) people as compared to the happy patients who are more reluctant and share their great experience with no more than 5 people. This is a serious situation for healthcare providers whose business rely on their reputation. And reputation is made and destroyed on the web through good and bad reviews! You can't do anything directly about unhappy patients writing harsh reviews online. That's because they are self-motivated and so they will go to every review website (where they have accounts in their name) to show their anger. However, you can always encourage your happy patients to share their true feelings about you with others.
You can do it by providing them with a platform that eases the process of writing and posting reviews. That platform is a reputation management software. When patients are asked to write about their experience, they feel more involved and important. This in turn increases the feeling of belongingness and therefore, encourages them to write reviews. See? Online reviews matter, which is why you need to have a strategy for convincing your top-tier patients to provide them--without becoming a bother.
Here are 12 simple but efficient ways to elicit reviews for your healthcare practice from your patients.
1. Just Ask Them Directly to Write a Review
It's easy. It's effective. And it's incredibly efficient. Asking patients to provide an online review works.
According to BrightLocal, 7 out of 10 people will provide an online review ... if they are asked.
2. Link Your Online Listings from Your Website
If you're going to ask patients to write online reviews, you might as well make it easy for them. This means using your website to direct patients to online review websites by prominently placing links and clickable images on your website. That way patients won't have to spend a lot of time searching for the best place to put their reviews.
3. Go Old School
If you're like a lot of healthcare service providers, you're probably dealing with a lot of patients who aren't millennials. They might not be able to quickly type out a 500-word online review on their smartphone, but that doesn't mean they're not interested in sharing their feelings. They just need a sheet of paper with instructions printed on it. So go old school and print off some instructions.
4. Ask via a Personalized Email
Sending a personalized email to a patient after an exam is an easy way to ask for an online review--without actually asking. Send a follow-up email. Thank the patient for coming in for an exam. Ask if everything went well. Then include a link to your favorite online review website.
5. Automate the Patient Feedback Process
There are online review management services and tools available that allow you to automate your emails to patients. If you use them to send follow up emails, make sure to include a link to online review websites in every email.
6. Go Really Old School (Snail-mail)
If there is one thing to which baby boomers are sure to pay attention, it's old-school snail-mail. Sure, it might cost a little more, but if it helps you connect with your patients and leads to a plethora of new reviews it just might be well worth the expense.
7. Make a Thank You Video and Include CTA
People love videos. In fact, people watch 1 billion hours of videos on YouTube every day. So make a movie! Send it via email to patients after visits. Thank them for coming in and make sure to include a call to action.
8. Ask Patients on Social Media
If you're not on social media, you should be. According to Statista, more than 80 percent of all Americans are on social media, meaning that Facebook, Twitter and other platforms are the perfect places to connect with patients and ask them to share their positive experiences with others.
9. Make the Call
If your staff makes follow up phone calls, why not encourage them to suggest that patients write an online review? It is a bit old fashioned, but it can also be effective with the right audiences.
10. Add a Little Encouragement into the Mix
No, not payola. How about providing patients who post online reviews with something fun and inexpensive? A refrigerator magnet? A branded pen or pencil? Or maybe a notepad with your name and contact information printed on it? People love swag, so why not use it as an incentive?
11. Make It Part of Your Routine
Sometimes soliciting positive reviews can be a little cumbersome. It can certainly make some people uncomfortable. But you are going to need your staff's support in order to make it work, so make sure to make asking for online reviews part of your office's routine.
12. Asking Your Patients to Write and Post Reviews with RepuGen
We understand the fact that happy patients usually skip writing and posting reviews. That's because when they find themselves cured and relaxed after a long suffering caused by their health condition, they don't want to indulge in anything other than just getting out of the clinic and continuing with their normal life routine. That's how a patient's psychology works! Under that kind of mental state, even a request by the provider themselves may not get the patients on the line to write and post reviews. One more reason for not writing can be forgetting to write after going back to work or after having reached home at evening. Keeping all that in mind, we built RepuGen which takes care of this by providing a platform to remember, write and post reviews directly on different review websites. It's also a fun way for your patients to rate and review you through it! Check out the video here to know how RepuGen can help you in getting patient reviews
Start Today
Online reviews matter, that much you know. Positive reviews play a major role in convincing your prospective patients to choose you over your competitors. And because cost of obtaining a patient is typically high, losing even one of them is a substantial loss of investment. A proactive reputation management saves you from that loss! And now that you know how to encourage patients to post them, you can get started.