How Online Guest Reviews Affect Hotels' Reputation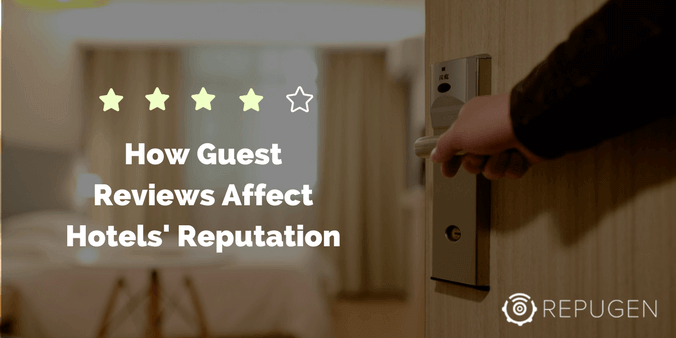 The hotel business relies on customer reviews and word-of-mouth promotion from guests who tell others about their experience. People who regularly travel like to figure out ways to maximize their experiences by researching hotels online. Part of the research involves looking for the best deals and another part involves reading guest reviews. Travelers like to know how safe the neighborhood is, if the hotel is near stores or restaurants and how nice it looks both internally and externally. Most importantly, they care about how guests are treated. Will they feel comfortable or trapped in a scary place?
Reading online reviews has become an essential part of hotel selection.
A study by Cornell University found that a hotel can justify raising a room rate up to 11% when it increases a point on a five-point scale. Hotel guests take these scores seriously enough to use them for decision-making. Studies show that travelers are more likely to book rooms based on review scores than on pricing. Sites like TripAdvisor offers "5-bubble reviews," in which reviewers score the hotel on a five-point scale. While 5 is considered excellent, 1 is considered poor. You can then look at average bubble ratings to get an idea of what various guests think. It differs from a star rating system in which independent entities base judgments on a standardized rating system. TripAdvisor bubble reviews give you a clearer picture how guests respond based on personalization. A study by TrustYou of TripAdvisor 5-bubble reviews found that there is clear correlation between bookings and reviews. The more review scores go up, the more bookings increase in Europe and Asia-Pacific. Since reputation is key to success in the hotel industry, here are ways to help gain positive reviews and customer loyalty.
The Need for a Review Management Software
The first step toward monitoring hotel guest reviews is choosing a hotel reputation management software platform that tracks customer feedback. Guests can leave comments about their experience, which can then be analyzed to help management understand the emotions and concerns of guests. Hotels are meant to be memorable experiences for travelers who look forward to feeling as if they have at home on the road.
Meeting Quality Standards
Travelers that regularly book with hotel groups or chains have a certain expectation of quality standards that they can rely on. It's up to a hotel to make sure that all rooms meet these standards. All it takes is one bad experience for a guest to decide to switch to a different hotel group and expose it to the online community. That's why even though hotel managers cannot monitor their entire chains, they must still be aware that guest satisfaction should be taken seriously as a top priority. Companies that can collect guest reviews throughout the chain with software have a huge advantage. The information can be shared throughout the chain so that individual properties can be held accountable. The information can be compiled in group reports, allowing managers to stay on top of guest interaction to learn what improvements need to be made. Guests expect the entire hotel experience to be personalized, which is how many judge their stays. The more personal you make the experience, the more chances you have at developing brand loyalty. A study by Harvard Business Review found that customers with positive experiences spend 140% more in the future with the business compared with those who have negative experiences.
Competing with Smaller Chains
The hotel industry gives travelers many choices; they can stay at big or small chains. Sometimes the best deals can be found researching small mom and pop hotel groups. The advantage of smaller companies is they can pay closer attention to their guests. It allows them to gain an edge in personalization. Smaller chains also have the opportunity to embrace hotel trends more easily. Decisions made at the executive level can have a dramatic impact on personal experiences. It's important for chains to maintain consistency at various properties, whereas smaller chains have different levels of expectation. Companies that use automation to allows 24/7 guest feedback can benefit the most, particularly if the chain issues specific market research questionnaires. This technology helps hotel chains maintain guest satisfaction at various locations since the information can be shared among different properties.
Conclusion
Travelers have multiple ways to research hotels before deciding on booking. Online reviews have become crucial in helping people make booking decisions. Positive reviews influence bookings as well as raise expectations on higher room rates. The best way for hotels to improve bookings is to enhance personalization, which can lead to better reviews.