10 Easy Upgrades to Make Your Waiting Room More Patient-Friendly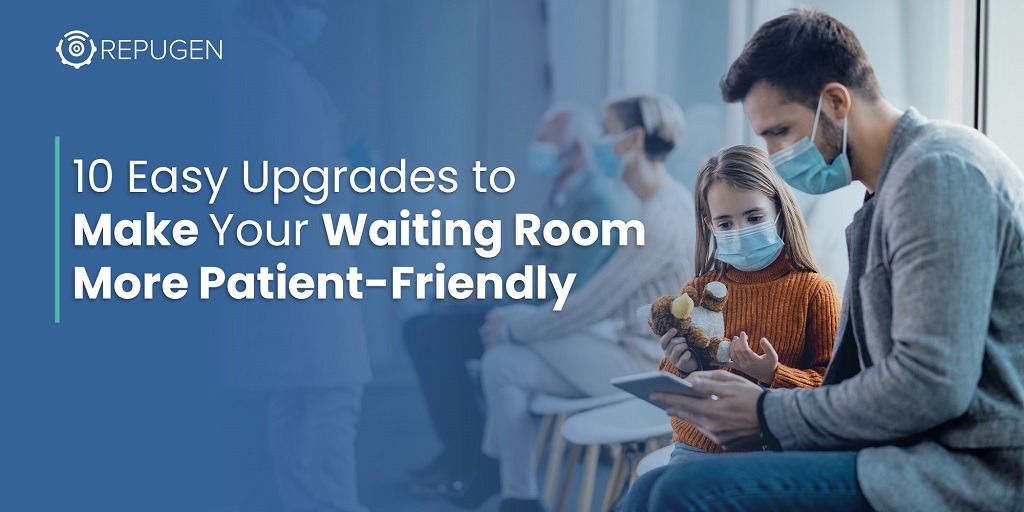 The rise of competitive health care services and an increase in the importance of doctor ratings require healthcare providers to think out of the box about how to attract and retain patients. One of the ways of doing this is by redesigning the traditional waiting room setup with unique medical office waiting room ideas.
The waiting period is part of the patient experience. Patients are usually anxious before seeing their doctor; therefore, the waiting room should make them feel welcomed and comfortable.
Below are some medical office waiting room ideas that can help to improve the patient experience.
1. Invest in Comfortable Seating
Comfort distracts the mind from serious issues, such as pending diagnostics and health status updates. It also offers patients much-needed rest, in case of long wait times.
One easy way of making the waiting room comfortable is by providing comfortable seats. Invest in ergonomically-designed seats that are suitable for the needs of different patients.
2. Warm and Inviting Ambience
The state of the physical space goes a long way in affecting customer experience. Therefore, make the waiting room warm and inviting.
A well-planned layout, including the choice of colors, indoor plants, and ambient temperature will help to calm anxious patients. Moreover, indoor plants improve air quality, offer contrast, and give a homely feel in the waiting area.
3. Entertainment
Time seemingly passes by faster when one is entertained. The waiting areas of most establishments feature non-inclusive entertainment, often with loud music, irrelevant channels, and outdated reading material.
Invest in space-optimized entertainment systems such as subtle surround systems, sizeable TVs tuned to relevant channels, waiting room activities for adults such as up-to-date reading materials, and waiting room activities for kids such as a play area and games.
4. Healthy and Nutritious Snacks
The waiting rooms of most healthcare facilities have vending machines with standard snacks and beverages.
Try to be different by offering things such as water, healthy snacks, fruits, juices, coffee, or pastries. Moreover, a well-stocked mini-fridge will complement the whole area décor.
5. Status Updates
Studies show that 30 percent of patients will leave a medical facility if they are not quickly attended to. Lack of updates during the waiting period often triggers agitation and restlessness. While unavoidable delays may occur, prompt updates can help keep patients at ease.
Invest in front office technologies that keep the line moving and patients updated. In case of expected longer delays, be transparent by offering regular updates on the progress.
6. Charging Ports and Free Internet
The main goal of the waiting room is to keep the patients busy or engaged as they wait for their turn to see the physician. One way of keeping them busy is by offering free internet and charging ports. These will allow patients to occupy or entertain themselves with their own interests during the waiting period.
7. Install Self-Serve Kiosks at Check-In Points
These kiosks speed up patient registration and consent form process, and also help in language translation and copayment collection. This can help improve the patient experience by reducing patient wait times, providing convenience, and increasing privacy.
8. Waiting Room Concierge
Many patients fear walking into a healthcare facility's waiting room due to the associated uncertainties. Unfamiliarity with the triage procedure may add on to the confusion. You can calm patients by offering waiting room concierge.
A waiting room liaison can welcome patients and help them with things such as filling forms and answering general queries. Whether a new hire or part of your existing staff, the concierge should be confident, polite, knowledgeable, and exude a positive demeanor.
9. Educate Your Patients
Educating the patients while they are waiting for their doctor helps in increasing patient satisfaction. Watching educational videos and chatting with staff members in the waiting room make the patients well-informed about their treatment options and procedure. These patients will be happier than patients who are just following a typical process.
10. Include Community-Connect Items
Continual community engagement shows that you are in touch with and care about the community. Poor engagement of your facility with the community may create an impression that you are just after their money.
Install a connect board, which features activities such as local sporting events, farmer's market photos, local fair, amongst others. Include activities that your facility has engaged in or are planning to attend in the local community.
In the same vein, including work by local artists, such as paintings or sculptures endears your facility to patients better than generic medical boards.
Making these upgrades will help you create a waiting room that your patients would love visiting.