How to Improve the Waiting Room Experience for Your Patients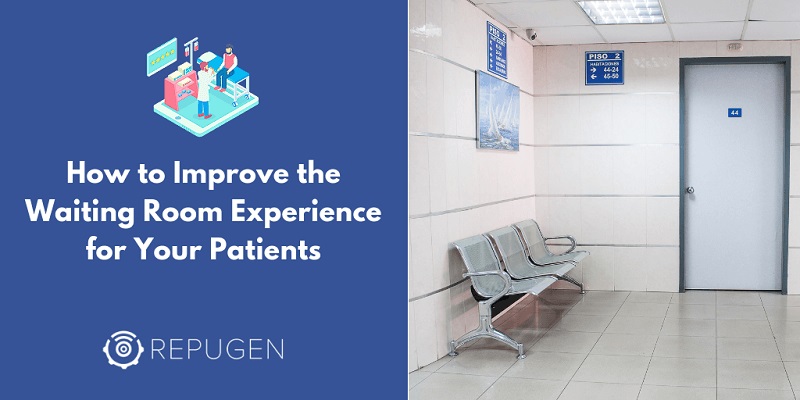 Nobody likes to wait to access services. However, there is a big difference between queuing for coffee and standing in line when you are suffering from a stroke. When you are sick, the last thing you want is to be told to wait. It's even worse if you don't know how long you'll need to wait before seeing a doctor.
According to a survey done by media Group Management Association, the average hospital waiting time is 20 minutes. Since your health is extremely time-sensitive, this is a recipe for disaster. Long wait times can increase stress and anxiety levels, which ultimately affect patient waiting room experience.
What Causes Long Patients Waiting Times?
There are several reasons why patients wait longer in healthcare facilities. These include:
Overbooking – Some clinics book as many patients as possible, hoping to mitigate lost revenue from missed appointments. Unfortunately, this often leads to frustrations and long wait-times for patients.
Patients getting to their appointments late – According to a physician survey done by Software Advice, 64% of doctors pointed out that late patient arrival time as the leading cause for longer-than-average waiting times.
Unforeseen issues from patients – This may include the need for additional treatment and documentation. In the survey done by Software Advice, doctors cited that 61% of patients had unexpected issues, which lead to longer waiting times.
Technical difficulties – These include equipment breakdown or delays in digital documentation of health records is yet another issue cited by 25% of the surveyed physicians.
Staffing challenges - This may include being understaffed or having slow employees.
How Does Long Waiting Times Affect Patient Experience?
Patient waiting room experience has a significant impact on patient retention, satisfaction, and loyalty. Patients get frustrated with long wait times, and this negatively affects their satisfaction rates.
According to a Vitals study done in 2018, there is a strong correlation between patient rating of a healthcare facility and the waiting times. Health facilities with longer than average waiting times received one-star rating compared to five-star ratings given to facilities with little to no waiting times.
Additionally, patients may interpret the waiting time as an indicator of how you care for them, leading to a negative impact on patient retention rates.
Survey results from Software Advice show that health facilities that don't address long waiting times lose 54% of their patients annually. About 28% of patients say that they left a health facility without seeing their doctors, while 26% changed their physicians due to long wait times.
Long wait times also negatively affect potential patients. 22% of surveyed patients advised their friends and family members not to be treated by that particular doctor, while 11% rate them negatively on online reviews.
How to Improve Patient Waiting Room Experience
What would patients prefer you to do to make their waiting time more bearable?
a) Tell Them in Advance How Long They Will Wait
About 88% of patients wish that their physicians would tell them in advance the expected wait time, according to Software Advice. This, according to surveyed patients, would entirely or partially prevent the waiting frustration.
For instance, if you are running behind schedule, let your patients know. Moreover, text or call incoming patients and let them know if you are running late.
b) Spice Up the Waiting Room
Most waiting rooms are uncomfortable and feature rows of office chairs that make them unattractive. Spicing up your waiting room with amenities can make the waiting less unpleasant. Here are a few ways you can do this.
Update the medical office waiting room layout, offer comfortable furniture, and separate spaces for children and other patients
De-clutter your waiting space by keeping it tidy and clean
Offer some luxuries such as coffee and healthy snacks to patients sitting in the waiting room
c) Make Waiting Times Active
Provide patients with something to keep them active in the medical office waiting room. This will ensure that their mind and eyes aren't focused on the clock.
According to research done by the Medical Group Strategy Council, 60% of patients pointed out that having free Wi-Fi in the waiting room would help eliminate waiting frustration. You can also provide iPads, games, massage chairs, or updated newspapers and magazines.
d) Use a Friendly Queuing System
Many health facilities use the 'take a number' queuing system, which makes patients stay in the facility because they feel that if they leave then they will miss their appointment. This is not the best waiting system.
Instead of the queuing system, have a display that shows the queue order so that patients are aware of how far they are in the queue.
e) Invest in More Staff
If understaffing is the cause of your facility's long waiting times, hire more staff, even if they are just part-time employees. Moreover, motivate your employees by rewarding those who do well to improve efficiency in their work.
Automation of front desk processes such as scheduling of appointments, check-ins, and reminders can also reduce delays.
Waiting times affect the satisfaction rate of your patients. Follow the clinic waiting room ideas and tips mentioned above to improve the patient waiting room experience.