Online Reputation Management for Doctors: A Definitive Guide [Part One]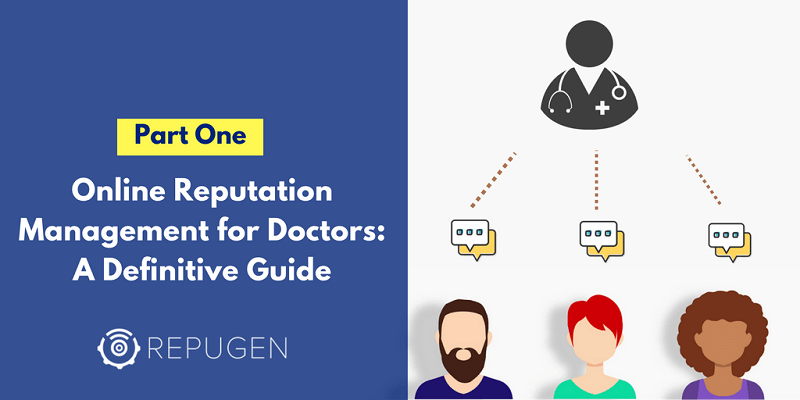 As patients are increasingly turning to search engines and review sites for evaluating the quality of care, it's time that doctors should also be there to provide the answers that patients are looking for. With a proactive reputation management, doctors can leave the right impact that will convince patients and eventually acquire them.
If you are a solo provider or part of an Independent Physician Association,this article will guide you step-by-step in developing and managing your online reputation.
The success of your healthcare practice depends on how positive a reputation it has with its patients.
If that's the case, then how do you determine your reputation?
Referrals and word-of-mouth are still a well-known and common factors that relate to your reputation and patient acquisition, but then how many of your new patients rely on just these two factors to choose you? As a matter of fact, even after getting referred by their friends or family, or even by another physician, one of the first things that your patients will do is to research your or your practice and its reputation online to see what other patients are saying about you.
85% of (healthcare) consumers trust online reviews as much as personal recommendations. - BrightLocal
While displaying positive patient reviews can certainly help your practice influence opinions in your favor, it doesn't mean that reviews are all that matters for your practice's online reputation.
Users check, on an average, 12 different sources including content from review sites, social media, on-site testimonials, blogs, etc., before finally picking a provider. – Google
All this sum up into two things: first, many other factors (apart from reviews) are responsible for your online reputation. Second, reviews and testimonials form a major part of it. The process that takes care of all these is called online reputation management.
Related Blog: Why Doctors Should Pay Heed to Their Patient Reviews Online
What Is Online Reputation Management?
"Online reputation management (ORM) is the practice of crafting strategies that shape or influence the public perception of an organization, individual or other entity on the Internet. It helps drive public opinion about a business and its products and services. – Techopedia
The definition encompasses almost every online marketing activity that directly or indirectly adds to the reputation of your practice and you. So, in those terms... ORM may involve utilizing your medical expertise to engage with your online patient community on Facebook to answer medical questions and concerns. Or, using the same expertise to provide relevant answers to your patients' health-related inquiries via content marketing, to establish yourself as an authority in the eyes of your audience and Google (by improving your search rankings).
However, as the term 'reputation' exhibits more about your patients' beliefs or opinions, it's arguable that in its core, ORM strategy deals more with taking control of the online conversation. That way, ORM may involve using Twitter or Yelp to jump in on conversations and tackle negative or defamatory comments about your practice.
Or, it could involve soliciting positive reviews from happy patients to improve the search engine rankings and the public-facing online reputation of your practice.
With online reputation management, you can ensure your personal reputation as a doctor is decently positioned (and represented) not only on review sites but on other important places like search results and social media timeline/feeds.
If you are interested to see how these are done, we will explain later in the article. Before that, you should introspect whether your practice really needs reputation management or not. For that, you'll need to self-assess your current online reputation.
How? Keep reading...
How to Assess Your Current Online Reputation
Have you ever Googled your practice or your provider's name to see how they appear in the search result?
If you haven't, do it now! A stellar online reputation starts with a robust internet presence. After all, if you are not properly visible, how can anyone say anything about your reputation? While you Google your practice, look for these in the search results: [Note: Try 'incognito' browser setting. It will ensure that the search results aren't influenced by the previous search activities on your desktop.]
Your website
Ideally, your website should appear as the first result for a direct search (someone directly entering your brand name) on Google. If your site is well-optimized (with proper keywords), is well-indexed, isn't serving any penalty from Google, then it'll rightfully appear in the first result. Of all other content links in the search results, at least some should be the predominantly "owned" ones (i.e., those where you control the content). For example, your blog page where your brand owns the content. Appearing with more predominantly "owned" links means a high reputation in the eyes of Google.
Review snippets
Google can fetch results from review sites too. Remember the review snippet in the search result. [See the screenshot below]
If the review snippet appears, check for these:
Aggregate review scores are appearing from how many review platforms?
Is it only from Yelp, or from other review platforms such as HealthGrades and Facebook?
Are the aggregate review scores positive or poor?
Is there parity in the aggregate review scores of different review platforms?
To appear with review snippets from different platforms, your review profiles will need to be well-optimized for local online presence. For a high reputation, they'll also need to be mostly positive.
Google Knowledge Graph
Appearing in the Google Knowledge Graph means you have a high online presence and reputation. The Knowledge Graph sums up the most useful information about your practice such as your picture, the map, the business address, telephone number, patient reviews, etc., all in one place.
However, appearing in the Knowledge Graph requires a well-optimized site and proper online listings of your practice on different third-party online directories, including Google My Business.
[Read: Everything about online business listing and its relation with patient experience]
Note: Google Knowledge Graph is the box that appears to the right of the search results and that contains information such as a map, the business address, telephone number, and also Google reviews.
Tip: Search differently as patients will do. It means replacing related words around the keyword.
For example, substituting "Dr. ABC Neurologist" or "Dr. ABC McArthur Boulevard" for "Dr. ABC, MD" will expand the search results. Search results for all these terms will slightly differ, and ideally, for all these terms, you should appear decently parallel to make sure that your reputation is on terms with related keywords. While search engine reputation matters the most, social media reputation is no less important.
That's why you'll need to assess your social media reputation as well. One of the best ways to assess your reputation on social media is by manually checking your social media profile pages and comparing them with your competitors. If you have been visiting your social media pages daily, you should already be aware of the situation. However, if your profiles are being handled by a social media marketing person or your practice manager, it's time you make the assessment right now.
Why You Should Focus on Facebook
Facebook is the most important platform as it's a highly sociable place where you get to learn from your patients' perspectives. For learning about your reputation with other stakeholders, such as referring physicians, pharma people, and medical industry influencers, Twitter and LinkedIn are the best. For now, stick with Facebook, as that's the place where you directly get to interact with your patients online. Also, in terms of monthly user traffic, Facebook is already the highest review generating site with 47% of its surveyed users having written a review in the last year.
How do you assess your reputation on Facebook?
Review frequency: It's important that your profile page should be receiving reviews on a regular basis. An outdated database of reviews doesn't help patients in their decision making. Also, regular reviews help in increasing engagement and keeping up with the algorithmic actions on your profile.
Review quality: The aggregate star rating (check the screenshot below) given by Facebook will give you a fair picture of your reputation there.
However, you should also get a closer look at the content of the reviews, especially the negative ones with less star ratings. That will help you understand the factors that are causing a bad reputation among your patients.
Review responses: Also, check how your reviews are being handled from your practice's end. If you find that reviews, especially the negative ones, aren't being handled carefully and tactfully, it means you need a reputation management team dedicated for the job.
Engagement & interaction: Check for how the posts on your Facebook profile page are performing. Are they getting a sufficient number of responses in terms of likes, comments, and shares? You should check the quality of those comments too. That's because these metrics can indirectly affect the frequency and quality of your reviews.
With these informative steps, you should be able to get an idea of where your current online reputation stands. If it needs improvement, don't hesitate to make the changes necessary to optimize your practice's reputation. To learn about the online reputation strategy for doctors, continue reading the second part of this article which we are going to publish next week.