10 Ways to Increase Patient Retention for a Strong Patient Base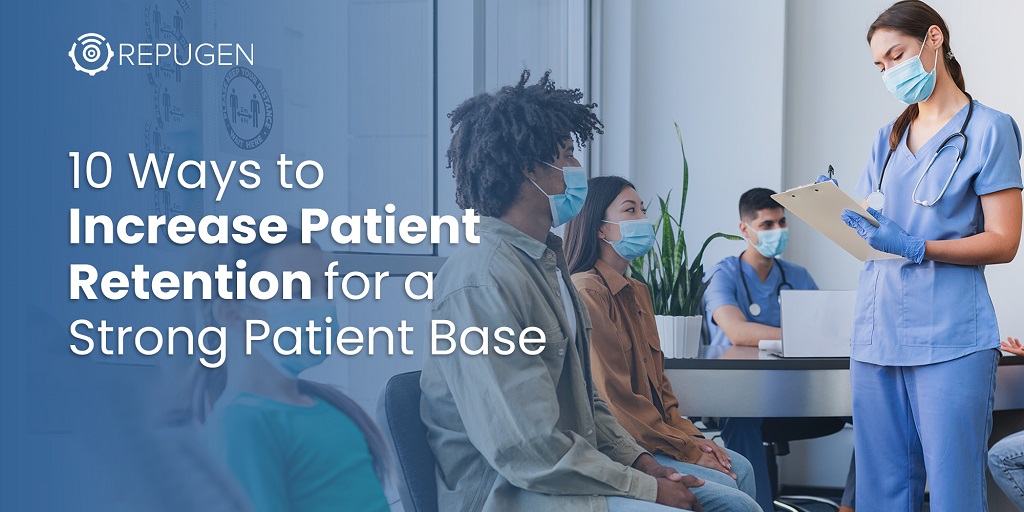 Customer loyalty is important in any industry sector. It is a business asset that never goes down in value. Similarly, loyal patients are critical for any medical practice because their continuous visits bring you business. Also, they are more likely to refer their family and friends to your medical practice which will increase your patient count.
That is why medical practices need to focus on one target: patient retention. You must keep your patients happy with the best treatment and show that you care. The result? They will come back to you in the future and refer others as well. Therefore, you develop a strong patient base.
Let's understand what patient retention is, why it is important, and what strategies you can employ to develop a strong base of loyal patients.
What is patient retention?
Patient retention means continuous engagement of the medical practice with patients so that they return for multiple visits. However, they come back only when they have a good experience with your medical practice. But why does it matter if your patients come back to you?
Why is patient retention important?
Patient retention is important because of the following reasons:
Generates repeat business
When you retain patients, they will return to you for more services or products rather than going somewhere new. This is because good quality service, high engagement, and a foundation of trust will allow them to keep you as their preferred choice. For them, it will create an important bond with their provider. As for you, it will lead to more business generation.
Increases revenue
Retained patients trust you more because you have shown your care and service quality. They are ready to buy more products and services from you, which increases your revenue opportunities. Invesp research shows that the probability of new customers buying from you is 5-20%, while 60-70% for existing patients.
Less marketing costs
Medical practices have to spend less on retaining patients than on acquiring new ones. Even the Invesp research says that retaining a customer costs you one-fifth of the new customer acquisition cost. Also, loyal patients' word-of-mouth publicity of your practice to their family, friends, and acquaintances brings more business to you.
Builds a positive brand image
If you have loyal patients who talk positively about your services to others, it contributes to your brand image. When existing patients talk about you, new or potential patients will be more trusting in your quality treatment. Thus, it helps build a positive perception of your products and services in people's minds.
With all these benefits of loyal patients, medical practices must employ the best patient retention strategies for their business's benefit. Below are different ways to increase patient retention to develop a strong patient base.
Patient retention strategies
Here are 10 patient retention ideas that help you build a strong base of loyal patients:
Understand how patients feel about your practice
You must try to understand how your existing patients feel about your services. Analyze their feedback, opinions, or emotions about your practice to identify any areas of improvement so you can take the appropriate corrective actions.
You will also get an idea of their expectations from you. Such patient sentiment analysis helps you look at the performance of your employees as well. Knowing what patients want from you can serve as an effective patient retention strategy.
A great patient experience can increase patient retention
You and your staff must make every patient touchpoint excellent. You can include some tactics, such as:
Greet every patient with a smile
Talk to them courteously over the phone.
Do not keep them waiting for long
Provide good care after the services
Honor the appointment
Clarify their questions and concerns
Provide all possible treatment options and explain clearly as needed
Check if there are any bad patient experiences and rectify them promptly
All these tactics contribute to creating an exceptional patient retention strategy for the medical practice.
An automated patient feedback process is an effective patient retention strategy
Improving your patients' experience is best done after evaluating your patients' feedback. The best method to acquire their input is to create an automated patient feedback process. You can also email or text them after their appointment to collect their feedback through a survey.
It is best to collect feedback soon after their experience at your medical practice so that the experience is fresh in their minds. Use a relevant and measurable feedback process as per your practice's services. You can further address the negative feedback by reaching out to your patients for more details.
Keep educating your patients post-appointment to increase patient retention
Educating your patients about your services to show that you care for them can be a helpful patient retention strategy. You can share with them content on:
Information about possible diagnosis
Lifestyle habits that can help improve their life and/or condition
Data and information from some research studies
Healthy tips and tricks
Events or celebrations related to specific diseases or illnesses
Sharing all this information keeps you at the top of their minds when they need any healthcare service or advice. It also shows your passion, expertise, and your patient-centricity. Using blogs, social media posts, and newsletters to share such content allows you to engage with your patients frequently, increasing patient retention.
Allow online scheduling and intake options
There's nothing more frustrating for patients than wasting half of their day to reach your practice for an appointment. A key patient retention strategy can be providing 24/7 online scheduling over the website. This tactic saves your and your patients' time.
The online system must allow patients to schedule it online and get an automated confirmation. The scheduled time and day must get reflected in your calendar. All these points save you and your staff's time spent on administration work.
A personalized patient reminder schedule is a brilliant patient retention strategy
Sending appointment reminders to patients or calling for confirmation on their appointment shows that you care. It is a great strategy to increase patient retention.
You must customize the reminder schedule based on your patients' preferences. Generally, 1-week, 3-days, and 1-day prior reminders work. You can use automated reminder systems or allocate a staff member to send reminders through calls, emails, or texts. This strategy reduces no-shows and saves your time as well.
Reach out to patients for their preventive or overdue visits
Another valuable patient retention strategy can be reaching out to them for preventive visits. Talk to them about the significance of routine visits for preventive care. Tell them how you can reduce the chances of complications by conducting regular preventive health exams and screenings.
Remind them about preventive visits by emails, calls, or texts. You can automate it or set up a patient portal to set reminders. It can serve as a way to engage with your patients and shows that you care about their health and well-being.
Train your front-office staff in customer services to increase patient retention
Customer service is where you lose or win. If good, you will have loyal patients; if not, your patients will never return to your practice. Therefore, training your front desk people is a valuable patient retention strategy.
Train them on phone conversation skills, writing effective emails for reminders or confirmations, and handling upset patients. Smiling faces, waiting room time pass activities, addressing patients by their name, etc., also contribute to a great patient experience. An effective patient retention strategy is keeping in constant touch with your patients.
Answering all of your patients' questions with patience shows that you care about them. You must communicate with them regularly and clarify all their doubts. Their confusion reduces and they start believing you more, resulting in return visits.
You can also stay in touch by engaging with them through newsletters or blogs. You can also send emails of special offers or automated personalized notes to get an update on their well-being. These communication activities will bring your existing patients back to you for more services.
Implement effective billing and payment procedures
A smooth payment process can impress your patients a lot. Even the availability of multiple payment options can serve as an excellent patient retention strategy. Information about possible insurance covers, flexibility in payment timings, and the absence of billing errors also add to the outstanding experience.
Try to implement effective payment procedures and reduce billing inefficiencies to impress your patients. Update them about the payment process, duration, and method for smooth completion of payments. Also, be polite when following up for payments to avoid creating a negative image.
These patient retention strategies are essential for any small or large medical practice to retain patients. You will need a little help from technology and immense efforts from your side to create memorable experiences. Implement them to increase patient retention and grow your medical practice.